TV Presenter, @ByramBod fitness guru and Spa Spy contributor Amanda Byram checks out some great luxury spa hotels between TV filming in Australia.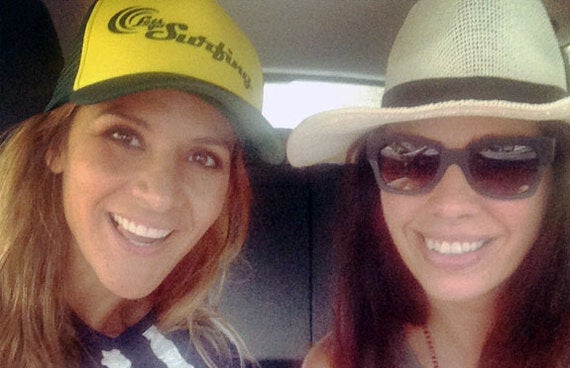 QT Hotel Sydney
Stepping out of the cab I felt as though I had stepped out of Marty Mcfly's Back to the Future DeLorean, and right into 1940 art deco NYC.
The hotel has been built within the historic State Theatre and Gowings Department Store which opened in the 1800's. Thankfully its iconic façade has been retained and for extra affect you are greeted by a chirpy door gal, dressed like an extra from a Dick Tracy movie. She adds to the excitement of this place, of which there is plenty, and while it may be steeped in history, nothing about this hotel suggests old or passé because even though the history is reflected in most everything in the hotel, including original wall tiles, antique barber shop fixtures, original chairs - the vibe is positively NOW.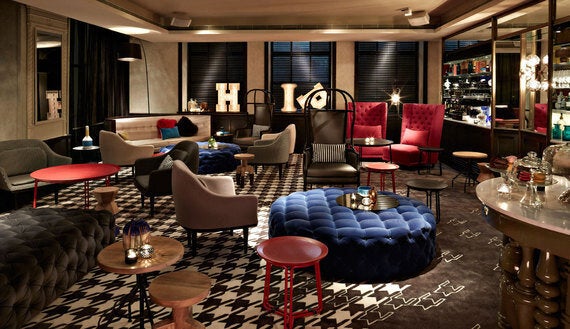 Even the lifts give you a sense of excitement. Black with stars, you don't know what awaits you on each floor. It even wishes you goodbye, as a deep voice belts out Hasta La Vista as you exit. The hotel decor is a mix of Gothic and Art Deco oozing cool, quirky and utterly enticing. The bar and restaurant are buzzing, and make you want to get to your room, throw on a feather boa and join the fray. If you're a fan of originality, the QT is for you. The dichotomy is extreme, original stone cladding and gargoyles fight off against kitsch eclectic 'emu leg' tables and giant 'exclamation mark' lights. Nothing screams CITY BREAK AWAY FROM THE KIDS quite like the QT Hotel, and I don't even have kids...
A saucy room card, and a titillating peep hole make you wonder what lies behind the door of room 404. The Deluxe King boudoir is fun and sumptuous. Humungous windows show a view of the beautiful historical Queen Victoria Building across the road. The room is laden with pops of colour and statement pieces, from the bright red sheepskin rug on the bed to the bowler-hat pendant lamps hanging over the desk. Ceramic animals sprinkled around the room in illuminated coloured glass cabinets. A Nespresso machine to ensure you stay awake to take it all in, and a 'make it yourself' martini kit with instructions to ensure you get shaken and stirred!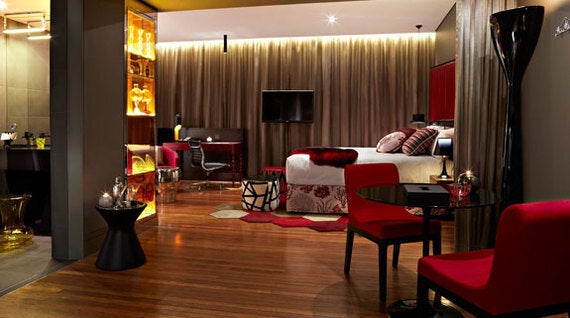 In the lower level of the hotel, the spa is discreet and quiet, and has a magnificent original apothecary display. You feel as though you are Alice in her slightly eccentric Wonderland. The door to your treatment room has an Alice style mirror with the number of your room - the door opens as you approach it, as if by magic! You are invited to change in the old school locker room, and don a robe that seems to have been made out of fluffy clouds - then taken to a dark quiet room to discuss your 'needs'. With signs like Ravishing and Beauty placed around the spa, you have no doubt that this is going to make you feel amazing.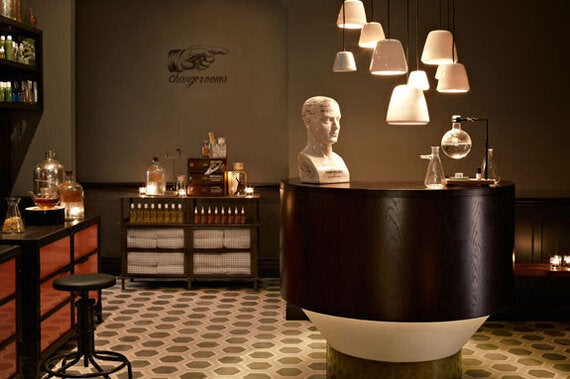 The Treatment: Fresh Picked
This 'order away from the menu' idea was EXACTLY what I needed, and meant that the treatment was honed around my mood and desire on the day. Having lived in an RV for 5 weeks travelling across NZ, and surfing in Sydney, I told my therapist Robyn that my legs were sore and sunburned, my face was dry and parched and my back ached. Cue Robyn to go off and design a treatment especially for me which included a Bark Massage for tightness and pain, Triple Action leg massage with Aloe, USPA Bamboo Polish Facial using USPA products containing - pure natural organic Australian ingredients. Other items on the menu - that's equally as quirky as the hotel itself - were The Caviar Facial, The Weekend Warrior and The Plush Princess. And don't worry, if you are afraid you have left your man upstairs for too long, gents can go wild in the old school barbers - complete with original chairs, with treatments like the Fast Eddy Facial, The Don or Mr Bond. Slick.
The menu at Gowings Bar and Grill is positively stuffed to the brim with choices! They offer up everything from snails to Suckling Pig to Whole Roasted Quails. Start with local Sydney Rock Oysters and Scallops. Keep it light with Seared Yellowfin Tuna Belly 'Niçoise Salad' - or go for something from their famed wood fired oven, Whole Line Caught Rock Flathead, was delish. Too full for dessert? Opt for cuppa with one of their 'Little Sweets'. Try the Warm Pistachio & Almond Fingers. Sweeeet.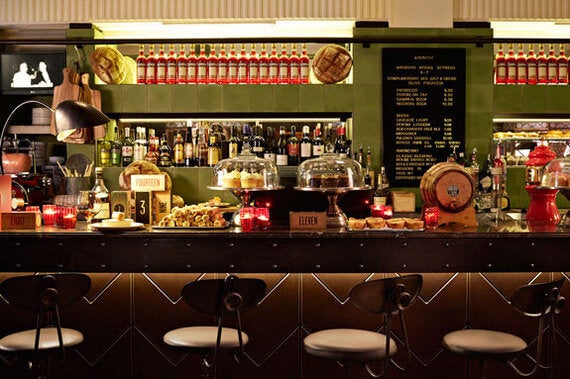 The Deal: QT Life Package
SpaQ treatment for him & her
Daily Breakfast or one dinner for two in Gowings Bar & Grill
$295 per night (minimum 2 nights)
Return fares to Sydney start from £830 return, including all taxes, fees and charges.