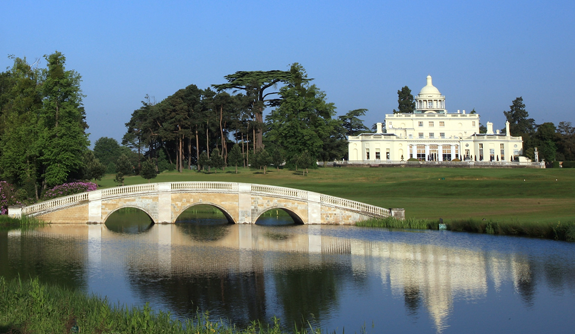 As we make our approach up the sweeping driveway to Stoke Park there's a strange familiarity. I feel like I've seen this elegant white mansion house somewhere before. Goldfinger, that's it! This was the backdrop for the scene where Oddjob slices of the statue's head with his gruesome hat...
Inside, en route to our room, we climb a grand staircase. It happens again. I know this staircase, but where from? OMG! It suddenly dawns on me. It's the staircase from the "mini break weekend" scene in one of my favourite films, Bridget Jones's Diary!
I ask our lovely host Nick, as he takes us on a tour of the hotel. "Yes it is" he confirms. "There were quite a few scenes filmed here - including the bedroom ones..."
"Pleeeeaase can I see Bridget's room?" I beg. The next minute I'm standing at the bottom of the infamous 4 poster bed. The one where her and nasty Daniel Cleaver, well... "Guests can stay in this room", he tells me, "it's actually our bridal suite." I need to come back.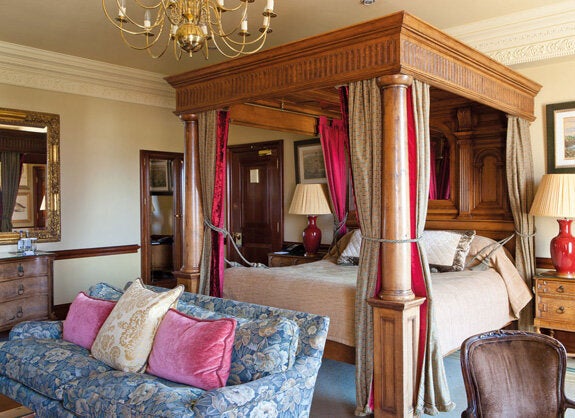 Stoke Park is a quintessential British country house hotel. Aside from being the backdrop for numerous films (scenes from Tomorrow Never Dies and Layer Cake were also shot here) it's steeped in history. Dating back to Saxon times and a private residence until 1908, the mansion house has previously been home to royals and aristocrats; Edward Coke, who prosecuted Sir Walter Raleigh and Guy Fawkes, as well as coining the phrase "an Englishman's home is his castle" was one of many notable former residents.
Recently awarded five AA Red Stars, Nick tells me Stoke Park prides itself on making guests feel comfortable; a country estate home from home. Bearing in mind it sports one of the largest and most famous golf clubs in the country (they also have a renowned tennis club, home to The Boodles), it could be haughty, but it's not. Stoke Park is opulent but comfortable. British country escapism at its best.
Oh, and a perfect setting for a romantic mini-break weekend. If it's good enough for Bridge...
The Room: Sir Edward Coke, a beautiful four poster room with traditional and opulent country house décor, a real fire and a huge terrace with comfortable rattan furniture, which overlooks the golf course and countryside beyond. Facilities include: Flat screen TV, free wi-fi, mini bar, free-standing bath, monsoon shower and Pecksniff's products.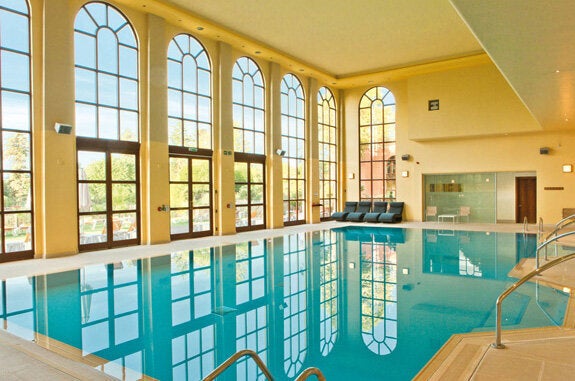 The Spa: Set in the modern pavilion wing of the hotel, a contemporary spa with a vibrant atmosphere. The new nail bar is the buzzing hub, while the relaxation room, separated from the pool by a hypnotic tropical aquariam, is an oasis of calm. Facilities include: a swimming pool and Jacuzzi, deep relaxation sauna & Italian marble aroma steam room, nail bar, 8 treatment rooms and a relaxation area.
The Treatment: Thalgo Indoceane Body Ritual begins with a relaxing milk footbath and scrub. An aroma sugar body scrub is used for gentle exfoliation followed by a full body Ayruvedic massage using warm aroma oils then a softening silk body wrap. The treatment concludes with an Indian head massage.
Other Treatments Include: Thalgo Collagen Radiance Facial 25+. A cleansing ritual and intense exfoliation is followed by an 'anti-ageing face massage' designed to lift the features. A collagen mask is then applied to help smooth fine lines and re-plump the skin.
Jessica Express Manicure, perfect for a quick 'pick me up' treat.
Activities Include: Golf, tennis, yoga, horse riding.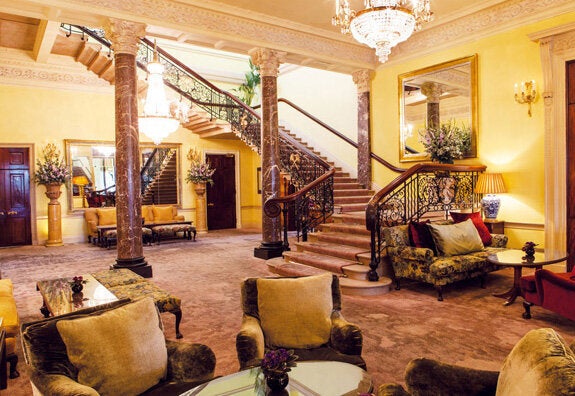 To Eat: Humphry's Fine Dining Restaurant, for à la carte Modern British cuisine with lake and countryside views. Try the delicious beetroot ice cream. The Orangery, for informal dining and afternoon tea. San Marco for Italian al fresco pasta and pizza.
The Deal: The Winter Warmer spa package includes:
• One night's accommodation
• Three course dinner in Humphry's
• Full English or Continental Breakfast
• One 55 minute Thalgo Spa Treatment per person, choosing from the following treatments; Thalgo Facial, Thalgo Ultimate Body Exfoliation, Thalgo Algae Wrap, Aromatic Body Massage or Pregnancy Treatment.
Don't Miss: A stroll around the beautiful memorial gardens and Stoke Poges Church.
Related