When you ask for directions to your hotel and the reply is: "Turn left at the fountain and head straight for the grand entrance", you get the sense that something pretty spectacular lies at the end of the driveway. Sure enough, Cliveden House - a majestic neoclassical country house, perched within 376 acres of National Trust parkland - is no let-down.
Steeped in a rich history, the house was originally built in 1666 by the 2nd Duke of Buckingham as a place for entertaining his friends and mistresses. When Cliveden was bought by the Waldorf-Astor family in the 1800s, its reputation as a party house continued and everyone from Winston Churchill to Charlie Chaplin are said to have stayed there. Most famously, it was at Cliveden in 1961 when the married Secretary of State for War, John Profumo, met a 19 year-old Christine Keeler, and they began an affair that would cause one of the biggest scandals in British political history.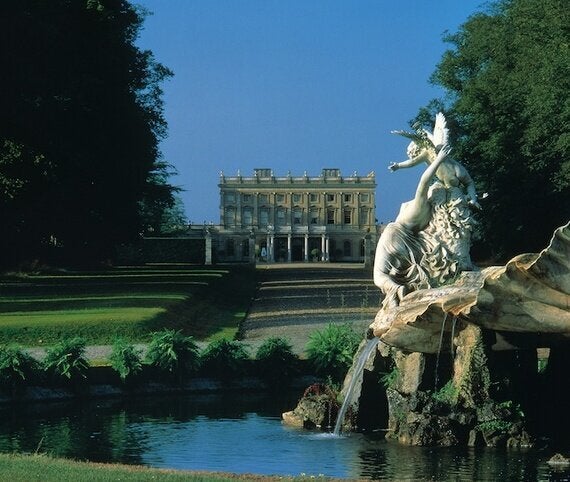 For a house in which revelry has always been heartily encouraged, the warm welcome was no surprise. Despite the grandeur of the great hall as you enter - which is peppered with portraits of former Cliveden owners, marble busts of the likes of Nelson and Brunel, and a suit of armor from the 1600s - the atmosphere is friendly and easy-going. And while the idyllic setting and magnificent house may scream quintessential English countryside, the focus is on serious fun: unable to choose between two of the signature cocktails our barman insists we try both; after a belly-busting three course meal, our waitress suggests we have our plate of petit fours delivered to the room (with just one more glass of wine!) so we can eat them once dinner's gone down a bit. A stay at Cliveden is about indulging in all the hotel has to offer - just as well there's a spa and pool on hand to off-set some of the excesses...
The Mountbatten Suite, in the newly refurbished east wing of the house, was once the billiards room (the score board still sits on the wall as a nod to its history), and has been renovated with the perfect mix of historical accuracy (wood paneled walls, original furniture) and modern up-dates, including huge flat-screen TV and tablet from which to order room-service. With magnificent high ceilings, separate living room area and steps up to the bathroom, I could happily imagine selling up my tiny London house and moving in here - the king-size bed is bigger than my first flat (good night's sleep guaranteed). In the marble bathroom, the under-floor heating, waterfall shower and Asprey products mean you can feel fully indulged before you've even gone near the spa.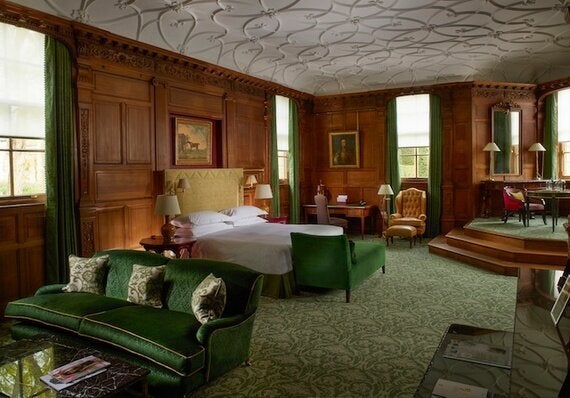 A Secret Garden-style doorway opens on to a walled garden, with outdoor swimming pool where the Pavilion Spa is tucked away. Loungers sit around both the indoor and outdoor pools so, despite being less than an hour out of London, the tranquil setting is a haven of peace and calm. The spa offers an impressive range of treatments using Anne Semonin and Carita products, as well as a pregnancy menu using Mama Mio. With only six treatment rooms, it never feels busy and I've been to many a spa with my husband where the treatments for him don't extend much beyond a sports massage, so it's a refreshing change to see a menu with as much choice for men as for women. In the changing rooms, robes, towels, slippers and skin and hair products are all available, while in the conservatory you can help yourself to water, hot drinks, fruit, biscuits and magazines.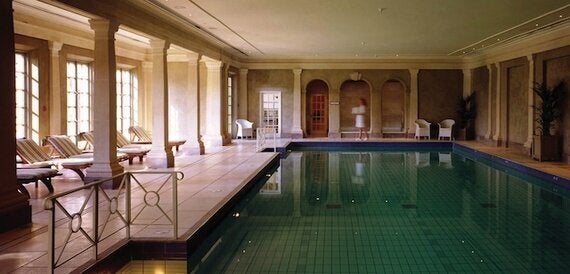 The Anne Semonin tailor-made facial (55 minutes, £90) begins with therapist Gemma showing me her 'science lab' - a collection of essential oils and plant-active serums that she will mix and match specifically to suit my skin. Having just spent a week away in Turkey and despite slathering SPF50 on my face, I'm concerned that years of sun worshipping in my 20s and 30s have left me with bad pigmentation. After inspecting my face under a bright light, Gemma declares that while my sun damage isn't as bad as I thought it was, my skin is dehydrated. She goes to work concocting just the right ingredients to bring my dried up skin back to life, while I lie back and enjoy the delicious smells. Masks, serums, facial massage ensue and as the minutes tick away I drift off, losing count of the many different stages of pampering my face is treated to.
Before I know it, my 55 minutes are up and I'm released from the cool confines of the treatment room, blinking into the pool-side sunlight with plumped-up, glowing, rehydrated skin. I might be imagining things, but even the wrinkles around my eyes seem to have gone back into hiding.
If you're feeling energetic (or need to work off some of the inevitable indulgence) there are indoor and outdoor tennis courts, as well as gym and fitness classes in the spa. Or, for something more relaxing, make the most of the Thames-side setting and take a jaunt down the river in one of Cliveden's vintage launches. Choose a tailor-made boat picnic and set sail down one of the UK's most beautiful stretches of water.
Michelin-starred chef Andre Garrett uses only the finest British, seasonal ingredients in his eponymous restaurant - asparagus and leek starter followed by roasted seabass with artichoke and salt and pepper squid in my case. As ever, it's all about the scenery and the dining room looks down over the stunningly manicured grounds - you can practically forget to actually have a conversation as you gaze at the natural beauty out of the window.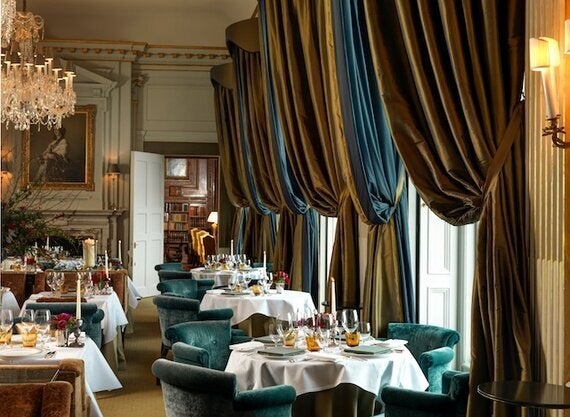 A swim in the famous outdoor pool (where Christine Keeler apparently swam naked). Even on cold days it's heated to 26 degrees, but if you get chilly, just hop straight out of the pool and into one of the outdoor Canadian hot tubs.