Hidden in 60 hectares of verdant tropical gardens on the north-east coast of Mauritius, Constance Le Prince Maurice harbours one of the most idyllic spots on the island. Colonial style villas, chic bars, top notch eateries and a state of the art spa scatter the palm-fringed ivory beach and lush surroundings of the six star hideaway.
A natural fish reserve and mangrove-strewn jade lagoon adds to the uniqueness and natural beauty of the retreat and with two staff to every guest service is second to none...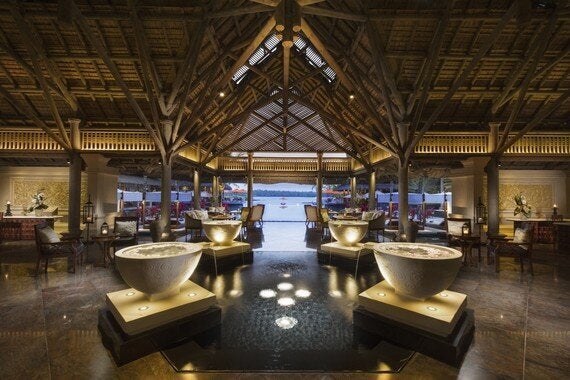 A tranquil haven in a serene garden setting, U Spa by Constance flanks a pretty courtyard complete with a heated pool, stone Buddhas and comfy honey-hued loungers. Treatments on offer include everything from anti-ageing facials at the Sisley Skin Centre, to Ayurvedic massages and medical manicures devised by celebrity podiatrist Brice Nicham.
On arrival each guest has a consultation with the wellness-savvy therapists to advise which treatments and activities are best suited to their needs. Each guest receives a Spa Experience Card to keep a note of wellness goals and preferences, and a bespoke wellness plan is customised accordingly.
Facilities at the spa include 7 indoor and outdoor treatment suites, a sauna, steam and ice cold plunge pool and a beachside treatment pavilion.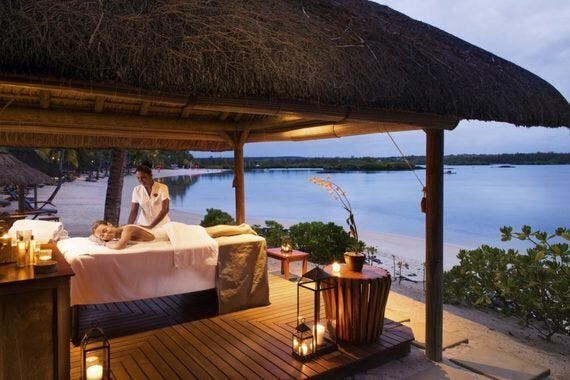 Sisley's aromatic facials are renowned for both their relaxing and result-driven benefits. The Radiance Facial is a great treatment for glow and sleep-seekers and begins with a deep shoulder-dropping floral inhalation. A double cleanse and light exfoliation is followed with a deeply hydrating Black Rose cream mask then a lifting, pressure point facial massage. A radiance-inducing serum is applied at the end of the treatment. When I eventually come to from my snooze I leave looking like I've slept for a week - lifted, dewy and bright-eyed.
Other Treatments Include: Brice Health Manicure - a unique concept for the paws combining 3 domains of expertise to give a truly therapeutic overhaul to the hands. The treatment includes an antiseptic cleansing of the periungual zones round the fingernails and Brice's six-step buffing ritual to strengthen and bring a natural gloss to your nails. A full massage of the fingers, wrists and arms helps release muscular tension.
For water sport fans offerings include paddle boarding, sailing, water skiing, parasailing, Hobie Cats, kayaking and scuba diving. On land you can opt for quad bike racing, tennis or a round on one of the two 18 hole golf courses.
At the fitness centre you'll find a state of the art gym, complete with personal trainers and 'on demand classes' via a video screen in the workout room. The wonderful sunrise yoga classes and personal stretching sessions - a mix of assisted yogic stretches and massage - became part of my daily morning ritual.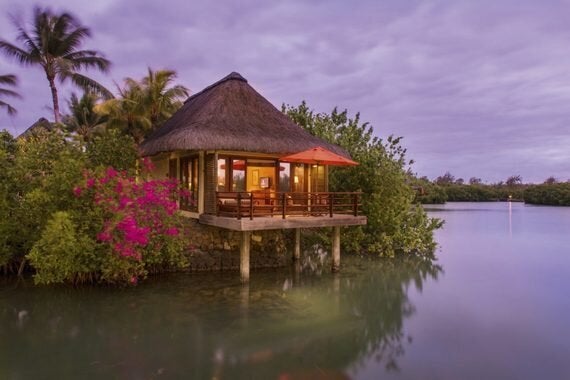 Designed in a colonial-cool style with airy vaulted ceilings and terraces overlooking the lagoon, 'Suites On Stilts' are styled in warm hues and feature all the luxuries you might expect at a six star resort; walk in wardrobes (unpacking service included), sunken baths, power showers, and all villas and suites feature a Mac mini and complimentary WIFI. If you're looking for an uber-luxe experience check out The Princely Villa - located directly on the beach features the palatial residence features a kitchenette for service staff and 2 private heated pools...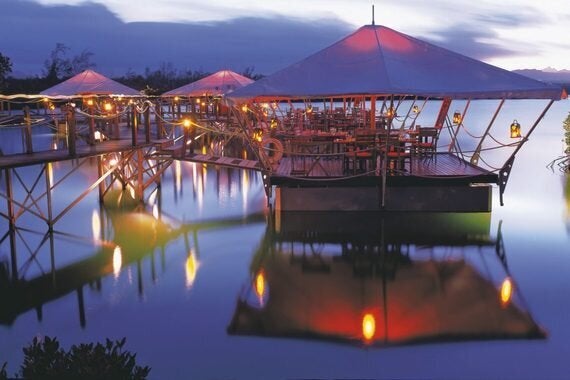 Most of the eateries and bars are dotted around the hub of the main building overlooking the beach. L'Archipel sits poolside and offers à la carte menus with light Mauritian influenced gourmet food and themed buffet dinners. Try the divine layered crab, celeriac and avocado salad - so divine in fact, that I managed to scoff it every day for lunch!
Le Barachois is reached via a wooden pathway over that takes you over the lagoon. The floating seafood restaurant comprises of five decks overlooking the natural fish reserve. Each with unspoiled views of a mountain range - sunsets are breathtaking.
There's also a beachside Asian restaurant which serves up top notch dim-sum and sushi.
The resort is also regular host of the celebrated Bernard Loiseau Culinary Festival - attracting Michelin star chefs across the globe once a year.
The catamaran cruise at sunset which takes you along the stunning east coast of the island - you might even spot, as we did, some dolphins frolicking in the waves...