Hop into Spring with these great new products to create an uplifting aromatic home spa.

1. Ruby Red Reviving Body Cleanser
One of my fave new finds - a intensively moisturizing body wash literally packed with zingy essential oils of Lime and Mandarin - with invigorating coriander and cedarwood extracts, it leaves you feeling fresh and smelling divine.
Free from sodium lauryl sulphate (SLS) and parabens, it's perfect for all skin types.

2. Kelly Hoppen London, Scent One Candle
The stars' favourite interior designer Kelly Hoppen combines ambience and design with her new scented candle range.
Scent One comes in beautiful calming shades of whites, taupes and greys and gives a warm, intense and uplifting aroma of patchouli, myrrh clove and violet.
Already popular with the glitterati - it's the new designer 'it' candle for a stylish home spa.
Burning time around 35 hours.

3. Ishga Scottish Seaweed Exfoliating Face Mask
I love the way seaweed body wraps make my skin feel - soft, silky and smooth - but the smell is generally pretty vile.
Luckily Ishga have added some delightful essential oils to their products to enhance hydration and hide the salty marine aroma.
This gentle natural exfoliator uses seaweed grains to remove dead skin cells combined with geranium rose - it leaves the skin looking and smelling rosy.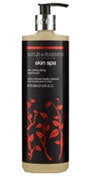 4. Baylis and Harding, Rose, Ylang Ylang & Patchouli Body Cleanser
Packed with essential oils of rose and ylang ylang a fragrant foaming body wash from the new Baylis and Harding Skin Spa range that leaves the skin feeling smooth and lightly fragranced.
A great, affordable, floral home spa treat.

5. Milana Heart of Gold Candle
Clever candle creators Milana have combined song titles and fragrance to create 'scented symphonies'.
As a Neil Young fan myself, I loved this candle before I even opened it - I'm delighted to report that it smells almost as good as the song sounds!
With top notes of vibrant orange with sweet rosewood and yang ylang, it's a floral dream...