Amanjen, Marrakesh
You can take a girl out of Marrakesh, but you can't take Marrakesh out of the girl. I'm so attached to the centre of the 'Red City' and the maze-like alleys of its old town, the medina, that I am always reluctant to leave. Any hotel outside of the city walls - and there are lots of them now, with many more new openings on the horizon for 2014 - was going to have to really impress to contend with my love for those intimate places in the old town.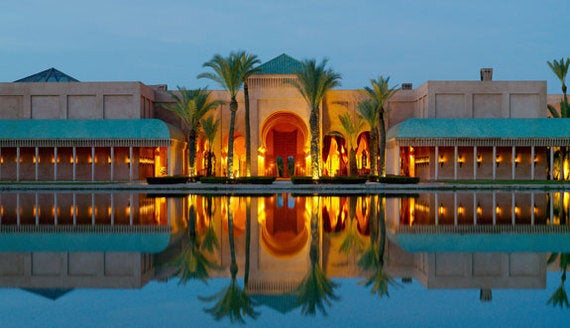 Amanjena hotel, then, was a pleasant surprise. Rather than miss the medina, having been here for a couple of hours, enjoying its serenity, I was loathe to go back into the bustling streets in central Marrakesh. Out of town on the road to the desert kasbah at Ouarzazate, Amanjena is simply beautiful. Arriving guests are led through gates to an enormous entrance hall, typically Moroccan in design but given modern touches with round velvet sofas and elegant dining chairs. A bar to one side has Moroccan tiling and intricately carved wooden doors, but doesn't feel OTT as some Moroccan hotels can.
The service was thoughtful - when a waiter saw me struggling to make notes in the half dark, he brought up a large candle and placed it on the pretty octagonal table beside me.
Beyond the entrance lies a vast lake surrounded by palm trees, modelled on Marrakesh's Menara gardens (this one is for display only, but the hotel's 33-metre pool for swimming is just around the corner). It feels like it goes on for miles. Everything is still, and as night falls staff light candles and the glow glimmers off the water. It really is beautiful, and calm, and suddenly I realise that while Marrakesh's medina cannot be missed, Amanjena makes a stunning counterpoint.
Guests at Amanjena can rent private pavillions, which are so secluded it is possible to visit and hardly bump into other guests at all. They are perfect for those seeking peace, quiet and privacy. Some have private pools, and have clean modern lines and wooden furnishings, with Moroccan touches such as ochre coloured walls and keyhole shaped doorways. There are private dining areas to which staff can bring food if guests do not wish to eat in the hotel's two restaurants. Bathrooms have Amanjena's own brand of toiletries, and beautiful low marble baths. The scale is enormous and after the confines of the medina everything feels luxuriously spacious.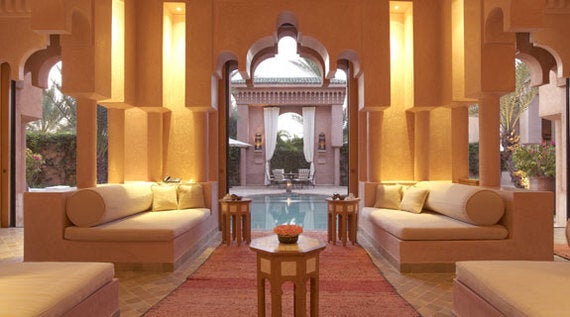 The spa is secreted behind another intricately carved wooden door. I am welcomed into a beautiful high ceilinged entrance corridor, with traditional Moroccan tiling. A rose filled pool sits in the waiting area, where I am offered tea, water, and a plate of Moroccan sweets (I went for a coconut orb, covered in crunchy sugar crystals). There is a pleasant (read: not overly strong) scent of honey and cedar. There are Amanjena branded products in the showers along with body lotion, rose water and argan oil at the sinks. Facilities include male and female hammams, a glassed-in whirlpool and a gym.
The Signature Bloom is a Moroccan speciality. I'm first left to steam in the traditional marble hammam (bath house). Lying in this (single-sex) shared space may sound intimidating, but it is more authentic than those spas in which you are taken into a private room for this stage. It is really no different from sharing a steam room in a normal spa. My therapist then comes to cover me in traditional Moroccan black soap, made from olive oil and scented with eucalyptus for its healing properties. She then uses an exfoliating mitt - which is as tough as sandpaper but leaves my skin as smooth as a baby's bottom - to do a full body exfoliation. She then covers me in orange blossom scented rhassoul mud - I am convinced the smell is heaven sent - and leaves it to work its magic before rinsing. This treatment really is impressive: next I am taken back to the waiting area and served a plate of exquisitely chopped fruits and some water, before being shown to the massage room. A 50 minute knead with argan oil follows, during which lots of attention is given to the hands and feet. When I leave the spa, my skin is almost luminescent and the softest it has ever been.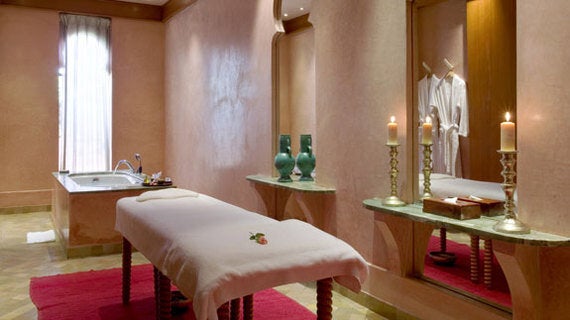 Amanjena has two restaurants - The Restaurant serves Moroccan and Mediterranean cuisine in a beautiful room centred around a scalloped onyx fountain and olive trees. Guests can dine outside in the summer months; the restaurant serves dinner only. The Thai Restaurant, by the swimming pool, is open for breakfast, lunch and dinner; its walls are clad with antique Moroccan horse saddles.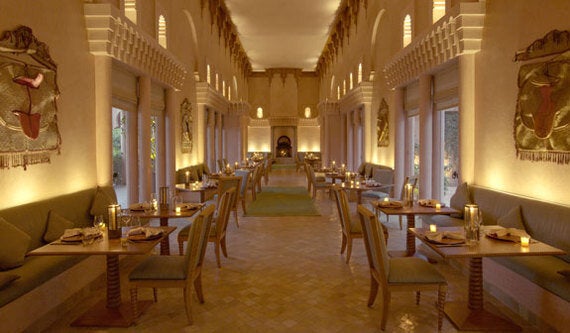 Sipping mint tea to candle light by that amazing lake as the sun sets.
La Mamounia
If you are looking for the grande dame of Moroccan hotels, you are reading the right thing. La Mamounia has been the ritziest of Marrakesh's hotels for 90 years: it has welcomed guests from the Rolling Stones to Winston Churchill, and today remains the place to be seen for French, American and British visitors to the Red City. The ambiance by the swimming pool is St Tropez-cum-Morocco. Swish sunglasses, dinner jackets and designer bikinis are in full evidence.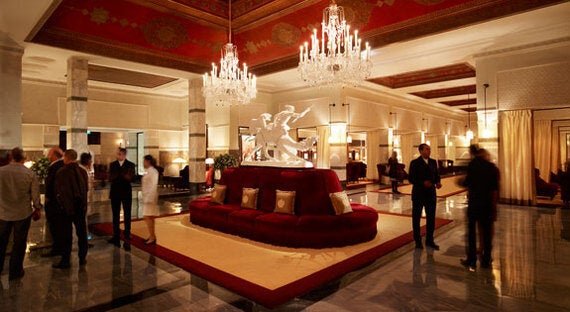 The hotel's magnificent entrance hall, improved after a three-year renovation overseen by Jacques Garcia, is burgundy with rich, draped curtains and porter staff in traditional dress. The ceilings are traditionally Moroccan - finely painted in rich reds, blues and greens - but marble and glassware keep things contemporary.
To the hotel rear, through a lobby with a ceiling painted by Jacques Majorelle, and past the Italian bar, where there is live jazz music every night except Wednesday, lies the stunning swimming pool and La Mamounia's eight acres of beautiful gardens. I take a dip in the pool - with its central palm tree island in the middle - and wonder at how I am basking in 29 degree heat at the beginning of November.
Winston Churchill reportedly said La Mamounia was the most beautiful spot in the world: at least in terms of hotels, he might have been right.
Khoutoubia suite room 330. My enormous suite was one of the best the hotel has on offer, and it really was quite plush. The private terrace had a beautiful view over the famous Khoutoubia mosque, and the larger lounge had the most incredible carved and painted ceiling, along with three dangling Moroccan lanterns. An antique keyhole- shaped door, complete with intricate carved plasterwork, leads through to the beautiful bedroom. The bathroom is enormous and filled with La Mamounia branded products: large bottles of shampoo, shower gel, conditioner, a loofah and bath salts. My only gripe was that the shower did not have any protection in the form of a curtain or glass screen, which meant that the water flooded the neighbouring dressing room. I'd recommend avoiding using the standalone shower and taking a bath instead.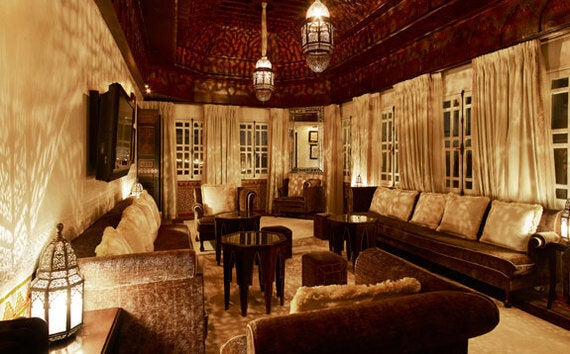 La Mamounia's 2,500 square metre spa is probably the best in Morocco. Through a calm interior courtyard lined with Moroccan tiles, and down a flight of stairs lies this calm space, where the sounds of fountains and soft Moroccan music soothe guests. Black marble and orange leather are the dominant materials, and sumptuous taffeta curtains separate the changing areas from the reception.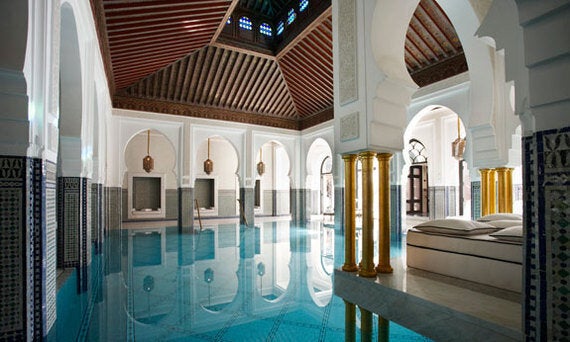 The indoor swimming pool (separate from the large outdoor one) makes you feel like a queen: it is surrounded by columns and has its own lounging platform suspended in the middle. For those not staying at the hotel, day passes are available.
One hour Mamounia massage. I don't say this without careful consideration, but this was possibly one of the best massages I have ever had. My therapist noted that I had one of the knottiest backs she had ever come across, and tailored the treatment accordingly. I'm not going to pretend it wasn't painful at moments, but I got the sense she would not have used such pressure if it hasn't been necessary. She really took control of my back and manipulated areas that masseuses don't normally reach, such as the sides of the rib cage. Afterwards, as I sipped mint tea served from a silver pot in the relaxation area, my limbs and torso felt more supple than they have in a very long time. Products used are MarocMaroc, Shiseido, and Laric for nail treatments.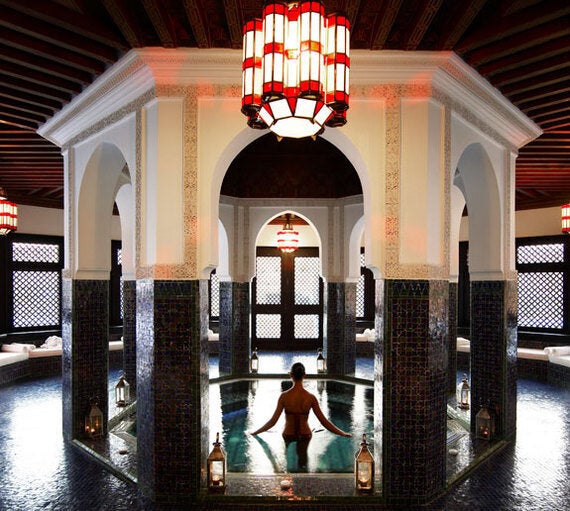 Le Marocain restaurant for traditional Moroccan cuisine with a twist; L'Italien, for Italian dishes, and Le Français, overseen by the two Michelin-starred chef Jean-Pierre Vigato. In Le Français, I ate a beautifully- cooked steak, prepared as requested (rare), accompanied by stuffed vegetables. My amuse-bouche of celery gazpacho was slow to come, although this may have been because a private function in Le Marocain had left Le Français busier than normal.
A divine breakfast is served poolside in the Pavillion de la Piscine - and where do I start!? The format is that of French grocery deli, with a cheese counter, a meat counter, a smoked salmon counter, a fruit counter, a make-your-own-muesli counter, and a central table with the finest of French breads and patisserie. The Pavillion is also open for pool-side lunches.
A stroll in the Mamounia gardens, which are lined with white roses, palms and orange trees.
easyJet flies to Marrakech from Bristol, London Gatwick, London Stansted and Manchester. Flight prices start from £31.49 per person (one-way, including taxes based on two people on the same booking). Visit www.easyJet.com to book.