We all like to be treated like a VIP on holiday. Even if we're not paying quite as much as the 'actual' VVIPs staying down the hall. Which is why the Oitavos had us hooked from the moment we checked in.
Every room at the Oitavos is a suite. And thanks to its clever 'Y'-shaped design every room also has a beautiful sea view. Many also have views onto the award-winning golf course (which is worth remembering if you have a tendency to like admiring sea views from the balcony in your pants on a sunny morning).
If you're prone to online hotel stalking prior to a trip (isn't that part of the fun?) then The Oitavos may surprise you at first.
Set in a gorgeously rugged part of Portugal's Estoril coast, the hotel's exterior is curiously space age, but this is lunar landscape meets luxury design and as soon as you step through the door, there it is, the soothing and calm interior, filled with soft colours and fabulous lighting, that you will recognise from the online galleries you've been pawing over at your desk.
Floor-to-ceiling glass throughout the building offers panoramic views of the dramatic surroundings, whether you are ooh'ing over the prosecco-laced breakfast buffet or people watching on one of the hotel's monthly party nights, Oitavos Beats. And a few steps outside there is a picture perfect infinity pool that's just begging to be insta-bragged.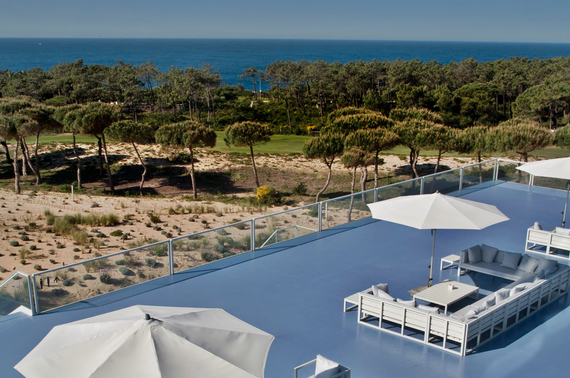 As discussed, all of the 140 rooms at The Oitavos are suites (all painted in a delicious shades of seaside blue). This means double sinks, super-king beds, a lounge area big enough to actually lounge in, iPod docks, 2 x TVs and bundles of delicious Aromatherapy Associates products.
Even the balconies feature sofas, which is the perfect place to watch the sun set over the Atlantic as you and a lucky plus one raid the delightfully stuffed mini bar.
As a spa hotel, pampering is taken very seriously here, and the open plan bathrooms are an integral part of the suite experience. The bath features an ocean view (as well as a great view for your partner), the glass shower features a seat for pondering life/shaving your legs beneath the huge rainshower and there are two lengths of robes to choose from, depending on how frisky you are feeling.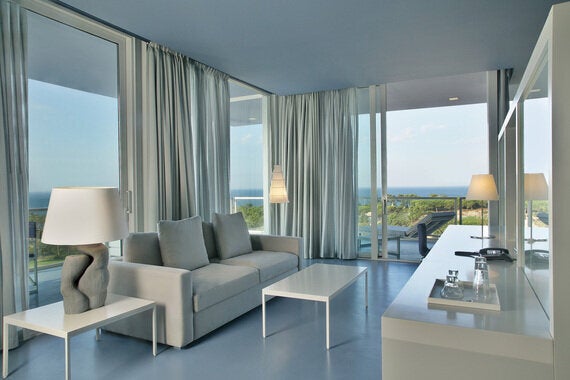 The VIP treatment continues downstairs, with a private glass elevator whisking guests directly from their floor to the ground-level - Willy Wonka style - without them having to traverse the huge lobby.
The vibe is cavernous but calm, and the floor-to-ceiling windows continue here with eight of the ten treatment rooms featuring views onto the wild surroundings. Even the sauna and steam room have a window onto the outside world and there is something terribly soothing about looking on to blue skies, wild flowers and groups of bunnies while you work up a sweat in the steam.
There's a hi-tech 24-hour gym space, and as well as the infinity pool on the terrace there's an indoor/outdoor saltwater pool featuring brilliant massaging jets and a jacuzzi.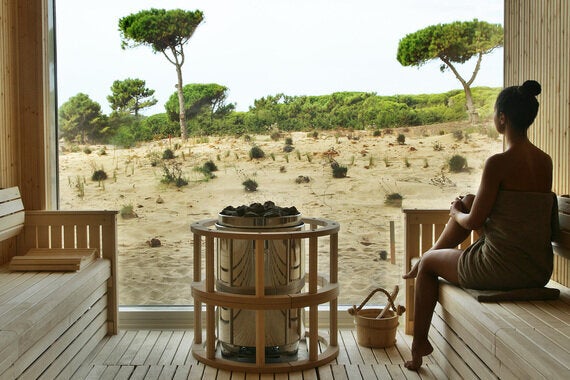 The treatment list here is huge featuring over 15 types of massage including the 'Special Golfer' (for the players who may or may not have seen me admiring the sea view in my pants) and the packages - including The Royal Rejuvenation (massage, customised facial, exfoliating ritual - 150 minutes for €225) and From Land To Sea (seaweed bath, massage, facial, mineralizing body wrap - 170 minutes for €296) are worth indulging in if you have the time.
The therapists use Voya products throughout - an Irish organic seaweed range fresh from the Atlantic - and my Voya massage (50 mins for €95 or 80 mins for €150) was soothing but actually super energising.
NB it's worth booking in advance for all of the treatments as the spa gets full pretty quickly. It's also worth noting for any long weekenders that the spa isn't open on Mondays.
Even if you're not a golfer you should treat yourself to lunch at the clubhouse, where we tucked into garlicky clams, lovely light octopus salad and flavour-packed ceviche - all caught from the water straight in front of us. Driving your own golf buggy there is optional but a LOT of fun, especially after a glass or two of honey-hued wine from the hotel's own vineyard.
At the main hotel the chef's table at the Ipsylon Restaurant offers a cool take on Portugese cooking with the emphasis on the freshest seafood (we were treated to fish in a bag and mini clay pots of aromatic broth). The main restaurant menu is a clash of cuisines, combining high-end sushi with grade A steaks and fancy fast food, so good for sharing if you have an adventurous mouth. And we would recommend saving room for the cheeseboard.
Outside of the hotel we loved The Adraga beachfront restaurant, a local favourite where you are introduced to your fish before it is cooked up and served swimming in live oil.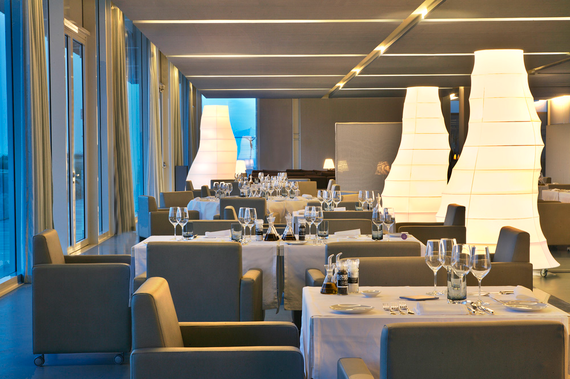 Don some flats and take a day trip to the beautiful hilltop town of Sintra, which features castles, cobbles and chocolate-cups filled with port as well as photo opps galore. Thrill-seekers should book onto a speedboat with WaterX (www.waterx.co.pt) which a brilliant way to spot Lisbon, and a brilliant excuse to need another Voya massage straight after.
The starting rate is 163€ (approx £133) for a Superior Room, with balcony and sea view.
Flights are available from London Heathrow or Gatwick to Lisbon with TAP Airlines, from 116€ (£95) round trip.