Located in the lesser-visited waters of the Noonu atoll in the north of the Maldives, Sun Siyam Iru Fushi is one of the larger resorts in the Maldives. It's also one of the few that is actually Maldivian-owned and Maldivian-run. Thanks to this, it has a wonderfully authentic unpretentious vibe and is more lively than most islands. Villas might not be filled with the latest designer accoutrements nor overflowing with cutting-edge gadgetry (though they do have Nespresso machines) but therein lies the appeal. The whole island has a kind of simple, laid-back natural appeal - no underwater restaurants or celebrity DJs flown in here. Expect a warm welcome on arrival, an informal atmosphere in all the restaurants - no, you don't have to wear Gucci, and yes, you can bring your kids to the table - and after a few days, Iru Fushi's more formal neighbours might even begin to seem a bit ridiculous. A good choice for families and groups, Iru Fushi is the full five-star Maldives experience - just dialled down a notch.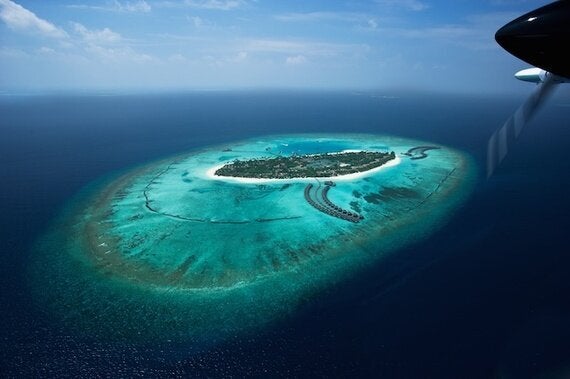 Villas, of which there are more than 200, are generous spherical spaces filled with dark wood and shiny cream floors. High wooden ceilings lend an impressive sense of space and compensate for the limited lighting, but bright 'n' breezy blue hues and plumped satin cushions don't quite add enough of the luxe factor to lift the rooms from being bland and business-like. Having said that, the villas function well and are refreshingly unfussy, therefore hard to fault from a practical point of view.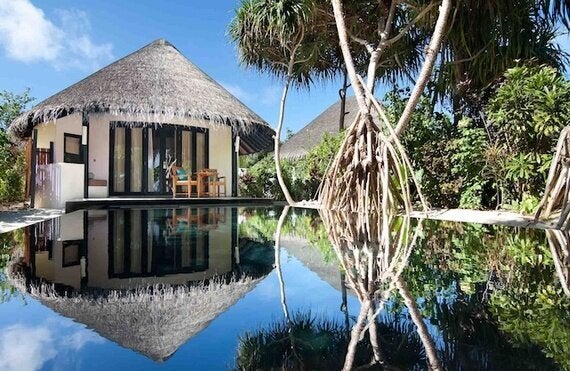 Book a beach villa. These have recently been renovated and come with large terraces (some with lengthy plunge pools) and direct beach access, plus vast leafy outdoor bathrooms providing just the right balance of nature versus privacy. Nifty extendable washing lines over bathtubs are a thoughtful touch for drying swimwear.
This where Sun Siyam Iru Fushi really comes into its own. Stepping through a set of ornate wooden doors into the spa's labyrinthine gardens is quite an Alice in Wonderland moment. A network of fern-clad pebble walkways and lily ponds filled with carp lead to a large open-air pagoda where guests can tuck into healthy salads and broths while they wait for their therapists to arrive. With 20 treatment rooms, The Spa at Iru Fushi is one of the biggest spas in the Maldives, and thanks to a recent revamp, it's better than ever. They've introduced Thalgo, an all-natural French product line that harnesses marine goodness from the ocean and is known for its cell renewing properties - the perfect partner for these watery climes. There are 70 Thalgo treatments on the menu with everything from vinotherapy to marine algae wraps to choose from. But if you'd rather have something more local, there are Ayurvedic healing therapies, traditional Chinese medicine and a handful of authentic Maldivian treatments available.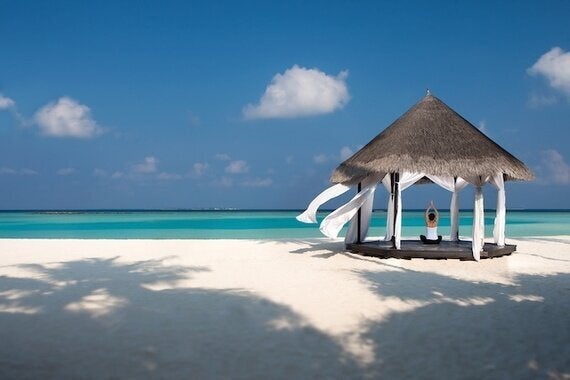 Your treatment room is assigned according to the type of treatment chosen, so for eastern therapies, you'll be directed to a darkened room filled with Asian lanterns, bamboo matts and strings of mother of pearl, but for something more western, you'll be guided to a light-filled spartan room infused with the scent of floral oils. Consult Dr Rahul Krishnan (an Ayurvedic doctor hailing from Kerala, and also the spa manager) and he'll tell you what your body and soul are in need of. Although, so soothing is his manner, you may find after talking to him you're no longer in need of a treatment at all...
For ultimate pampering, choose a 'spa journey' by Thalgo. The 'Sea and Senses' ritual (£182; 120 minutes) is designed to relax the body and help combat jetlag - if you don't fall asleep during it, you must be invincible. Combining techniques from different parts of the world including Tibet and Japan, it includes a massage with hot and cold volcanic stones travelling in wave-like movements up and down the body to relieve tension, followed by a relaxing, skin-plumping marine facial.
Alternatively, the 'Iru Power Pack Deep Massage' is one of the best and most vigorous massages this spa goddess has had in years.
Diving/snorkelling, sunset cruise aboard a traditional dhoni, non-motorised watersports, tennis, Maldivian cookery lessons, pilates, yoga.
Straightforward and convenient is the best way to describe the main restaurant, Iru, where breakfast is served. The food is very good but the vast open-air space lacks atmosphere and can get incredibly hot at peak times (especially the dinner buffet). On the upside, a large section of Iru is dedicated to families and has a brilliant soft-play area with slides and a playhouse, which means parents can get a mouthful of breakfast/dinner down them without the squealers causing havoc.
A stone's throw from the beach, Bamboo does an excellent line in Thai dishes - green curries, glass noodle salads and steamed fish in banana leaves - perfect for a light lunch. Alternatively, Fluid on the quieter side of the island is laid-back and family-friendly with a large swimming pool and wood-fired pizza oven.
For romance, Flavours is the place to book. Located over the water with an impressive wine cellar on the premises, the menu is a mix of Asian and French fare - all done superbly. There's also a chic over-water Italian restaurant called The Trio, where you can carb-load on sublime spaghetti or keep it lean with seafood or steak.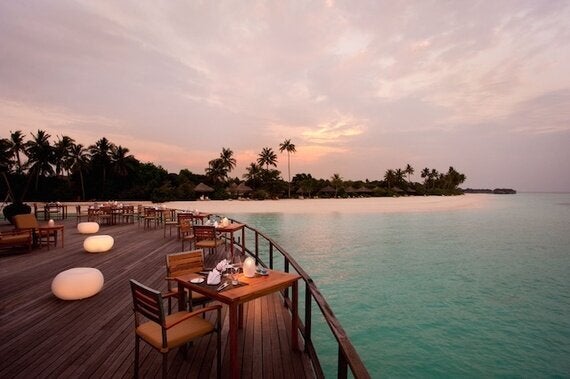 Avoid Islander's Grill if you are in a hurry to eat. The concept is great: choose your own fish then sit back while it's gutted and grilled - but in reality, the service is slow and sadly there isn't much of an 'islander's grill' feel to the setting. Disappointing.
Bizarre as it sounds, the karaoke room is not to be missed. With masses of room to spread out, sumptuous sofas and proper-good disco lights, the sun will be rising before you know it...
Seven nights at Sun Siyam Iru Fushi staying on a half-board basis costs from £1,589 per person including flights with Qatar Airways from London Heathrow and return sea plane transfers. (0845 543 6615, travelbag.co.uk)