Ireland. Land of the Leprechauns, the best Guinness, the friendliest people, Molly Malone, cockles and mussels and U2 to name but a few. And nowadays, home to spa hotels to rival the world's best. Being Irish I am sure you'll think I'm being biased. But if you don't agree, then we will have to roll up our sleeves and scuffle it out like the fighting Irish! Because Ireland has so much beauty to offer, here are the top four spa hotels you can visit to make your journey a very special one....
Monart Hotel and Spa, Enniscorthy, Co Wexford
Monart Hotel and Spa sits majestically amongst a serene and magical woodland in Enniscorthy, Co Wexford. Old architecture fights new, but both win victoriously. The original old house is the gatekeeper to the new and modern building behind. Its structure has been built with serious thought and care to make sure there is complete synergy with nature. The entrance is a beautiful old country house with several rooms to chill in. The large drawing room with log burning fireplace where you can read the papers and have high tea, the conservatory and a reading room for those needing to access the Internet and play some chess.
A glass walkway leads to the main hotel, so you float from old to new without even realising it. Oodles of floor to ceiling windows overlooking the gorgeous grounds, a duck pond and little bridges. You know that your mind will be forced to switch off from your life and be at one with nature. Large tree trunks stand majestically all around the hotel as pillars holding up the place. And here, guests wander around in robes, like an asylum. Well then, call me crazy and lock me up for good.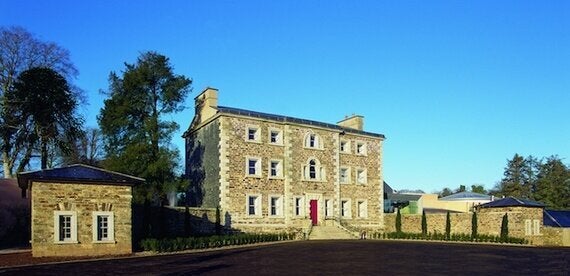 The Spa
As with everything here, the spa is situated harmoniously in natures playground. It's 'adult only' at Monart, so the loudest thing you will hear is the quack of the ducks outside. The incredible thermal suite is a journey in itself. Based on ancient healing and bathing rituals there is a maze of nine thermal rooms and as you waft from one to the other feeling more and more relaxed.
Think heated benches, Knieppe cure pool, salt grotto, caldarium, infrared pro sauna, solarium, Finnish sauna, outdoor log cabin and hydrotherapy pool. Not to mention the treatment rooms which offer an extensive range of treatments using the main product from the wonderful elite natural skincare range 'Pevonia Botanica'.
Try the Pearls and Caviar facial, the mud chamber, smoothing Moroccan Rassoul Wrap, and if you're lucky enough to be there between 19 September and 13 December don't miss the Shaolin Masters who offer amazing energy warrior massages and Tai-Chi, Meditation, Qi-Gong, and perform an amazing Shaolin show!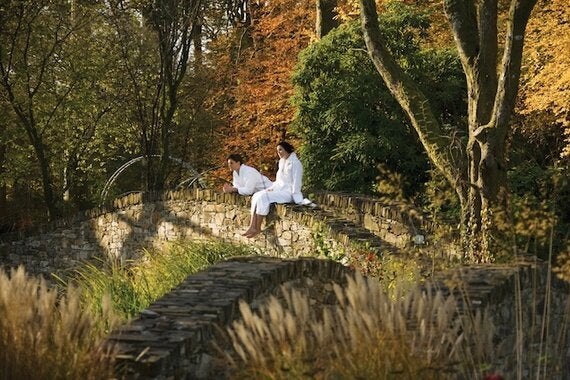 Overview
Monart is a true oasis of calm. Visit if you want to truly rejuvenate, and knock your stress levels down 100 notches. Aside from the natural surroundings, don't miss the exquisite food, choosing between healthy/detox menus (at the spa cafe) or go for the gold and indulge all the way at the fine food restaurant. Either way, you will resist giving back your robe, and plan your next visit on your way out the door!
The Shelbourne Hotel, Dublin, Ireland
The Shelbourne Hotel's 191 years of reputation precedes it. Recognised as one of Dublin's foremost luxury hotels, it is the one of the first places that I think of, when I think of growing up in Dublin. It is a hub of activity at all times, like a magnet in the centre of town, overlooking the beautiful Stephens Green, and just a stones throw from Dublin's famous landmarks. You are drawn into its historic building which has played host to quite a few significant historical events. Unfortunately it's not my little secret, it's bustling lobby is testament to that.
The architecture of the hotel is magnificent on the inside and out, both opulent and traditionally decorative, yet with all the mod cons a hotel needs in this day and age. The staff are superbly friendly (it is Ireland after all). From "The Navigator" who can tell you anything you need to know about Dublin's Fair City, to the restaurant staff who stop to chat, while not being too intrusive.
Don't miss out on cocktails at the famous Horseshoe bar, before dining at the magnificent Saddle bar restaurant where breakfast is also an event. Make sure to indulge in the large honeycomb and smoked salmon - smoked on site!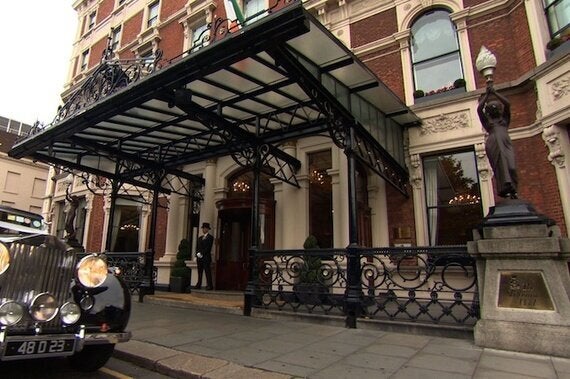 The Spa
The spa is an oasis of calm away from the hustle and bustle of Dublin's city life. I opted for the facial they have become synonymous with. The Biotech Facial is a unique infusion of touch and technology using ELEMIS products. With seven facials on offer my therapist Sade chose my personalised facial based on performing a skin analysis.
High technology is used, including the 'Ultrasonic peel" (a gliding the Quartz plate across the skin, which vibrates 27,000 times per second) A whole lot of Steaming, Masking, Infusing, Scrubbing, Saturating, Stimulating, Analysing, Energising, Re-Boosting O2 infusing later, I looked and felt 10 years younger! Rewinding the clock far enough to make me feel as though I had stepped back into my youthful Dublin days!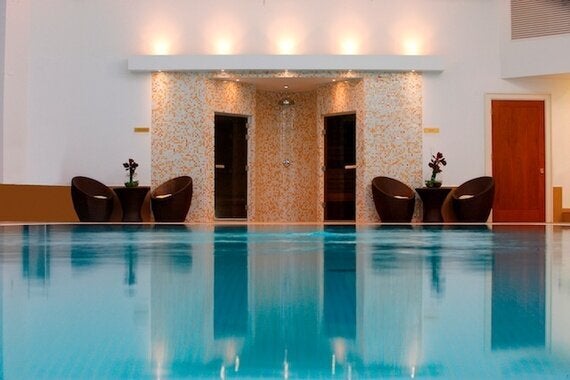 Overview
A luxurious, traditional and unique experience in the heart of Dublin's city centre, staying in truly luxurious rooms, some historic. With great food cooked in an open kitchen, an oyster bar, cocktails and atmosphere and incredible spa treatments.
Carton House Hotel, Maynooth, Co. Kildare
As a schoolgirl, I was best buds with the daughter of the family who own Carton house, a beautiful 18th century Georgian building. So needless to say, I had experienced a few parties here! Since those wrinkle free days of my youth, Carton House has been lovingly restored into a stunning hotel and spa.
Steeped in history, Carton House was once a favourite of Queen Victoria and Grace Kelly - reasons enough to pay a visit! Set in a thousand acres of beautiful parkland, it feels like a remote country escape, not far from the hustle and bustle of Dublin's city centre. The house is divided into two parts - the more modern new building with it's contemporary designed rooms, and the main house, which has kept all it's original features (Carton was built in 1739).
Rooms like the original 'Gold Salon', are a real treat for the eyes and amazing Baroque interior and beautiful french doors lead out onto one of Ireland's number one golf courses - another asset of Carton house, should you be a swinger - of the golfing kind of course!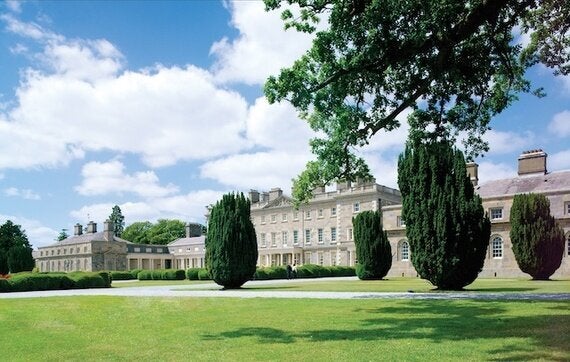 The Spa
The Spa at Carton House sits in the converted stables. But no horsing around here! The therapists here are expertly trained and know their stuff, tailoring treatments just for you. There are 7 beautiful therapy rooms in which you will find a plethora of delicious Darphin products. And treatments to die for, such as the Extreme Hydration or Smart Firming Facials. The Deep Harmony Face and Body Massage and the Personalised Refining Body Polish.
The spa also offers Girly Day, Mother To Be, Golfers Rejuvenation and The Romantic Couples Packages. For the more energetic amongst you, the leisure suite is the place for you, with its 18 metre pool and fully equipped gym... not to mention two outdoor tennis courts. Personal training and weight loss programs are all available. Robes and slippers are encouraged at the Carton House Spa, making you feel more relaxed than you thought possible. The relaxation room has fruit sorbet, magazines and teas on offer. You will leave feeling just as glamorous as Queen Vic and Grace Kelly who walked the corridors of Carton past.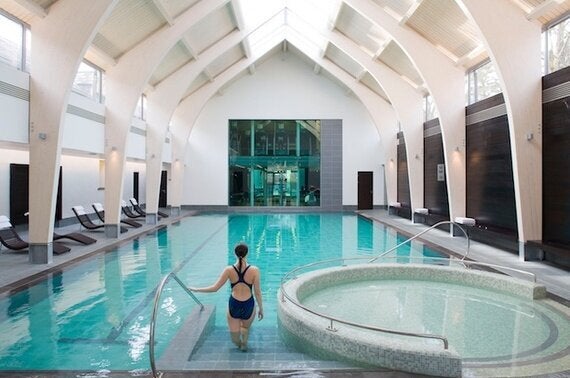 Overview
The best part about Carton is that it is so close to Dublin. A quick spin and you are away from the hustle and bustle of the city centre, yet you feel a million miles away. Both geographically and historically. Carton House is steeped in so much history you feel as though you have traveled back in time. It is truly enthralling and reason enough to visit Carton House.
The Marker Hotel, Dublin
Once a hub of ships, commerce, coal merchants and traditional Dublin industries, Dublin Docklands is now a vibrant new business and cultural quarter of Dublin. Full of suits, cool hipsters, theatre goers, and of course guests of the luxury design hotel The Marker. With it's super cool giant facade, reminiscent of a giant chessboard, The Marker stands tall and proud, just like Dublin. Having been through it's fair share of economic woes, Dublin is bouncing back and it shows.
The Marker and it's surroundings are a true indicator of this change. It's seriously modern exterior design is a reflection of Ireland's rugged rocky landscape, which flows inside to it's ground floor cocktail bar and brasserie. The contemporary rooms and suites are peppered with bold designer furniture, and the pièce de resistance is the breathtaking Rooftop Bar & Terrace, which has views far and wide across Dublin's cityscape and mountains. A moment spent up here to reflect Dublin's beauty before hitting the spa, is a must.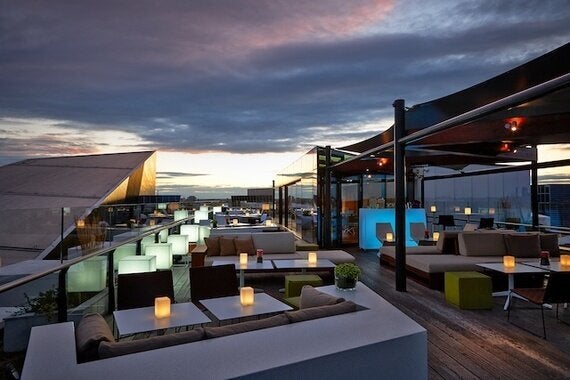 The Spa
The spa here at the Marker checks all the boxes. Spacious treatment rooms, separate relaxation room with hanging pods, a 23 metre infinity pool, large jacuzzi, sauna, steam room and a fully equipped fitness area. There is such a warm cozy vibe down here that you completely forget you are in the heart of a bustling city. Grab your robe and head for the cavernous pool swathed in deep grey tiles, and sparkling ceilings. Opt for a Signature Caviar Facial, The Lava Shell Body Massage which is the world's first self-heating massage tool and prepare to melt into a world of bliss.
The Marker has also introduced "Equilibrium" to the Spa and Wellness facility. The Equilibrium Spa menu includes things like Lomi Lomi Massage, Spirulina Wrap and Glacial Shell Detox Treatment. When you're done being blissed out, crawl into a cocoon which is suspended from the ceiling. Careful, you may never emerge again.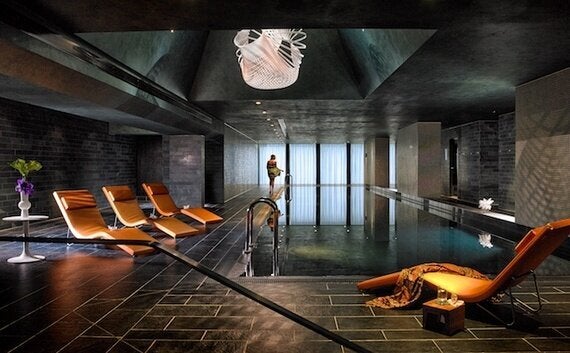 Overview
Dublin's hottest new hangout, which caters for everyone, from cool hipsters, to history seeking tourists. Vibey, yet not pretentious, and with the new wellbeing concept "Marker Equilibrium", you are guaranteed to be able to spoil yourself the healthy way too!