If you're aware of the USA chain of hotels the W, you will know that they represent all that is cool, kitsch modern and funk about the hotel world. What W stands for, I'm not sure, but i would hazard a guess at Wowza. When I heard they has opened up shop in Verbier - a mecca for seasoned skiers, that even Hazza, Willy and Fergie frequent - I assumed that the chain would just take a blueprint of one of their successful USA hotels and Bob (sleighs) your Uncle. I was wrong. Very wrong.
The W Verbier's design is so much more "Swiss ski chalet" meets irreverent sophistication than its metropolis dwelling cousins. A design junkie's heaven, you're greeted by red ceramic tigers, crocodiles and cat buddhas, arty-farty mannequins with ski helmets and a double sided glass fireplace to defrost you as you enter. A lobby bar to beat all lobby bars (if there was a lobby bar competition that is) with sheepskin rugs, cozy cushions and lots of fluffy throws to make you feel snug as a bug in a rug when it snows, and live music to create even more of an atmosphere than already exists. You are instantly assured that theres no danger of losing the comfortable cozy feel of a ski chalet to the funk of a funky hotel chain.
This a W like no other, and no hipper hotel to have taken up residency in the coolest most central spot in town. So central that you can ski right into - one of only five hotels in Verbier with this luxury. The W is built across the road from Place Blanche, Verbier's new central meeting square. A positioning that has been cleverly planned, like their Pre-Après Ski bar (the fun before the fun ), which sits bang smack in the middle of it. After an action packed day on the slopes, snowplough into the bar, where the hotels resident DJ will spin you a tune dizzier than the heights you just left and turn it into an even more action packed night. The fun after the fun continues in the hotels hip nightclub Carve. The W is without a snow capped doubt, the hottest (or should i say icy-coolest) spot in town.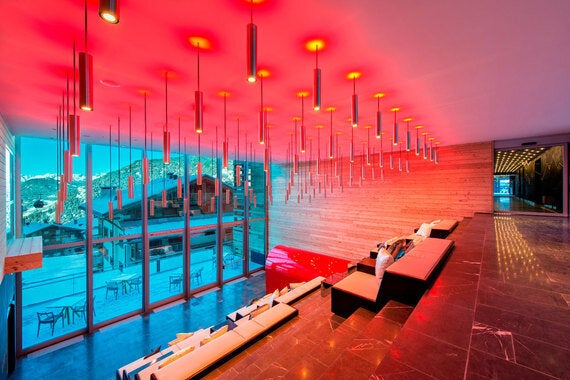 When you think of skiing, thoughts of hearty soups and melted cheese appear. However not a morsel of this traditional fare is to be found at the main restaurant 'Arola'. Its namesake, director and owner of two michelin stars Sergi Arola, has created a menu which reflects his Catalan origins. Try the langoustine and slow cooked egg with Iberian ham broth, mushrooms and crispy pork crackling. The monkfish in a romesco sauce with braised baby lettuce, confit of tomatoes and black olive powder. Or a nod to the more traditional swiss affair, hazelnut gnocchi and salt baked root vegetables. The steak tartar, with lime and soy sauce marinade and crispy fried onions is another dish to make you salivate. Alternatively you can perch at Sergios 'Eat-Hola' tapas bar. It's more causal here and fun to watch the chefs prepare your favourite dishes, like flame grilled eggplant, tartar of langoustines, gyoza of octopus or oxtail ravioli. And since you need to carb load for another day of skiing, dessert is a must, so try the dark chocolate fondue with baileys, and the real chocolate spread with tonka bean mousse. Just about the right level of fuel you'll need for another day on the slopes where you can shoop shoop shoop the calories away!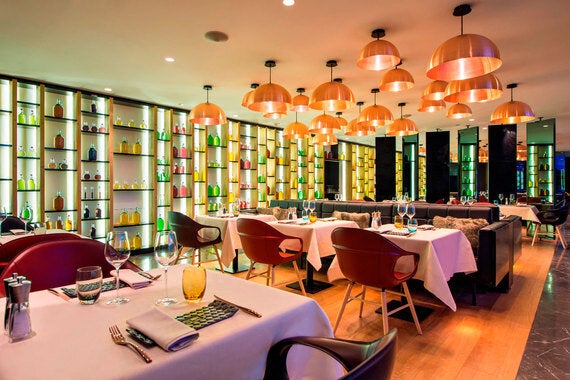 The W is designed as four chalet-style buildings side by side, which are linked by a glass atrium. While the hotel is utterly designer chic, it also has oodles of traditional Alpine style and the bedrooms are no exception. Exposed timber, combined with red and white 'Swiss-flag' decor offer that "mountain-chic" design. An eclectic mix of fabrics from cowhide chairs to faux fur and velvets keep you cozy, while ski kits, Nespresso machines, i-phone docks and models in snow globes keep you amused. The lighting is imaginative (albeit quite high tech) and there is a glass gas fire to set the mood, through which you can see the bathroom. Fully kitted out in timber and red perspex, the sink is lit from below, and hanging bauble lights dangle overhead. "Funky-chalet" in action again. There is a bath as deep as a snowy ravine, and a shower spacey enough to store the ski kit of the Swiss Ski team. Oodles of delicious 'bliss' products lie about, just the thing you need after a day on the slopes.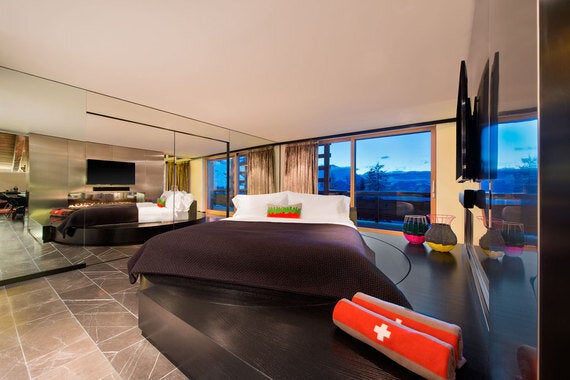 A day of ski, calls for a night of spa. And if like me, boozy aprés ski isn't your thing, then manoeuvre off piste from the bar and slide into the AWAY spa. All of the amenities you would expect of an alpine retreat are on offer, sauna, steam room, jacuzzi, indoor/outdoor pool, but the Spas piéce de resistance is the avalanche of massage and body treatments. The two hour 'Away Body Treat' is a must. Start with a scrub to exfoliate your exhausted ski-beaten skin, then get cocooned in a delicious wrap with either detoxing white clay or refuelling black clay, before a pounding invigorating massage. Or try the 'Detox and Refuel body ritual', (a must for party goers) with a ground sapphire salt scrub to firm and detoxify, and tea leaf and cocoa bean massage to completely revitalise you after a rough day on the slopes and a rough night on the tiles. I'm beginning to think The W may stand for much more than WOW. I'll hazard a guess at Wonderful, Wicked, Wild, Wacky, Wondrous, When can I return?!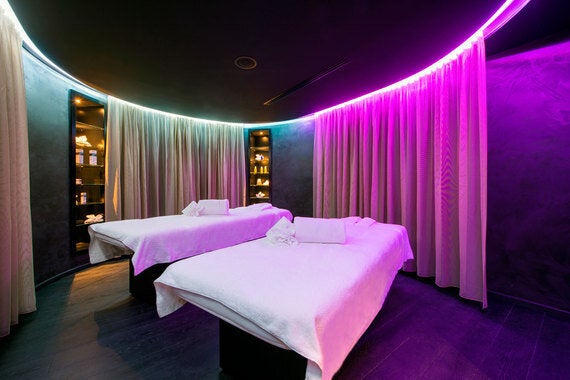 Convenience here is key. The hotel is situated a goggles-throw away from the main gondola at Médran meaning little if any clambering in your ski's. 'Mountain Air' the place to rent all of your kit is across the road, and with a snowstorm of genius, the W have a specially built 'boot room', where the staff practically help you to undress, take your kit from you, store it under your room number, so that leaving the hotel unnecessarily is out of the question. Meaning you can focus solely on wellbeing and hitting the slopes in full working order.
Hitting the slopes unprepared is the worst thing you can do, whether you are a baby or a black sloper. The team at European Snow Sport School are an invaluable addition to your trip. Becky our guide, took us on slopes and routes we would never have done on our own. Leaving us more time to perfect our otherwise imperfect turns!
Restaurant-wise, you're spoilt for choice in Verbier. Not far from the W, (like most things) Le Rouge is a fantastic spot, with cozy sheepskin rugs, delicious grub and tapas.
La Grange is great for Gourmet seasonal and local cuisine, mostly game and seafood.
Or try Le Caveau if you're looking for some top notch melted cheese (the traditional Raclette to be exact) This place is the big cheese!
Flights from London Heathrow to Geneva start from £80 with SWISS.