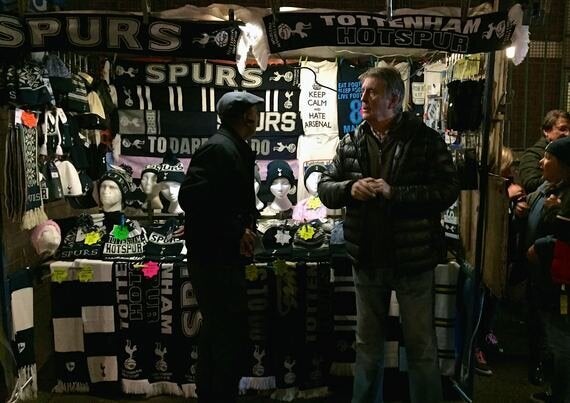 Will the departure of Andros Townsend play a part in Tottenham's January transfer market trading?
It's remarkable how a story like a former player returning to rescue a relegation threatened team as manager can whip up a fervour in football. Outside of Tottenham everyone seemed to want Crystal Palace to beat Spurs on Saturday including Sky co-commentator Niall Quinn, referee Anthony Taylor and even Lillywhites winger Andros Townsend. Alright, Townsend isn't strictly 'outside of Tottenham' but after this latest performance many Spurs fans will wish he soon is.
Before the game the main worry was whether Stambouli and Dembele would be up to replacing the youthful verve of the absent Bentaleb and Mason. In the event, they were pretty effective for most of the game and it was Stambouli's late withdrawal that tipped the momentum in Palace's favour with Capoue, despite his fresh legs, looking sluggish in comparison.
Also less effervescent than of late were Kane, Eriksen and Chadli, the attacking dynamos that drove December's improvement in form. The fixture pile up is not about to abate and these three look increasingly irreplaceable yet in real need of a rest. Wednesday night sees the visit of Burnley for the FA Cup third round replay followed three days later by the home league game with Sunderland and then, four days after that, the first leg of the Capital Cup semi final with Sheffield United - and so it goes on. Pochettino will presumably rest some of the more important players on Wednesday and hope that Burnley boss Sean Dyche does the same.
Aaron Lennon must surely be due a start. Looking at Townsend's performance on Saturday it's very hard to understand how he has leapfrogged the little Yorkshireman in the wingers' queue. In fact, apart from an emphatically converted penalty at a crucial point in the Chelsea game, it's difficult to think of anything good Townsend has done for some time now. There is much talk of selling Lennon and, because he is the older of the two, that might seem to make business sense but, from a footballing perspective, offloading Townsend would surely be wiser. As an England squad regular he would doubtless command a higher fee too and the money could certainly be put to good use. Whether he would be prepared to go would depend on what's on offer elsewhere though he made a great show of his reluctance to leave in the press last week.
Meanwhile Lennon cannot get a game. Whether this is because of a behind the scenes fallout or the boss has just gone off him is hard to say but it cannot simply be down to his supposed association with the rebellious cabal of Kaboul, Adebayor and Capue because Capoue is getting game time and the manager is talking up the idea of Adebayor coming back into the fold. Lennon remained stuck on the bench on Saturday which became increasingly puzzling as the game began to slip from Pochettino's grasp.
With so much to go for and so many games to play, Tottenham's infamously large squad suddenly looks a bit puny when you look at the standard of its second choice attackers and defenders. The fans will be praying that this transfer window doesn't end with a couple of over-negotiated deals falling through at the eleventh hour and one or two creaking veterans coming in on loan. History tells us that it is all too easy to be well placed at the turn of the year only for the season to end in disappointment if you make a pig's ear of the January window.
Related