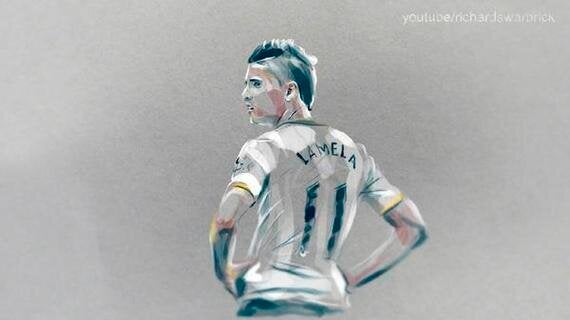 Erik Lamela's anatomy-defying strike will ensure that Thursday's game will never be forgotten. Illustration by Richard Swarbrick.
So much to enthuse over in Tottenham's 5-1 Europa League victory over Asteras Tripolis. Harry Kane's hat-trick, Lamela's show-stopping rabona goal, and, best of all, the manager's determinedly miserable demeanour throughout. When Lamela's anatomy-defying strike went in, Pochettino sat unmoved and stoney faced on the bench. And in his post-match interview he grumbled that the defence had been generally not up to scratch and was particularly culpable when leaving Hugo Lloris exposed to the one on one that resulted in his red card late on.
This uncompromising stance had been foreshadowed by earlier comments on his difficulties at Spurs as noted on Harry Hotspur's essential The Boy Hotspur blog. Talk of a 'very tough period in the club' and 'rumours and information and different situations' regarding the future of Jan Vertonghen indicate that he had the right hump well in advance of Thursday night's kick off. The fact that the Spurs defence, featuring a recalled Vertonghen, looked vulnerable all evening only served to exacerbate his dark mood.
All of which, like the form of Kane and Lamela, is good news. Pochettino is not the type to let a home win against a Greek side no one has ever heard of distract him from the bigger picture. His steely resolve, evident since the desperate home defeat to West Bromwich Albion, is what's going to drag this team kicking and screaming towards the fulfilment of its potential.
Part of the process is the ongoing sorting of the wheat from the chaff among the playing staff. Last night, rather than selecting a straightforward second eleven as has been his inclination for previous Europa games, we saw a kind of hybrid. Rested, and therefore pretty much guaranteed to start on Sunday against Newcastle, were Danny 'Marmite' Rose, Captain Kaboul, Overnight-Sensation Ryan Mason, Goal Machine Nacer Chadli and Playmaker-in-Chief Christian Eriksen.
This leaves a couple of key selection questions before Sunday. The first is: who plays alongside Kaboul? Are the accomplished Vertonghen's behind the scenes manoeuvres enough to cost him his place in the Premier League side? Fazio looks a decent centre back but he is of the big and brawny breed; like Kaboul but without the pace. For balance, Vertonghen is much the better choice so Poch must continue to wrestle with the question of whether 'his head's right'.
The other intriguing question is: who plays up front? Given the good form of the Eriksen, Chadli and Lamela we can assume there remains just the one striker-slot available. Goal-shy Soldado is suddenly the incumbent having payed quite well on Saturday at Manchester City, but Adebayor has been the first choice for most of the season and was probably only dropped last weekend because he arrived back late - as usual - from international duty. Then there's Harry Kane who just keeps getting better and better. Earlier in his development comparisons made with the great Teddy Sheringham were largely based on their shared lack of pace. But on Thursday he displayed the more beautiful Sheringham-esque qualities of vision, touch and precision-finishing. On form, Harry is the man.
Thursday night will remain unforgettable for Kane because of his hat trick and his short spell as Lloris's replacement between the sticks. But it's a measure of the astonishing quality of Lamela's first goal that, for everyone else, it's the Argentinian's strike that will etch the game permanently in the memory. By the time his press conference came along, even the grumpiest coach in England was celebrating it with a smile.
Theo Delaney will guest on next week's Spurs Show podcast with Ramon Vega
Popular in the Community