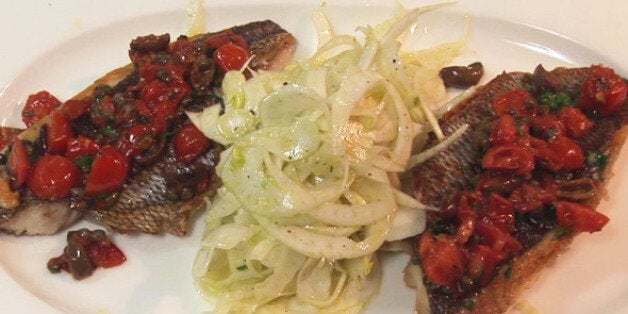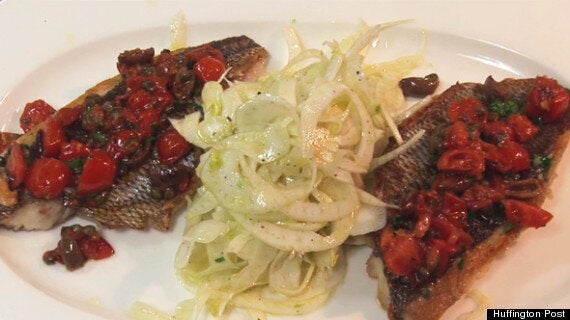 Seabream is a really delicious fish. The best seabream is the wild gilthead bream because of its sweet tasting flesh. Try using wild black seabream which is what I used in this recipe as it is half the price of the gilthead bream but still tastes delicious.
You will find farmed bream easily which still tastes good but does tend to be a bit fatty.
The secret to this dish is not to turn over the seabream fillet until you have a crisp skin. Make sure you oil and salt the skin and have a hot pan. If the pan is not hot enough it will stick and overcook.
The tomatoes will add lots of flavour but will also keep the fish juicy and their sweetness and acidity will complement the fish. Do not squeeze lemon on the fish though - it will clash with the tomatoes. Have a great week!
2 x 180 g seabream fillets
150 g of datterini tomatoes cut into quarters
1 tblsp of miniature capers in vinegar
1 tblsp of chopped flat leaf parsley
10 de stoned taggiasche olives
2 large fennel bulbs (trimmed and tough outer removed)
Season the seabream fillets on both sides and rub olive oil all over the fillets. Heat a non stick frying pan until it is very hot. Add the seabream fillets skin side down and do not touch them for two minutes so the skin goes crispy.
With a palette knife flip over the fillets on to the flesh side and then add the tomatoes capers parsley and taggiasche olives to the pan.
Let everything cook for a couple of minutes then take the pan off the heat and spoon the tomatoes, olives, capers and parsley on top of the fillets. Keep the fish in the pan so the residual heat keeps cooking the fish.
Using a mandolin or a sharp knife shred the fennel so you have thin crisp, slices. Place the shredded fennel in a bowl and season with salt, pepper, olive oil and lemon juice.
Carefully take out the fillets and place on a plate with the fennel salad next to it. Try with a chilled glass of Verdicchio.