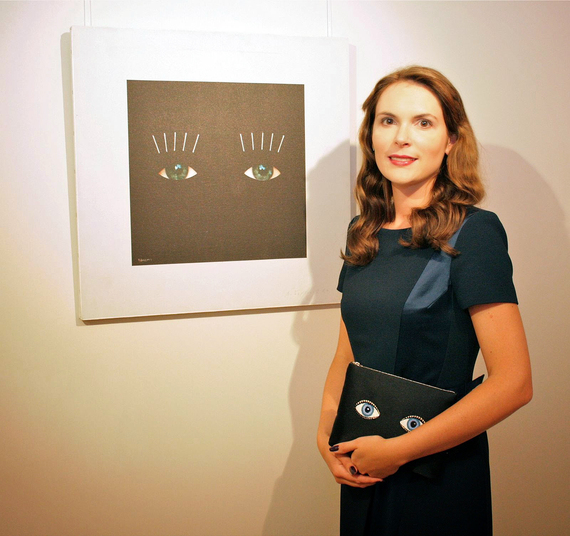 Photograph courtesy of Elena Shchukina
The Russian cultural scene in the West continues to grow and grow, with new exhibitions, and concerts and cultural events popping up almost on a daily basis. London lies at the centre of this boom - the UK-Russia Year of Culture has led to an unprecedented number of Russian-themed artistic ventures taking place all over the capital - this month alone marks the opening of two separate exhibitions of Russian Avant-Garde art and design, as well as brand new productions of 19th century theatrical classics Uncle Vanya and The Cherry Orchard.
An essential component of this boom has been the amazing growth of Russian Art Week, London's bi-annual sales devoted purely to Russian art. The event has seen some astonishing sales over the years, including Roerich's Madonna Laboris, sold by Bonhams in June 2013 for a staggering £7.8 million and Natalia Goncharova's Apelsinia, which remains the highest selling artwork by a woman in history (sold for £4.9m by Christie's in 2007). Following this June's extraordinarily successful sales, where over £64m worth of art was sold, this year's second round officially opens on November 21st with Russian Art and Culture's private party hosted by Gallery Elena Shchukina in Mayfair.
The gallery was established in September of 2013, the first of Russian-born director Elena Shchukina's two London galleries (the second opened in Knightsbridge in February 2014). The galleries place a deliberate focus not only on Russian art, but also on the work of artists from around the globe - Shchukina has exhibited artists from such varied countries as Japan, Nigeria, France, and Brazil. She cites London's international setting as a key component of her galleries' ethos: "I was really interested in a few artists that I came across whilst travelling and I wanted to showcase their works to Londoners - London is very international so I thought it would work well". Shchukina also takes full advantage of London's wide and varied cultural geography to make the most of her international artworks, collaborating on projects and exhibitions with the French Embassy and the Japanese Society, amongst others.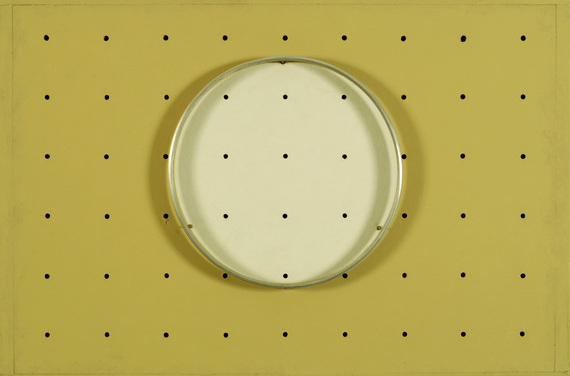 Leonid Borisov 'The Wheel', courtesy of Elena Shchukina Gallery
This November marks the first official collaboration between Gallery Elena Shchukina and Russian Art Week. Both of her galleries are currently showing exhibitions of Russian art, times to coincide with the UK-Russia Year of Culture 2014 which will feature as Russian Art Week's headline exhibitions. This is also the first time Shchukina has exhibited Russian art in her galleries, an event she is naturally very excited about. "Ever since I opened my galleries I've always been asked 'Are you planning to show Russian artists?' It was important to find a good artist to be interesting to Russians in London".
The Mayfair gallery is currently showing the first ever UK exhibition of St Petersburg-born (Leningrad) artist Leonid Borisov, the renowned geometric abstractionist. The exhibition features a wide range of his work including painting, sculpture, collage and photography, spanning several decades of artistic production from Soviet times to the 21st century. Shchukina highlights his connection with the Russian Avant-Garde as key to his importance as an artist, and his relevance to a modern-day audience: "I think it's really interesting that he is a follower of the Russian Avant-Garde and it is quite unusual to have such an exhibition in London. There are a few exhibitions on the Russian Avant-Garde in the UK, but not many on its legacy in later Russian art. I think paintings can show the energy of the person who created them, and I think these paintings show a sense of his character and personality."
The second exhibition, Born in the USSR, is located in the Knightsbridge gallery and focuses on Russian contemporary design. The exhibition has been specifically curated to celebrate the London Design Festival, exploring the theme of geography and cultural identity and what it means to be born within one cultural environment and to grow up in another, as the majority of Russia's contemporary artists have done. "The idea behind it is to show works that are a modern interpretation of traditional Russian designs", says Shchukina. "The exhibition showcases the work of fourteen young designers, who were born in the USSR at the beginning of the 1980s".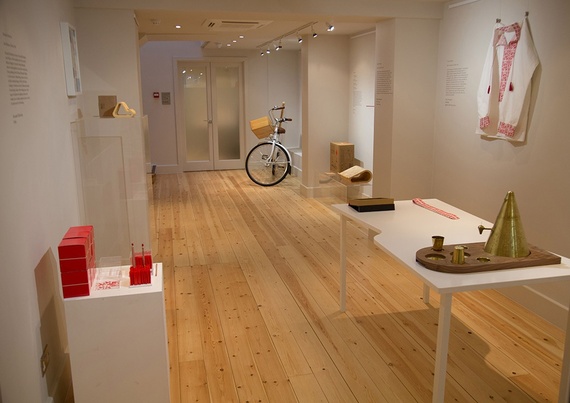 Born in the USSR, courtesy of Elena Shchukina Gallery
Shchukina was born in Siberia and graduated with a law degree from Moscow State Law Academy before going on to study at Moscow Design Academy, Sotheby's Institute of Art in London and the Instituto Marangoni in Milan. Owning a gallery was a long-held dream of hers, and its realization was planned around Shchukina's very personal notion of what a gallery should be. "There are many galleries in London and I wanted to do something a little different. My ambition was to present art in a different way. I wanted to show art alongside design or interior pieces", she says. The galleries are clean, uncluttered and modern, but Shchukina emphasizes the importance of manipulating the décor and setting to reflect the artworks on show, creating an immersive experience for the viewer that is essential to her ethos:"I want to create a certain atmosphere and for people to see art in different media and formats, and for them to feel art as a whole experience. I like to tell stories about artists and their culture; what the artist is trying to say. I want a multicultural experience for my visitors".
Leonid Borisov: Lessons in Geometry and Born in the USSR feature as headline exhibitions of the Russian Art Week programme. Download your free guide at www.russianartweek.co.uk.
Visit Gallery Elena Shchukina: www.galleryelenashchukina.com