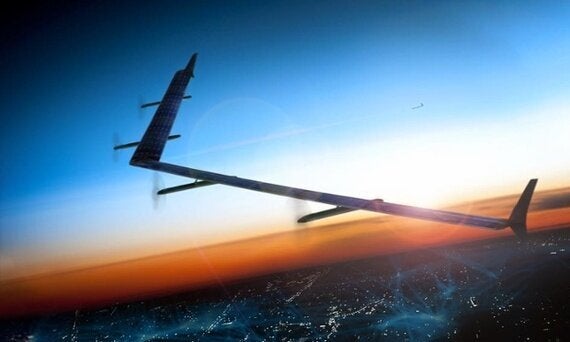 Facebook's new internet drone. Source: Facebook
Facebook has successfully tested solar powered drones that will connect over a billion people to the Internet. The company will become the gateway keeper to the web, a company that both creates the pipes and controls what flows through them.
To the New One Billion Facebook will be the Internet. It won't be thought of as a separate website competing with others because it'll be the starting point of the web journey. A Facebook account will be mandatory along with payment details. At Facebook's F8 conference the company revealed payment services through its Messaging platform (a long awaited feature) which will quickly overtake old payment mechanisms in countries where people text each other phone credit as a means of transferring money. Facebook won't just be a social network as it started off as in America, but positioned as a fully-fledged payment system, news portal, gaming platform and information service. It's for this reason Google is scared (and is developing its own balloon project).
Over a billion more people will connect to the web and thus to Facebook doubling its users which means a vast new market for advertisers. Global corporations with consumer goods will have a new - and perhaps the only - way to reach these people meaning more money in Facebook's coffers but it'll also mean a rapid spread of foreign ideology such as consumerism.
On the other hand however, the opposite will be true: the New One Billion will introduce the world to their cultures, artwork, thoughts, photographs, videos and news. The amount of information pouring through Facebook's pipes will exponentially burst. Artificial intelligence engineers at the company are devising ways to stem the flow to keep content relevant to you but without a doubt websites like Reddit are about to get a whole lot weirder.
The New One Billion will also mean one billion more people available to work in the digital marketplace. As I wrote on Screams, my creative design blog, this is bad news for designers. An increase in competition equals a race to the bottom. Logo design for $5 anyone? If there was any money to be made on freelance marketplaces such as Fiverr, eLance and oDesk, enjoy it while it lasts.
However it's fantastic news for the development of design and knowledge. The New One Billion are joining the web at a time when its optimised for learning: billions of YouTube tutorials, free University courses, coding lessons, free books, Wikipedia - it will be the greatest movement of information in history. New ideas will be formed, new approaches designed, new developments discovered.
Facebook's solar-powered drones will bring about the internet's biggest ever economic and information shift: a gigantic boom in consumer spending online and an equally large boom in digital production. At last a truly global workforce will exist and through the Internet at least, will enjoy free trade. Good or bad? We will have to wait and see although I predict that the days of being able to reach a large audience cheaply through social media will be gone. Like the old days, it'll be whoever has the deepest pockets wins - or, and here's the fun part - whoever's the most creative.
If you've enjoyed reading this article, share it on Twitter and read more from Tom Church on his creative design blog Screams.