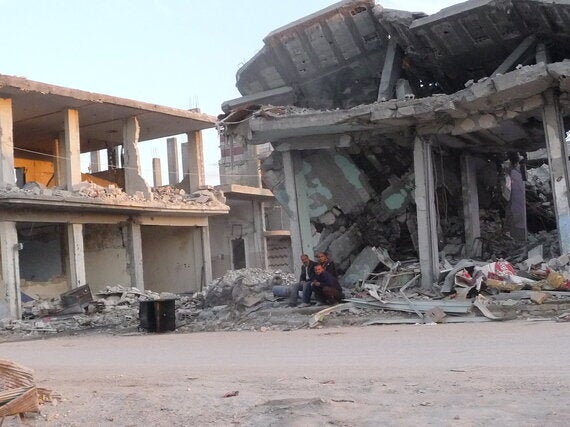 Image from Kobane, Syria, courtesy of Handicap International
In an editorial accompanying a study of casualty data from the conflict in Syria, the British Medical Journal (BMJ) has underlined the urgency of work to end the use of explosive weapons in populated areas. The new study published in the BMJ includes the finding that children in Syria are most likely to be killed in the conflict by explosive weapons such as aircraft bombs and artillery shells.
This new study of 78,769 violent civilian deaths in Syria, by a multi-disciplinary research team, highlights that "children and women had higher odds of death by explosive weapons and chemical weaponry, relative to shootings and compared with civilian men." This echoes the findings of a previous study, in the New England Journal of Medicine, that drew similar conclusions based on data on civilian deaths in Iraq between 2003-2008.
These articles cast further light on an established pattern of harm from bombing in populated areas in conflict zones around the world, which British NGO Action on Armed Violence has been systematically monitoring since 2011. Its findings show that when explosive weapons are used in populated areas, 90% of the casualties are civilians.
This pattern of harm led to the establishment in 2011 of the International Network on Explosive Weapons (INEW), which brings together NGOs in a partnership seeking to prevent harm to civilians from bombing and bombardment in towns and cities. The UN Secretary-General and the ICRC have called for states to avoid the use in populated areas of explosive weapons that have wide area effects.
So far around 40 governments have expressed concern about the use of explosive weapons in populated areas. In Vienna, from 21-22 September 2015, the Austria government convened a meeting of interested states to discuss possible elements of a political commitment to prevent harm from the bombardment of towns and cities. That meeting marked the beginning of a political process to curb this pattern of civilian suffering.
INEW is calling for states to pursue and adopt such an international commitment without delay and to ensure that its central undertaking is for states to end the use in populated areas of explosive weapons with wide area effects. States should express their support for this during the debates on international security and disarmament, as well as on human rights and humanitarian affairs at the forthcoming United Nations General Assembly committee meetings in New York in October.
The UK has so far refused to acknowledge the harm from use of explosive weapons in populated areas and has not yet indicated support for any international work to address this specific humanitarian problem. Instead government Ministers simply offer repeated assertions that the UK is "a champion of international humanitarian law." Other analysis suggests that such claims are hard to sustain, particularly if the UK continues to stand outside these growing moves to take concrete action against bombing and bombardment in towns and cities.
Popular in the Community