The dry Martini is the ultimate cocktail for me. I have a deep and historic relationship with the Black Russian. On transatlantic flights I take great comfort from a spicy Bloody Mary. I have been known to find a Whiskey Sour both nurturing and rewarding. Recently, I have been having a bit of a diversion with Daiquiris. I can also recall a special moment buddying up to a 'perfect' Manhattan. But in the end the alcoholic sonnet that is a dry Martini reels me back in.
The Martini has few ingredients, vodka or gin, blessed by a suggestion of vermouth, then added to with olive or lemon peel. But from this very precise and tight framework, all manner of variety can be created. My friend Carrie, a scion of the Kentshire dealing family in NY and a Masterpiece exhibitor, loves a Dirty Martini, one with a splash of brine from the olive jar. Ordering for her is predictable but she is very exacting about the balance, and many a cocktail has been returned to the bar with disappointment. In Japanese restaurants, you sometimes get a Saketini, which has a deceptive delicacy, as it seems so soft and gentle. Only when you try to stand up, does its full strength become apparent.
Allegedly the original Martini was made from Plymouth gin, and the cocktail is basically a way of drinking ice cold neat gin with a dash of something to soften the intensity. But that celebratory post-prohibition alcohol-fest belies the sophistication of a well-mixed Martini. Some bars have become legendary for them; in London, Dukes Hotel in Mayfair makes a fine classic Martini. It used to be a rule that the waiters would bring a maximum of two to any guest. Any more and you would be incapable, and worst of all unable, to appreciate the subtlety of the mixologist's art. I have broken that rule myself and all I can say is that the rule is best abided to..... It was a long story, I will tell you one day. Suffice to say, I am not crowned in glory at the end.
On Tuesday evening, I was seated with friends at a table on the newly refurbished 5th floor at Shoreditch house. Chris was drinking lager (a sort of health kick he is on at the moment) whilst Justin wanted something wintery, so we got him a Manhattan, which I think of as a winter Negroni, because of the whiskey. I decided to go for what I have dubbed a fussy Martini. That is one when you specify exactly all the ingredients. Stolichnaya Gold vodka, Noilly Prat vermouth, lemon twist (just the oil, not the peel), very very cold, and straight up. I waited for ages for my drink feeling parched and sad as the others talked and sipped. Eventually it came, the waiter saying he was sorry for the delay but he had been forced to make a slight change, as they had run out of Stoli gold. Oh no, I thought. And I lifted the glass gingerly and nervously to my lips. The slight and delicate aroma that captured my imagination as it rested for a microsecond below my nose augured delight, and the taste when it exploded in my mouth was one of joy, love, adoration and greed for more all rolled into one ecstatic flavour. I did not want to swallow, it was such a taste miracle. It won't be for everyone, in fact purists will abhor it, but for me my pleasure in the Martini has now passed onto another level. Stolichnaya Vanil was the unanticipated variation and I am a goner, I am a lost soul, I am going to run off into the sunset clutching these key ingredients to the perfect drink.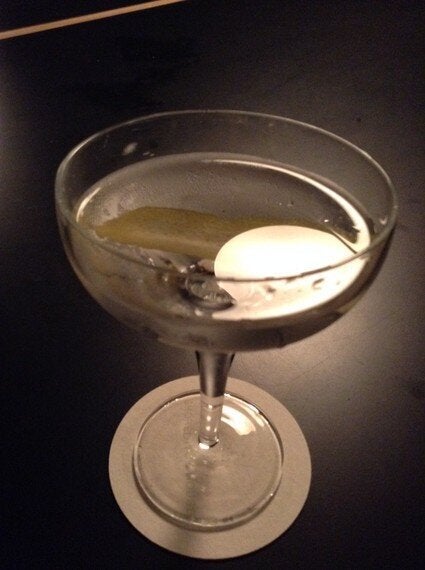 The week had begun with breakfast, joined by most of the Chairmen of the vetting committees at Masterpiece. The fair may be months away, but it is right round the corner in our minds. Vetting is crucial to the credibility of the fair. It is not a garnish, it is the main ingredient. For nearly two days, these chairmen, with their chosen teams, will independently and scrupulously examine and assess every object at the fair. 130 people will look at over 20,000 objects and give the visiting public confidence that what they are told an object is - can be relied on. We discussed over slightly miserable coffee and croissants the contentious issues, and consensus emerged. But most of all the spirit of collaborative scholarship became apparent. These 18 or so team leaders want to work together and supportively to realise a task for the buyer and, crucially, so that their peers will have respect for their process and scholarship.
The rain has continued and I have been soaked through cycling around London so often this week that my bedroom resembles a steaming laundry more than a place of rest. Mallett have been hosting a fantastic show of the photographer Harry Benson. He spent time with the Beatles and has photographed every president of the USA since Kennedy. Outside the shop are two massive posters. Arriving sodden and depressed it gives me a huge sense of relief to spot them, as soon as they hover into view, as I know I will be safe and dry for a while. Heading off with them behind me I pray that I will make it to my destination without too much water.
Spotting a gap, I dashed off to see Howard Walwyn in Kensington Church Street, and I arrived almost dry. He has a small elegant shop in which he has used bold shapes and colours to create a contemporary setting for fine, mainly late 17th and early 18th century English clocks. He is a colourful character, known as the professor, partly because of his academic approach and partly because of his mad flowing fair hair. We talked and discussed our trade friends and his stand at Masterpiece. I prepared to leave and discovered that I had left my wallet at the office. The rain was really coming down by then. An hour later I arrived at home with my wallet but wetter than I have ever been, and I include being in the sea or in the bath. I thought my bones were wet. I sat shivering in a towel by the radiator wondering how long this deluge would continue.
The peculiar thing is that between downpours the sun shines. The sky in brief interludes between hours and hours of rain is a fabulous almost warm blue. Punctuating the depressing gloom the most heartening brightness compensates, partially. I went to visit an old dealing friend James Millard. Stupidly and ignorantly I went to his old shop on the Fulham Road, where I was greeted with shocked disdain by the incumbents. Dover Street to Fulham Road is no distance at all, but I had to push on to his house in Richmond, a fair way to go playing rainfall roulette. But the gods were smiling and I got there and back with just the occasional half-hearted shower. James is part of an old school duo that have for many years scoured the USA and Canada repatriating English furniture and decoration. He lives in a fine large roomed Edwardian villa and he has just done the fashionable thing of digging out the basement. He has built a magnificent high ceiling subterranean gallery. Along with the internet he is ready for the next era of dealing. The room feels open and airy despite not being either. It has an almost James Bond lair feeling to it. He has traditional pieces but they look relevant and fresh in this environment. As I cycled back, still dry, I reflected that this was a powerful statement of optimism for a trading future.
Related