The dust is rising as the last few struts are removed and packed up for onward travel,The Dutch are licking their wounds following another World Cup penalty shoot-out failure, and a disconsolate mood hangs over the dry bare ground revealed by the vanished Masterpiece 'Evolution' tent like a miasma. Elsewhere the last throw of the dice is being prepared. The Christie's and Sotheby's decorative arts departments are presenting sales - in one case "Treasures" and in the other "Exceptional": they have both previously had a go at titles which reference Masterpiece but this year they are baulking at such obvious coat-tail attachment. The writing has been on the wall for some time with regard to the status of these departments at the two Leviathan of auctioneering. Since contemporary and post-war sales have begun to nudge towards a billion dollars for their key weeks and a decorative arts sale can only generate a measly few million, the result is that the latter have been be relegated to the dog end of the season. This year the fancy sales have are in the second week in July, a point when the smart crowd have already left for their holidays. This ignominy is not reserved for those struggling to sell furniture and sculpture but has trickled down to the OMP (Old Master Paintings, everything has an acronym these days ) too. When we started Masterpiece we were put under huge pressure to move our dates earlier to the traditional slot for fairs at the beginning of June. This year I was collared by a number of dealers from England and Europe wanting us to move the show on into the middle of July. How times have changed!
Off to the salerooms, at Sotheby's there is the Northumberland collection to enrich the sales. They are selling around 80 lots during 2014 to raise funds following disastrous flood damage around a block of flats in Newcastle and the subsequent costly repairs: a selection has been made from Alnwick and from Syon. I am put in mind of the film Toy Story III, a tale in which once loved and cherished toys are sent off to a new life. The chosen Northumberland pieces, had they similarly come to life, must have felt very sad - not worthy of being retained after such long and loyal service. These lots are garnishing a number of sales throughout the year, where in the old days there would have been a single-owner sale and a big catalogue full of biography and architectural background. Now, Clive Aslet (editor-at-large for Country Life ) has written a piece for the Sotheby's magazine and that's that. At Christie's they just have to make do with their traditional methods of business getting, having no single name to enhance or bolster interest. Nonetheless, when the gavel finally falls on the last lots Christie's has achieved a total around £31 million whilst Sotheby's trails at £23.5 million. My figures are rounded as I cannot be doing with long numbers and decimal points. The totals are quite impressive, of course, but we are talking about 100 lots spread over two sales and items representing a range of styles, periods and disciplines. At Masterpiece we had 160-odd stands and each one had around 100 pieces, -some many more, some a few less, but it is a fair broad-brush figure. We are looking at in excess of 16,000 items available for examination, discussion and sale. It is no wonder that fairs are making such a big impact on the market.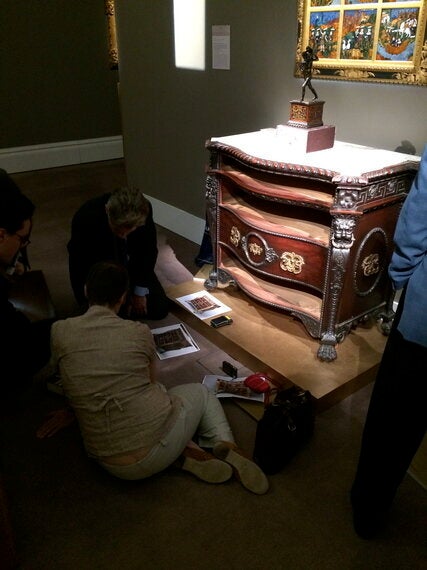 For a few days and for a last gasp of the season, however, the salerooms draw in the local and interested crowds. Pieces are taken apart and pored over and the buzz of enthusiasm gives the viewing days a very infectious energy. It is also a delightful opportunity to meet and chat with friends and colleagues. I went through Sotheby's very fast but not without meeting Joao Magalaes, my erstwhile colleague from Mallett with the unpronounceable Portuguese name. A direct descendant of Magellan, the early 16th-century circumnavigator, he is now a key figure in the furniture department. But that is not my main interest. He and his feisty and wonderful wife - who has been re-christened Zinha by Joao - have had a baby. The child is fresh into the world and whilst he is keen to guide me towards a rare automaton clock what engages me is excitedly finding out how mother and baby are getting on.
Friday evening is filled by catching the end of the William Kent show at the V&A. The museum stays open until 9.30 pm on Fridays and it is amazing to see how the galleries throb with people at this unusual hour. I pass through and stand in awe before the fantasy and imagination of Kent. He resides in my memory as being the symbol of the British Baroque. This is my furniture bias speaking, were I an architecture buff I would be rhapsodising about Palladio, and various houses stand out- Chiswick, Houghton and Holkham to name but three. His work epitomises the rich Italianate style of the early 18th century, but here on show is more than that grandeur. For me the great revelation was Kent's whimsy and charm - time and again he filled his designs and drawings with bonkers details that both leaven and enhance the more serious and more familiar side of his work. The exhibition captures and expresses briefly the important details, and brings out his astonishing versatility. It was an excellent exhibition but perhaps we could have been spared the sound effects of birds tweeting when we were admiring his garden pieces; I have to surmise that curators have no faith in our ability to recognise or imagine the setting a piece might have been intended for.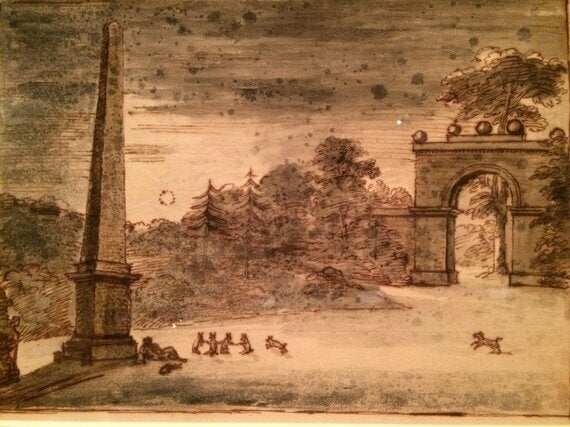 On Sunday an eccentric outing. Some friends from Germany had booked tickets for Don Giovanni at Glyndebourne. The problem was that Germany had made it to the final of the World Cup, and the events were now clashing. They have two sons who love them very much but were not prepared to sacrifice the World Cup final. So, during the long interval following Act I the boys were to gobble down a delicious picnic, gargle a few glasses of champagne and head by taxi and train to London and a German-themed pub where they were planning to see in victory accompanied by their compatriots and a few steins. This is where I came in as I was invited to attend the picnic and use the second half tickets - so to speak. Sitting in the foyer watching the first half had its charm and the music poured through the walls lending a soundtrack to the attractive fresh faced young waiting folk who were bustling about preparing for the onslaught of the interval. There were jokes and broken glasses and a considerable amount of flirting as Don Giovanni made his way towards his nemesis via murder, parties and attempted seduction. The interval was announced by on-stage pyrotechnics which I enjoyed on the foyer's TV screen. Then the picnic, the boys rushed off, and we installed ourselves in glory in their warm seats, which were magnificent. The great man sang his way into hell and we trooped out thrilled. Leaving the theatre I ran into an old client of mine who briefly and shockingly told me of the death and forthcoming funeral of Ina Lindemann. Ina was a kind generous and supremely gentle designer-decorator who I had worked with via Mallett for the last 20 years. I knew she had been struck down with cancer but I had thought she was in remission. It took my breath and good spirits away to hear of her death. There are many ruthless brutal people in this business for whom few would weep, but Ina was without doubt one of the good guys. The world I work in is much the poorer for her loss. I was speechless for a while and my friends were puzzled by my sudden lugubriousness. But the sun set picturesquely as we began the drive back to London and my mood lifted. Our discussion of the performance was punctuated by updates from the boys on the progress of the match. Just as London hove into view we learned that Germany were the World Champions. It was an amazing evening. German and Italian and Glyndebourne itself, a sort of fantasy quintessence of Englishness. A night to remember and cherish despite the loss of dear Ina.
Related