There is a strange unnerving sense of inertia in the air. Everyone seems to be anticipating a holiday or is away on one. Those that remain at work appear rather forlorn and left out. At school for sports we were always lined up, captains would be chosen then they would choose their teams. As each person got the nod you stood there silently squirming, hoping neither to be last nor forced into an unwilling group. August workers are a bit like this, a strange unhappy residue.
It was really hard going to the office on Tuesday. I dragged myself to Hatfields, the restoration experts, in the morning to usher in the latest purchases and encourage their restoration. There, the boss Anna is away, on a stay-cation, the foreman is away, so is one of the polishers and two of the cabinet makers. It feels like the 'Marie-Celeste". The wind whistles along the corridors as voices echo in the silence. Lights are out all over the building. Sarah, who we all call the Princess of Nebraska, is in charge and though she is the picture of efficiency there is no one left to instruct. I cycle up west to the Masterpiece offices, the roads are quiet and yet the pavements are full. The crowds are out in force to see the changing of the guard march down the Mall. Heads bob and all that can be seen is a strange forest of novelty flags above the heads of the crowd carried by various tour guides. London is a strange place devoid of inhabitants and charged with visitors who block my cycle path. The office is similarly empty. I make a few calls and then head out to lunch with Red Finer at Little House. He is one of two brothers who are the loyal sons and team for Peter who runs the world's leading arms and armour business. He is a rather dashing figure, both he and his brother favour flowing swept back locks. I picture them as young knights earning their spurs for the King, their father. They both display a stirring blend of filial and professional loyalty. He, Peter, is a lucky father to have such boys. Red tells me he is off shortly to California on a restaurant tour; he is going to eat his way up route 1 from LA to San Francisco via Big Sur. I am green with envy. He has managed to secure chefs kitchen stops in iconic eateries all the way. We order Gavi wine, and it rewards as ever with scent and crispness. He has the Dover sole and naturally eats it on the bone not wanting to miss all the curious corners of meat that so reward the forager. In a sort of school dinner's manner I order the pasta. From Hungary I have been missing plain pasta and it is delicious and comforting in equal measure. Conversation flows and we cover a lot of ground analysing and replaying some of the highs and lows of this year's Masterpiece. He shares his hopes for next year and some broader ideas. His views are sound and interesting; he is a true trader having been in the business approaching 20 years. We part, and I head back to the now empty office. I am not twiddling my thumbs but it is strange to be surrounded by silence.
The next morning I make a brief appearance at the office and fill in a few forms for Hong Kong. Make some calls to dealers encouraging them to participate. But this is as nothing in comparison to "The trial of the week". Last week I took my phone for a swim in the Danube. It turns out iphones cannot swim. The poor creature died in my damp hands and then I left it somewhere drying out and that was the last I saw of it. It must have been sent to the great mobile hunting grounds in the sky. On my return I contacted the insurance company and had to decide whether to claim for losing my phone or killing it. I plump for loss. Several calls later I am promised a claim form, however the end of the week is approaching and nothing has arrived. In tandem I am trying to get a new SIM card out of Vodafone. Visits to stores offer up SIM cards like confetti but they have to be activated. "'data protection' don't you realise Mr Woodham-smith, I am doing this for your benefit!" or so says the operator at Vodafone. Luckily I still have my trusty IPod touch and with the joy that is wifi I am still connected, though intermittently.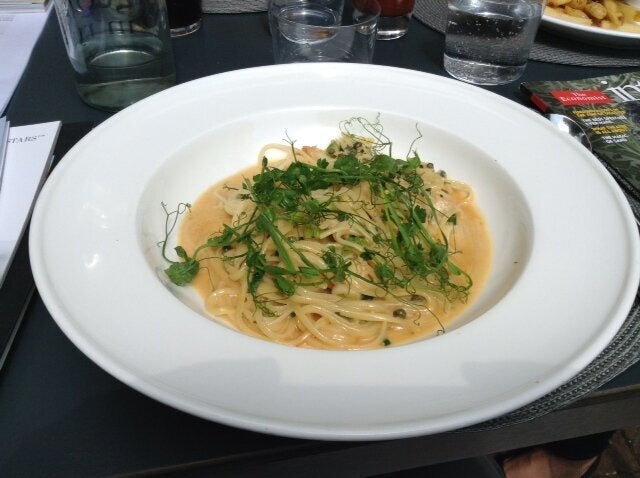 I am off down to Rye to meet with Nazy and Oscar, from Apollo Magazine. Nazy has given up a few hours of her holiday to plan the latest offering of the Masterpiece London magazine. The train is empty and sparklingly clean, a quick change at Ashford and we are in the medieval market town of Rye. A short walk to The George and a terrace table in the English sun welcomes us. I have more pasta, this time in a slightly unsatisfactory watery sauce. It looks great but flatters to deceive. The worst part is that I keep thinking I am going to flick sauce over my fellow eaters and of course myself. Each mouthful is perilous as the dangling tails of the pasta threaten to bespatter all around. I nervously finish and then tackle a reassuringly dry chocolate foam of a cake with ice cream. Sadly, though clean, this is disappointing too, as it sits in a rather unfortunate brown smear, which allows far too much of my imagination to engage. Lunch and discussion over, we speed back to London. Oscar is off on holiday and I head back to the office, for more telephone chasing and insurance aggravation.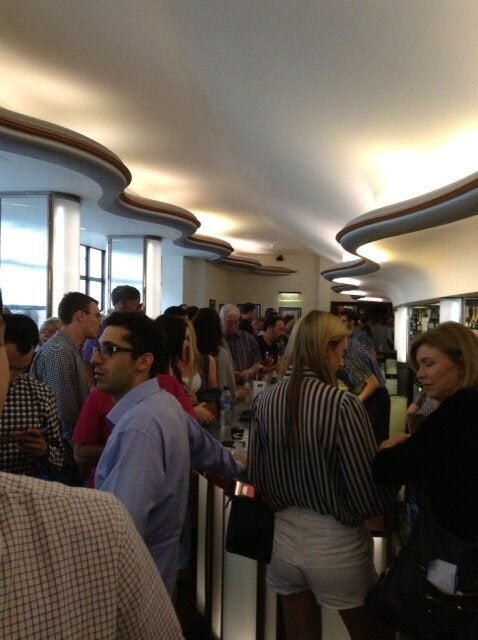 The week ends with a visit to the theatre. We precede the performance with an early evening supper at Harbour city in Gerrard St. our favourite Chinese restaurant in Soho. The joy of Chinese cuisine before the theatre is the speed - it all comes together and you eat as if food is going out of fashion. The dishes are particularly good though. It is not just a case of convenience. The soft shell crab in chilli and garlic is a dish to make the heart sing and it is followed swiftly by exquisite deep fried tofu filled with crab meat. We heave ourselves up from our chairs giddy and laden with food and stagger off to "the book of the Mormon". The whole family are South Park fans and we anticipate unparalleled iconoclasm. The show is fun and the art deco Prince of Wales theatre has been beautifully restored. The actors jump about and sing with passion and enthusiasm and there are some delightfully shocking thoughts and words. However, the overall whole is charming rather than shocking and no one could take offence. I really enjoyed it but for unexpected reasons.