It's all Masterpiece now. My life is on hold until the last contractor packs up his tools and vacates the site. Masterpiece is just beginning to enter the birthing chamber.
However, the week began at Home House, where I was invited to be part of a panel discussion about Luxury. Now a private club, but for me forever enshrined in my memory as the erstwhile home of the Courtauld Institute. The host of the event was Walpole British Luxury, founded in 1990 in order (as they say on their website) "to provide a community for the exchange of best practice ideas to drive business development in both the UK and export market". I sat on a bar stool alongside James Basmajian the creative director of Gieves and Hawkes and Margaret Johnson the CEO of Leagas Delaney (an advertising and communications company). We were like a singing trio perched expectantly about to perform. My partners were elegant, smart, quick-witted and perceptive in their comments. James in particular was as sharp as a tack. He is clearly a networking dynamo, swapping cards and sharing pithy comments with all around: a lesson in how to work these sorts of events. I did my normal thing of making inappropriate and provocative remarks. I suggested the Luxury world needed to be wary of the word 'luxury' which has been appropriated by estate agents and the makers of ready meals. As this was a Walpole Luxury event, that was a trifle gauche. But everyone was kind and friendly and I escaped more or less unscathed clutching a bag of goodies and magnum of Laurent Perrier champagne. Cycling home seemed like a good idea at the time and I made it very nearly home but sadly rounding the Oval I hit a pothole, the bag bounced and my lovely champagne burst through the bottom of the bag and exploded like a small bomb. The noise was impressive - as I passed, several lurching drinkers looked up and possibly had a fleeting moment of clarity. I completed my journey disconsolately, comforting myself that I still had my Football World Cup guide and a box of fancy chocolates. I Instagrammed my tragedy and the Walpole organisation replaced my bottle. I love them!!
On Thursday the Masterpiece team attended en masse the Royal Hospital Founder's Day. This celebration merges charmingly a school end-of-term with a memorial of the founder Charles II. The in-pensioners march, synchronise-drive on smart red electric buggies, or sit patiently waiting. They are a remarkable group: just less than 300 of them, they range in ages from mid 60s to over 100. They look magnificent in scarlet coats and gold-bedecked hats. Each year a member of the royal family steps up, inspects the troops and makes a speech. This year it was the Duke of Kent. Following his words, we get the end-of-term stuff, with reports on activities from the past year and anticipation of the year ahead. To conclude, the staff who are leaving are all thanked roundly for their hard work, commitment, etc. and bade farewell. This year a crucial departure was noted.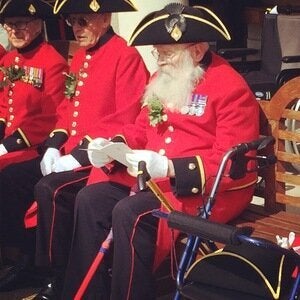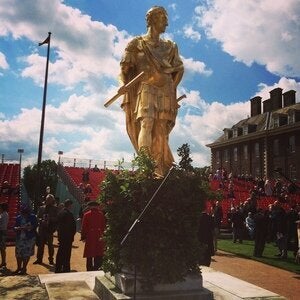 Masterpiece would never have happened had it not been for the enthusiasm and entrepreneurial courage of the Lieutenant Governor, Peter Currie. He is designated by this rank, but in the business world, he would be titled the CEO. I remember sitting in his office with the Quartermaster, Andy Hickling, weaving a dream tapestry for them, and Peter was immediately encouraging. Countless battles later, including an unforgettable moment when in a planning meeting at Kensington Town Hall, Peter appeared ashen-faced, coughing, wheezing and snuffling from a terrible cold; he performed magnificently and permission was granted. So much support and guidance followed and 5 years later here we are listening to the appreciation of his work and acknowledging his imminent departure - saying farewell. The sun shone on the gold statue of Charles II wreathed in oak leaves, the stirring military brass band struck up and a melancholy moment was acknowledged.
Racing from the Hospital back to Mallett, I was thrilled to be offered a lift by my ex-colleague Felicity. She is the dynamo of Mallett; grumpy, critical and often bad-tempered she charms all and sundry. Her husband used to say that she lost friends faster than he could make them! But it is simply not true; everyone adores her and she is a quite spectacular saleswoman. She had offered me a lift to the Olympia International Art and Antiques fair which was opening that day, hence the rush. Her car is one of those new Volkswagen Golfs that seems to both drive itself and reprimand the driver. I have never sat in such a bossy car. Felicity is slightly intimidated by it and I imagine the occasional apology from her to the car.
Olympia welcomes us with bright sunshine and the majestic iron and glass roof throwing everything below it into diminutive perspective. There are lots of friends here and some Masterpiece exhibitors. In my Mallett days, we often exhibited here and had a wonderful time enjoying the relaxed atmosphere and the buzz of business. In those days there were around 300 stands. When I arrived, my colleagues and I would split up so as to miss as few purchases as possible. I remember taking a taxi back from the fair once with colleagues from Mallett Bond St and Mallett Bourdon House. I confessed to having spent £250,000 and the Bond St guys riposted by saying they had spent over £1m. It was a very exciting time. Today, Felicity and I toured round together chatting and reminiscing with stand holders, and sadly I bought nothing.
Friday morning started early. I rose at 5am and cycled off to greet the team for the beginning of our Masterpiece tenancy by the Bull Ring gate of the Royal Hospital. On my way, I passed George Somlo, our wristwatch specialist at the fair. He was running around Battersea Park. He is in his early 60s and he told me he was preparing for a triathlon this weekend. He subsequently reported that he came second in his age class. Amazing! Well done. I arrived at 6am to discover that the handover was actually scheduled to be at 7. Bleary-eyed and downcast at having punished myself with an unnecessarily early start, I considered going home, but that seemed to me to be giving up so I went for a cycle ride around Chelsea.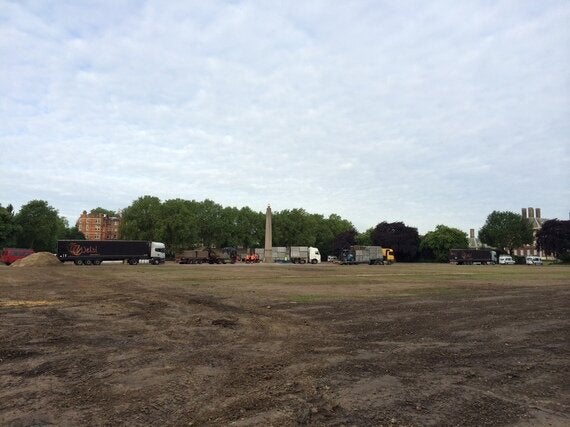 The houses south of the Kings Road and north of Cheyne Walk between Oakley St and Lower Sloane Street turn out to be extraordinarily varied in style and period. There are wonderful stately early 18th century ones with tall windows and richly carved porticos in Cheyne Row. I cycled past Thomas Carlyle's House and the house where the potter William de Morgan lived and created much of his distinctive and wild lustreware pieces. There were also 20th-century design treats on my ride from the listed Fire Station on the King's Road to Chelsea Old Church by Battersea Bridge, parachute-bombed to virtual destruction in the Second World War. Originally fashioned in stone, it was rebuilt in brick in the 1950s and whilst it may not win any prizes for innovative architectural creativity, it is a fine, strong structure. It was at one point the private chapel of Sir Thomas More, who sits outside patiently in sculptural form. Back at the gates by the Bull Ring, there was a very different atmosphere to the one an hour earlier. Trucks were lining up and the security, logistics and stand-building teams were all in attendance. Andy Hickling and the grounds man appeared at the far side of the South Lawns and we all eagerly watched their slow stately march towards us as we peered through the railings. Andy arrived, a splendid key turned in the lock and we were in - like a flock of birds taking flight, everything started happening immediately, at once and in all directions. The build was underway.
Related