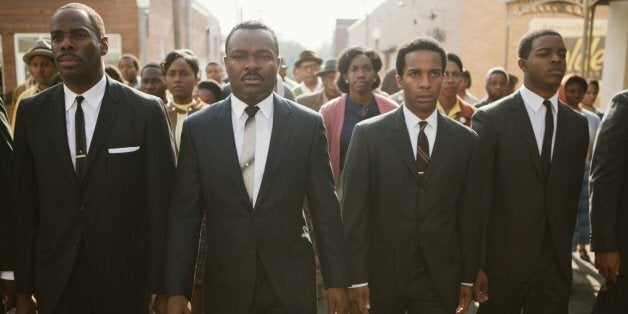 The dialogue surrounding limited opportunities for people of colour in the UK film industry has gained new strength. It is by no means a new conversation, but in 2016 it seemed as though larger spotlights focused on the fact that a systemic shift needs to take place in order for the industry to better represent the changing demographics of British society.
Last year's #OscarsSoWhite and #BaftaBlackout campaigns expressed the frustration that people of colour have been feeling for decades when faced with an industry that continues to keep them on the periphery. Though the majority of these conversations concentrated on the lack of recognition of talent in front of the camera, the nominations clearly indicated that more needs to be done to increase representation of diverse talent behind the camera.
If we take a look at women in the industry, as it stands, the number of female directors at the forefront are few and far between. In 2010, Kathryn Bigelow was the first and only woman (to date) to win Best Director at both the Oscars® and the BAFTAs for The Hurt Locker. Ava DuVernay, a black American female director, has garnered a great deal of international attention and critical acclaim for her films, Middle of Nowhere, Selma and 13th, but in 2015 there was an outcry when many felt she was overlooked for a Best Directing nod for Selma at both awards ceremonies.
Many have argued that the issue isn't a lack of female directors, but the lack of opportunities available to women in the industry. After all, it's no secret that the film industry is dominated by white males.
In a study unveiled early last year by Directors UK on gender inequality, it revealed that from 2005-2014, only 13.6% of working film directors were women. More astonishing is the fact that during this 10-year period, the percentage of UK films directed by women increased by only 0.6%. From their research, Directors UK concluded that gender inequality in the UK is due to unconscious bias in the industry and that large scale, industry wide intervention is required to tackle this issue.
Statistics on the percentage of black or BAME (Black, Asian and minority ethnic backgrounds) female directors in the UK film industry are harder to come by, however the British Film Institute (BFI) reported that in 2012, only 5.3% of the film production workforce were from BAME backgrounds. Based on this, an assumption could be made that the percentage of black female directors is even lower.
In 1995, Ngozi Onwurah became the first black British female director to have a feature film released in UK cinemas with her debut feature, Welcome II the Terrordome. Ngozi was seen as a trailblazer in the industry and many hoped that this marked the beginning of additional opportunities for black female directors. Unfortunately, British audiences had to wait nine years for history to repeat itself, with the 2004 UK theatrical release of Amma Asante's BAFTA award-winning debut, A Way of Life.
It was another nine years before Asante directed her sophomore feature, Belle, which garnered international acclaim and attention. Audiences didn't have to wait as long for her third feature, A United Kingdom, for which she became the first black female director to open this year's BFI London Festival.
It's interesting that the conversation rarely focuses on black female directors when many have made films that have received international audience and critical acclaim and have also gone on to be nominated for and win multiple awards. Great examples are Ngozi Onwurah, Amma Asante, Destiny Ekaragha (Gone Too Far) and Debbie Tucker Green (Second Coming). These directors also happen to be the only four black British women to have had their feature films released in UK cinemas.
So why aren't black female directors given more of an opportunity to share their films with audiences? They bring different perspectives, challenging storylines and insightful characters to the forefront and the majority of these characters are people of colour. They bring us stories that would perhaps be left untold.
At the BFI's Black Star Symposium in October, part of the BFI's season celebrating black actors in film and television, British producer and actor David Oyelowo made an interesting point during his key note speech, highlighting that once Ava DuVernay became attached to Selma, she brought a different perspective that had not been seen in earlier drafts of the script: "She humanised that character (Dr. King)" and "Women characters gained in dimension."
People often look to film not only for entertainment, but for a story that is reflective of their society and cultural background, for characters and storylines they can relate to. Therefore, if film output continues to represent only a certain demographic in the UK, what does that mean for the rest of the population?
Recently, an article in the New Statesman argued that British addiction to period dramas is driving away British black and Asian actors. The same can be argued for black and Asian filmmakers, where they are faced with an industry that doesn't feel like their stories will draw in sufficient audiences and box office revenue, making it extremely difficult to acquire financing and even if they do, to find distribution.
Perhaps if the British BAME population were given more opportunities to tell their stories, the opportunities available for BAME actors would also increase.