On lap 34 of the German Grand Prix at Hockenheim this weekend will mark the halfway point of the 2014 Formula One World Championship. I have found this season to be fascinating, very different from seasons past and exciting also.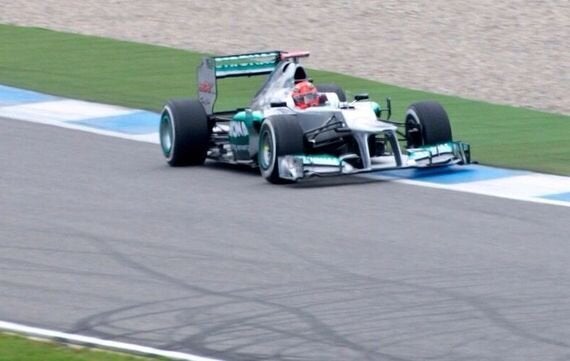 Michael Schumacher driving for Mercedes at Hockenheim in 2012. Great to hear of his improved health.
I know my personal favourite driver is in contention for the title, but even taking that out of the equation, the battles across the grid, politics off the grid and the lack of the Vettel finger, makes F1 in 2014 a great spectacle. Here is what I think so far...
Red Bull Racing-Renault: Sebastian Vettel / Daniel Ricciardo
Adrian Newey has designed another amazing car, but they are being held back by an under-performing Renault engine. So much so they are considering in making their own engine for 2016. The surprise of the year has been Ricciardo who has out-performed his 4-time champion teammate consistently, including picking up a maiden victory (and only non-Mercedes driver to do so) at Canada. I have a hunch Red Bull will be on the pace by the latter quarter of the season, so may have an input into where the title will go.
Mercedes: Lewis Hamilton / Nico Rosberg
Eight wins out of nine, with Lewis taking five of them so far. This battle will go to the wire, and with the last race consisting of double-points, this championship is far from over. Reliability (and you could say luck) has been on Rosberg's side of the garage, but a home win for Hamilton last time out coupled with a first retirement of the year for Rosberg has drawn the two main title contenders almost level. I've said it before, but the best duels in F1 history have been between teammates - you can't just say X driver won because of the car - they have equal equipment. Ten more races of this? Yes please.
Ferrari: Fernando Alonso / Kimi Raikkonen
The pairing of Alonso and Raikkonen was supposed to be the source of all drama this season. It's turned out to be a bit of a damp squib. Alonso manages to wring out every bit of performance from a car he is given and whilst there is uncertainty Alonso will see his contract out at Ferrari he gives everything he has got. Kimi on the other hand just seems to have given up - when there are drivers such as Jules Bianchi (Ferrari Academy driver) and Nico Hulkenberg waiting in the wings for a top drive, the new management at Ferrari must be considering whether they have the best lineup in their squad. Must do better in the second half of this season to set things in motion for 2015.
Lotus-Renault: Romain Grosjean / Pastor Maldonado
The biggest disappointment on the grid? They are plagued with a car that is under developed and have the underperforming Renault engine. The team that was previously the Renault works team are even rumoured to have signed a deal to use Mercedes engines for 2015. Maldonado is showing that his talent is non-existent but as long as he has €25m+ in sponsorship to bring he will remain. Grosjean deserves better, and expect him to be in a different team in 2015.
McLaren-Mercedes: Jenson Button / Kevin Magnussen
Another year, another disappointing campaign. 16 years since their last Constructors title, they looked great in pre-season testing and they have the best engine on the grid. A new management team and Ron is back in charge means that with a new engine in the form of Honda for next year, the remaining races must surely just be a proving ground for whether Jenson Button and/or Kevin Magnussen keep their drives for next year. Will be an interesting fight nevertheless.
Force India-Mercedes: Sergio Perez / Nico Hulkenberg
Looking to be a strong season for the Silverstone-based team. If they keep up the development then they could finish as high as third in the constructors championship. Strong drives from Perez and Hulkenberg - unless the latter is approached by Ferrari, then I expect the team to retain both drivers next year.
Sauber-Ferrari: Esteban Guittierez / Adrian Sutil
A shockingly bad year for the Swiss team, and I am surprised by this. Sauber tend to make good cars but they have struggled with design and reliability this year. Sutil and Guittierez are good drivers, but the car is just slow. Halfway through the season and no points to show for it - admittedly Williams were in this position a year ago, so a lot can change very quickly. I hope the rumours of financial concerns are untrue as Sauber's 21-year legacy in the sport makes them part of the furniture.
Scuderia Toro-Rosso: Daniel Kvyat / Jean-Eric Vergne
Rookie of the year goes to the 20-year old Daniel Kvyat. What he lacks in personality, he certainly makes up for in raw pace. Vergne needs to up his game to keep his seat at Toro Rosso for next year, but like the sister Red Bull team, they are struggling with engine performance.
Williams Martini Racing-Mercedes: Felipe Massa / Valteri Bottas
Williams are back. They have a great lineup, a sexy looking car, the management structure seems the most solid it has been for years, and there is a real buzz around where Williams can go during this era of F1. Solid drives and podiums have returned as well as great qualifying performances. Very excited to see where Williams end up by the end of the year and they could snatch a victory somewhere.
Marussia-Ferrari: Jules Bianchi / Max Chilton
Marussia have scored points! Not just one, but two very valuable points which at the moment puts them in 9th place in the championship - and worth about €40m in prize money. Both Bianchi and Chilton have upped their game this year, and expect them to be retained for 2015. I'm developing a soft spot for this team and really hope they continue their upward swing.
Caterham-Renault: Kamui Kobayashi / Marcus Ericsson
How sad. The team that entered the sport with much promise look likely to be renamed and be pretty much a customer team with bits and bobs contributed from other teams on the grid for next year. They are languishing firmly at the bottom of the championship and can't see them improving on that. Expect a completely different setup for next year - Kamui and Marcus best get their CV's in order.
F1 entered new ground this year with very different technology - to see overall reliability at such a high level is testament to the skills and talent that exists within the sport. It will be the finite developments that decide this championship, because at the very top it is too close to call.
Related