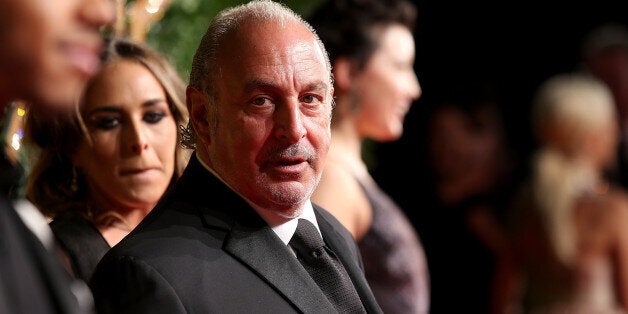 It's hard to believe it now, but Sir Philip Green - the man branded 'Sir Shifty' by the Daily Mail - was the retailer with the Midas touch.
A little more than a decade ago, when he was paying his wife a dividend of £1.2billion, the biggest payout in British corporate history, he was the darling of the high street. He had built Arcadia into an £850million empire, earned a knighthood from Tony Blair and in 2010 was made David Cameron's "efficiency Tsar", advising on best procurement practice.
Sir Philip was cock of the walk during the glory years. It wasn't just the supermodels, perma-tan and super yacht - the celebrity trappings he so conspicuously enjoyed - it was his self-confidence that marked him out.
Famously, he looked after his own PR. He would ring up journalists himself to brief them on stories - or bawl them out. Business journalists are not, generally, a soft touch but he had their number. He dispensed favours to the ones who towed the line and gave them great copy; few journalists can resist the lure of the inside track.
King of the retail takeover, he prided himself on a back-of-the-envelope style of management that critics claimed owed more to the market stall than the boardroom, but it was to prove his undoing when he sold BHS for £1 to a consortium run by a former bankrupt. MPs were unimpressed by the single-page handwritten document drawn up by Arcadia's finance director, Paul Budge, which showed the final balance sheet for the sale agreement.
Sir Philip has admitted to 'a very bad choice' of purchaser when he sold the business to Dominic Chappell's Retail Acquisitions and said: 'I feel badly let down".
But it's hard to take that statement at face value and he should not be allowed to get away with it. I met Chappell's associates just before Sir Philip sold BHS to his Retail Acquisitions consortium and it was obvious within two minutes they were not the sort of people to whom you would entrust a corner shop, let alone an 88-year-old retailer. If I could see that, why couldn't one of the canniest operators on the high street?
That's the troubling question that remains unanswered. Why did Sir Philip sell BHS to a buffoon when there were alternative offers on the table from experienced retailers who had a chance of turning it round?
His appearance in front of MPs examining the collapse of BHS was pure theatre. He was self-assured, belligerent and unapologetic, but it didn't work. It came across as bluster. Doing your own PR is all very well, but trying to run the show on your own terms when you're in front of a Commons committee is a different matter entirely.
One thing is certain: bluster will not suffice. Sir Philip has ignited a feud with the veteran Labour MP Frank Field, demanding an apology for allegations he stole from pension funds and was worse than Robert Maxwell. The threat of legal action will not help Sir Philip regain his credibility.
Once he could count on political preferment. Now, there is a new mood in Downing Street and a new Prime Minister with an austere, unforgiving approach to corporate greed. Sir Philip's £100million super yacht, Lionheart, will cut no ice with Theresa May; the days of Lord Mandelson, who famously declared himself relaxed about the "filthy rich" are long gone.
The only way Sir Philip can re-build his reputation is the hard way. Eleven thousand people lost their jobs as a result of the collapse of BHS, leaving a £571million hole in its pension fund. Those jobs cannot be saved, but the BHS pensioners can still be looked after. He has said on many occasions that he intends to do that and - if only he is spared the abuse and opprobrium - he will work with the pensions regulator to find a solution.
If he is looking for a lesson from history, the fate of former RBS boss Fred Goodwin - no knighthood for him now - should tell him all he needs to know.
Related