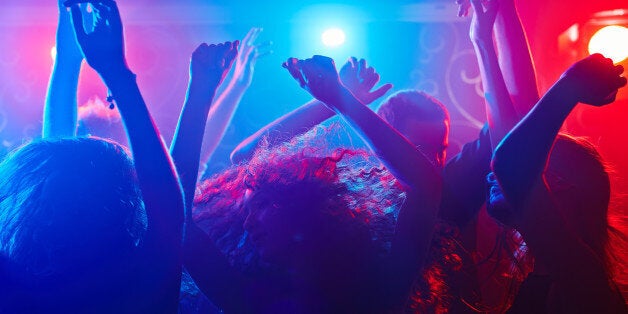 During the Halloween weekend I swung by The Royal Vauxhall Tavern, one of London's oldest and much loved LGBT venues, on my way home from a friend's wedding in Putney. Whilst a low-lying mist descended on the Vauxhall Pleasure Gardens and neighbouring streets, the venue itself was rammed to the rafters with ghouls, zombies and sexy vampires.
Not only did I have a blast of a time but my little detour also served as a timely reminder of how vitally important our queer spaces are in the capital. Places like the RVT provide safe spaces where we can party and feel accepted for who we are and who we want to be with. Fortunately, thanks to the campaign to save the venue, supported in part by the likes of Sir Ian McKellan and Amy Lame, broadcaster and co-founder of the queer night Duckie, the RVT was recently designated as a Grade II listed building. But, like a lot of LGBT venues across the capital, things might have been very different.
Far too many LGBT bars and clubs have closed in recent years. Soho has seen The Green Carnation, Barcode Soho, First Out café and Madam Jo-Jo's disappear from the map. Despite being recognised as an 'asset of the community' by Camden Council, the historic gay pub The Black Cap has also gone. In East London we've lost The Joiners Arms and The George and Dragon. In Vauxhall, which is soon to house the high security US embassy, the club Beyond and Barcode Vauxhall have both closed their doors. Cliff Joannou, who now edits Attitude, the UK's best-selling gay magazine, estimates that 25% of LBGT venues have closed since the recession. This is a far cry from the 1990's when there was a plethora of gay pubs and clubs in London to choose from.
Many reasons for this decline have been cited. They include sky-rocketing commercial rents and the gentrification of many parts of the capital which have seen independent businesses, creative ventures and local amenities bulldozed and turned into luxury flats. Geo-sexual networking apps such as Grindr, which have helped to fuel the chemsex epidemic, have perhaps also played their part. It may be tempting to sit at home flicking through countless profiles on your iPhone, chemed-up on a cocktail of drugs whilst waiting for some random to turn up at your doorstep. But is it as much fun as dancing the night away with friends or opening up to the potential for that chance encounter with someone you really fancy?
There may not be that much we can do to stop rising commercial rents but active campaigning to prevent the closure of much loved LGBT venues has proven, in the case of the RVT, to be effective. The homogenisation and blandification of London is not a dead cert. Alternative newcomers on the scene such as the club Debbie, hosted by Sina Sparrow, or The Glory in the East End, often include avant-garde performance art, drag and cabaret as part of the night's entertainment. And with the recent announcement that Amy Lame will be the new night tsar for London as well as the 24-hour Night Tube running every Friday and Saturday there is cause for optimism.
So, if you haven't ventured into the gay scene for a while, dip your toe in and, like me, you may well be pleasantly surprised. You're unlikely to bump into a hot-looking zombie or receive that once-in-a-lifetime love bite by the vampire of your dreams. After all Halloween has come and gone. But you will be doing your bit to ensure London's gay scene does not end up on a life-support machine.
Related