Other than when I've had a few beers, I've had no great ambition to dance, and although I fancy myself as a bit of a mover the more drinks I've consumed, I know I'm no Pussycat Doll.
My parents may have had that ambition for me as I know they tried me with it when I was only three years old, yet the report card said "pleasant little babe but wants to do her own thing". This may not come as any surprise to some and maybe explains some of Joseph's own behaviour which is not apportioned to his autism. Just a genetic inheritance of strong-willed genes.
So when Joseph, from an early age showed an affinity with music and dance and a sense of calmness when he was embroiled in it, it did come as a little surprise to me. And although I wanted him to inherit some sporting, competitive streak from myself and his Dad, I always knew that when the time was right, I would try and find somewhere that would be able to accommodate his needs and nurture his love of dance.
After a false start at a local theatre group a couple of years ago which I spoke about in Dance Like Nobody's Watching, I was reminded of a local group that I should have actually thought about first. It was the very same group I started at many years ago but it was no longer the Jean Watson School of Dance but Rotherham Dance Centre. There were many familiar faces and it had the same family feel about it. They took Joseph into their hearts, encouraged him to express himself and allowed him to be Joseph.
And whilst this year was the second year he was taking part in the annual summer show at the local theatre, it didn't stop me worrying about how Joseph would cope and how he would be perceived. In addition to that, I had all the same worries of any other dance mum (can't believe I am actually calling myself that??!) in whether I had all the right costumes and the timings of when I needed to be there.
We went with the same approach as last year, in that Joseph spent part of the time with me in the audience and watched the show and then he was collected shortly before his dance to get changed ready for his entrance. It worked for both of us, it was likely to be too much for Joseph to spend all of that time backstage and at least this way he got to enjoy some of the show.
His rehearsal went very well and despite him behaving like there was only him in the dance, he remembered what he needed to do, there was limited scratching and coughing and he enjoyed his appearance. Typical of Joseph when you asked him whether he'd enjoyed it, his response was 'Yup". Completely underwhelmed with the experience yet enthusiastic whilst he was participating.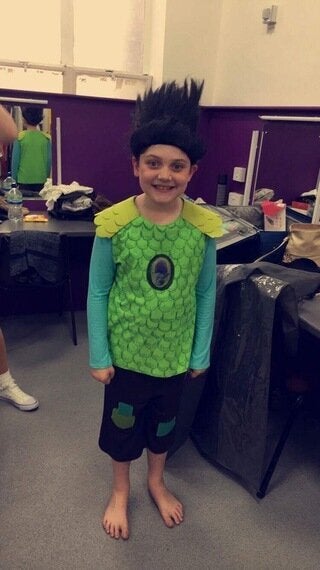 Two more nights followed, three dances in each performance and he loved being part of it. It was like the icing on the cake when at the end of the show, they played out his favourite Black Eyed Peas song, I Gotta Feeling. But for me, someone who is always striving for the next level, I wasn't quite content with it all.
I wanted him to stay in line. I wanted him to not come to the front of the stage when he was supposed to be just another child in a line up of small children. I didn't want him to be staring up at the lights mid performance and bounce up and down. I want him to have the acceptance of others as to why he does these things but I wanted him to blend in with the group.
And then I remembered. How many people with autism can access this type of event? When most people think about autism, they think of the child who can't walk into a crowded room. One who needs ear defenders to block loud noises out and one who would shy away from being part of such an overloading sensory experience. Whilst Joseph doesn't particularly struggle with those things, he is what is termed as a sensory seeker. He loves the noise and takes pleasure from the lights and the bursts of energy felt on stage. It was inevitable that his behaviour would reflect all of that.
I'm often approached by members of the dance family telling me how well Joseph did and I know now it's not just out of kindness. They see his enjoyment and despite it often meaning that it's one of their children he's standing in front of and they are losing out on their moment to shine, they see his love of dance, they see how he throws himself into the show and uses his energy to give pleasure to others watching the performance.
The dance company is a complement of children and adults in all shapes and sizes and one of an inclusive nature; not all dance companies can pride themselves in saying that.
I have no idea how long Joseph's interest in dance will last for but I know when he's at his dance class he is at home. The next challenge for his teachers will be keeping him in line. Good Luck with that!
I gotta feeling, that tonight was in fact a good night.