It's fast approaching and I am trying hard not to let the panic that is building inside me escape. I'm struggling to keep it under control and using every distraction technique I know. I want to remain calm and be that parent who is bellowing "I CAN'T WAIT FOR THE KIDS TO GO BACK TO SCHOOL", but I can't because I know that there's the potential for it all to go horribly wrong.
And I say potential because for the last two years, he's settled back in reasonably well. That doesn't stop me worrying about it and wondering whether this year he will kick off and doesn't settle in as he moves into Year 4, where more will be expected of him and the gap between him and his peers is widening. I worry that this will be the year that we call time on his days in mainstream school because it he can't keep up with the ever increasing pace. It's hard enough for him as it is but as each year passes it grows harder. He finds it difficult to sit and concentrate for prolonged periods, academically he's not on a par with his peers and he continues to be interested in anything that is for children five years his junior much to the amusement of the other children around him.
It's hard to believe that this will be his fifth year at the school and I cast my mind back to when he started aged four. I am delighted at his achievements but I cannot forget the turbulent times we have both endured whilst trying to secure his entitlement to an inclusive education.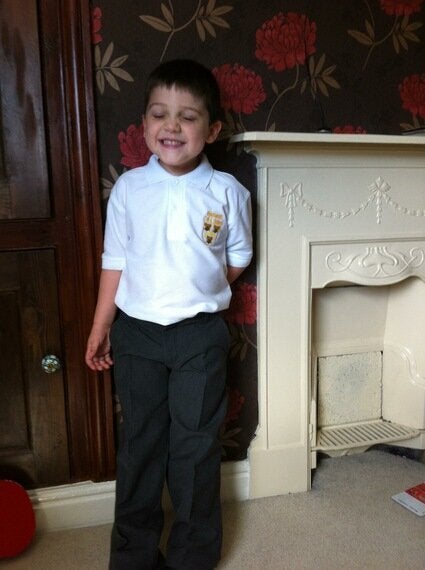 It's difficult for any child to ease back into the school routine after seven weeks of holidays but that task is a far greater challenge for a child with autism. I daren't even broach the subject too early for fear of spoiling the remainder of his school holiday and I can predict quite accurately that the response will be 'no school' just as it always is.
I haven't even checked his school uniform and fear the recent growth spurt will mean his trousers will more than likely to be half way up his leg. Do I take the risk and wait until the day and send him to school looking like some sort of waif or do I ask him to try the school trousers on?
We're less than a week away from the first day back and know that I should take the bull by the horns and tell my eight year old son "school next Tuesday" without diving for cover. Why as an adult do I fear my eight year old son's reaction? I'm certain he doesn't realise that school will go on for at least another nine years and that the summer holiday for him actually means the end of his schooling life.
For the last two years he has had a completely new teacher and in a new classroom. New expectations and different routines yet he has managed. So why do I doubt this child so much? I'm nervous that if I become complacent and don't prepare for the worst, the worst will actually come to fruition.
I've booked the day off work so I don't have to worry about someone else dropping him off or me dropping him off, it going tits-up and then I am stressing about getting to work.
I considered whether we have done too much with him in the holidays, should we not have given him such a fun-packed holiday so he would look forward to going back to school?
I know by the thoughts that are running through my mind, I'm teetering on the edge of a mini meltdown whilst the world around me shops for shoes, new equipment and school uniform. Me, I'm just blissfully in denial that the new term starts soon.
But those around me know. I start to get subtle pointers that they know as I receive more messages asking if I want to meet up and welfare checks without asking too may questions. Nobody mentions the 'S' word or asks me if we're ready because they know. And when the day finally arrives, those who know will usually send a message asking if it went alright for him and whether I managed to keep it together. His first day, is my first day and I want to remain the calm, confident parent that is visible on the exterior, not the crumbling mess I become by the end of every August. Shit to you, August!
This year is slightly different. Same teacher, same classroom so the familiarity will be there for him. I'll know where to hang his coat and where to place his drinks bottle. I don't doubt that he will begin the day with his usual phrase of "no school today", but I secretly hope that he will bounce in and quickly realise that there certainly will be school today.