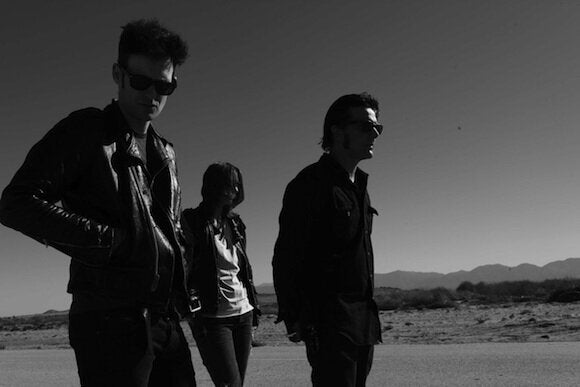 Sometimes adversity leads to the greatest achievements in art. Three years after the release of Beat The Devil's Tattoo, Black Rebel Motorcycle Club is preparing to release their seventh studio album, Specter at the Feast. Borrowing a title from the pages of Macbeth and packaged with a cover made to look purposely unassuming, what lies within is a 12-track ride of highs, lows and everything in between.
Five months after the release of Beat The Devil's Tattoo, Robert Been's father, former Call front-man Michael Been, passed away while on tour with the band. The songs on the new record tell the tale of rising from the ashes of tragedy and discovering a new found fire burning collectively within. It reflects both on the experiences had by the band in the two years writing the album, and more importantly, what comes next.
"I knew I needed to talk about it and face those things head on, because there was really no other choice.", said bassist Robert Been in a recent interview.
"Emotionally, we were stretched apart. There was a greater high and a greater low and it's all there (on the record).", he added.
His father was viewed as a member of the band by everyone in the group, acting as front-of-house soundman and a father figure to all of them. In an interview with Q Magazine, Robert elaborated on the relationship his father had with the band.
"In high school, Peter [Hayes, guitarist] was having a lot of trouble at home and was living in a van. So when I started playing guitar with Pete he would end up parking in the driveway. We'd go to school, play at night and he'd crash in our driveway, and so my father ended up taking him in and he became part of the family. It's where he's lived ever since.".
The first single off Specter at the Feast is 'Let the Day Begin', which is a cover of Michael Been's band The Call. Yet the song sounds exactly like what fans would expect on a BRMC record.
"We had actually started writing a totally new song and in the midst of it, I kind of realized that it sounded a lot like something else." Robert said while laughing at the similarity.
"The rhythm of it was different, but the phrasing sitting on top of it and if I just shifted the chord structure, all of a sudden, it was that song.".
The album also marks a return to a sound that symbolized their first record, thanks in part to their use of the same sound board used on their 2001 debut, BRMC. The band had been invited to participate in the Dave Grohl documentary on the legendary Sound City studio, which led to an offer from Grohl.
"Dave had asked us what we were working on and if we had any stuff ready. He kept saying, "I want to keep this board alive and kicking, so come in next month and lay stuff down as soon as you're ready."", said Been.
"It was really touching that he would offer up his place like that. We couldn't say no. The board was just too good to not come back too. The first time we recorded on it, we really didn't know what the hell it did. There were just a bunch of buttons on it! Getting to come back ten years later and to really know what all the buttons do, it was a cool idea to play around a bit and make the most of it."
Lyrically and visually, the new album rewards fans who are interested in digging deeper. The title of the new album comes from the pages of Macbeth, while the cover references an old Italian and English version of the novel that was published by an retro company called Gum. The band replaced the Gum logo with BRMC.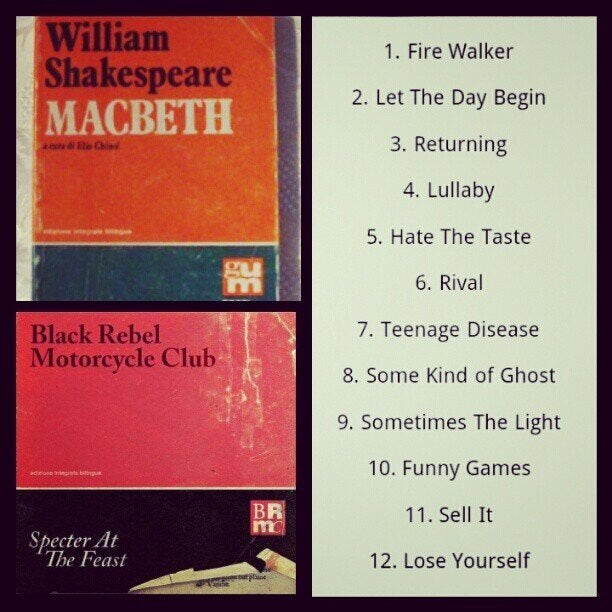 "I found this old school edition of Macbeth and it always intrigued me that some of the greatest literature we have for schools, that are required reading, just have some of the most generic, lifeless, meandered covers that don't really relate to what's inside. They don't try to get creative to dress them up, or to sell you on anything. You just turn the page, and never think about it again. I just really liked the idea of this thing that was really unassuming. Almost something that you would throw away and never think twice on, but hopefully, if you turn the page there's something of substance beneath there. I'm tired of dressing things up, to be honest." concluded Been.
Specter At The Feast will be released on March 18th and is available for pre-order now. The band will be touring extensively in support of the record.
The full text of the interview with The Dumbing of America is available to view online.