This week, the social media team at Oxford University decided to jump on the bandwagon of the viral #StraightOutta meme as simply "a good excuse for another picture of the Rad Cam". While the image of this famous slice of the Bodleian library with the words 'Straight Outta Oxford' written across it has since been removed from the institution's official Instagram account following a string of critical comments, the post serves as yet another reminder of the endemic ignorance surrounding black culture that penetrates even the most public facing of university platforms. And these underlying problems can't simply be deleted.
The Dr Dre designed meme generator has gone live to help promote the NWA biopic set for cinematic release this week, allowing fans and internet jokesters alike to fill in the classic line with the name of their hometown or a pun or punchline. And the best of the resulting pics offer ironic, witty and at times moving responses to the title track of the ground-breaking 1988 album- a record which continues to reflect the institutional racism of our transatlantic police forces and the issues of gang violence and unrequited aspirations of social mobility faced in many working class, black and minority ethnic communities.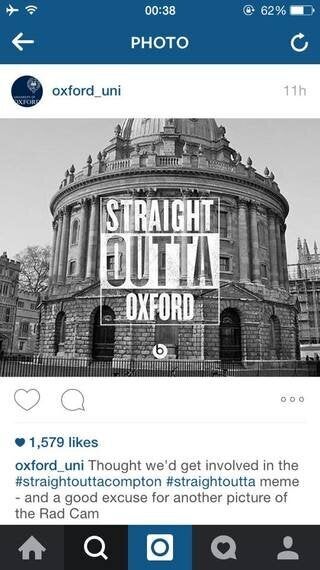 Yet the seeming snap decision by an administrator of the official Instagram feed at Oxford to "get involved" with the hashtag and light-heartedly liken its prestigious library to the home city and marginalised communities that the crew represented has to be a meme too far. Already in desperate need of a face lift if it seeks to fulfil its promises to attract more BME and working class applicants, according to its own undergraduate admissions statistics, in 2014 the university attracted only 31 Black Caribbean home applicants -the closest ethnic group comparable to that represented by the Californian rap group- and only 4 were accepted. The white hegemony that the institution has spent centuries symbolising and reinforcing is certainly not something to be forgotten by its own social media team.
Oxford has some serious problems in relation to racial issues. In a recent survey by the Oxford University Student Union's Campaign for Racial Awareness and Equality, 59.3% of those BME students interviewed had been made to feel isolated or uncomfortable due to their ethnicity while groups such as Rhodes Must Fall In Oxford have pointed out that the university and its associated societies are not doing enough to challenge the ignorance and racism in its colleges, halls, debating chambers and bars. The recent Colonial Comeback cocktail poster scandal that hit the Oxford Union, which subsequently condemned itself as institutionally racist, is still fresh in the minds of the student campaigners, no more so than its BME members.
Is this Instagram incident anything more than a social media faux-pas? Perhaps. Yet despite removing the post just hours after it emerged, that thousands of young followers were briefly led to believe that one of the world's wealthiest and most influential bastions of learning was happy to compare itself, with no sense of the irony involved, to one of the most deprived urban populations in North America seems slightly bizarre at least. And I'm not all that sure what we can learn from this. What I do know is that for an Oxford University PR team to jokingly liken their employer to Compton- and with no effort to actively support the release of the new documentary or acknowledge the racially charged landscape that envelopes its release- is not excusable. If we are to tackle the continued exclusion and marginalisation of prospective and current black students from our university campuses and colleges it is in part our frontline, public face that needs to adapt to, understand and accept the cultural experiences of the types of communities for whom an NWA lyric could in fact represent far more than a chance for a chorus sing-a-long on a night out. Celebrated tracks from the album such as F*ck Tha Police, a song about institutionalised violence against black men, are ever resonant in an age of sustained police brutality and racial profiling faced by prospective black students in the UK and elsewhere. We're definitely not ready for an Oxford that makes light of these issues.
As I ready for an inevitable wave of mutterings about my membership of the student media fun-police, at the very least we as a young academic community should be meanwhile expecting more from those who represent us online. A demand of an internal review of Oxford University's social media guidelines, especially in relation to its presentation of marginalised groups it supposedly seeks to attract, could be one place to start. Better still, we must continue to hold ourselves to higher intellectual standards and refuse to jump on board with viral campaigns or hashtags that we may not fully understand; especially if found behind the wheel of an influential social media account.