It seems almost laughable that McDonalds could be associated with any kind of class, grandeur or romance. Yet that is exactly what messers Ford, Welland, Peachey and co. attempted to do. Yes, people from my school, my class at school have achieved internet fame!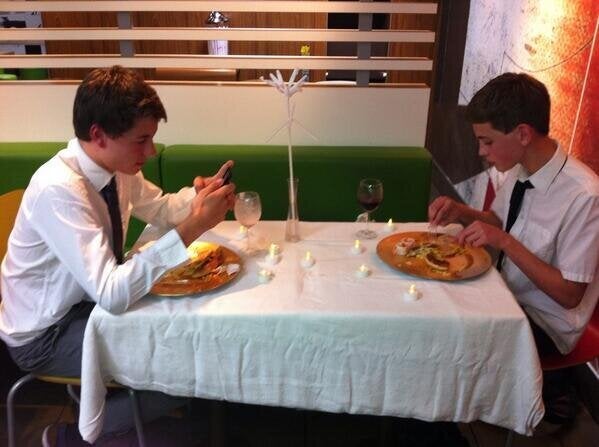 I can't say it came as much of a surprise. Whether it was buying each other mugs with each other's faces on as birthday gifts or filming spoof Wildlife Conservation videos about Cameron, it was only going to be so long before they achieved fame on this scale. Despite returning to school with the air of triumph and crowds of fans one might expect from returning war heroes, I managed to have a chat with Cameron Ford, over a startling less romantic canteen lunch.
"It was just a bit of a laugh with some mates. We thought it would get a few likes on facebook, or a few retweets on twitter. This entire thing has surprised us all!"
Even more surprising was the reaction of the McDonalds staff to the incident.
"We stayed for an hour and a bit in total. Unfortunately, a few members of staff didn't see the funny side and asked us to "Leave or you're banned". They even got the manager out! Soon after, a member of security forced us to leave"
However, it appeared that most of the staff and customers saw the joke.
"The best part was the looks on some of the faces of the staff. They couldn't stop themselves laughing."
Coming up to 15,000 people have retweeted Will's photo showing Adam and Cameron dining in the fast food chain's Kingston branch, kitted out with white table cloth (borrowed from a very confused Mrs Ford), mood candles and metal cutlery. Another of our friends Phillip Pengilly even fashioned an artistic centrepiece for the table from McDonalds straws!
Even after a wave of bad press, the group say that they would definitely repeat their "crime", though it is still unresolved whether it was the cutlery, candles or just a lack of sense of humour that forced them to leave! Adam told me: "I think we would definitely do it again, however not in the same place. To keep it funny we would need variety in venue."
Look out KFC, Subway or Burger King, you could soon be faced by diners with a difference!