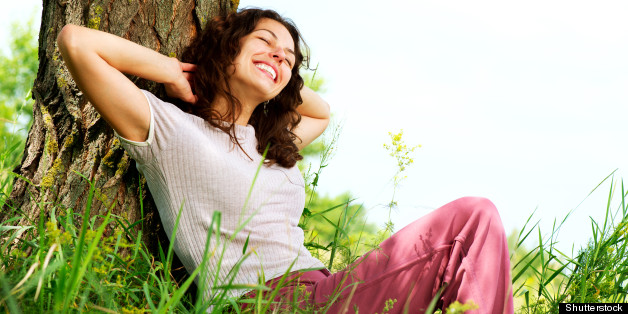 Shutterstock
Hands up if you wish you could get just a little break from the rush-rush-rush? In a world as fast-paced and distracted as ours has become, how can we still take the time in our day to relax a little? By the end of this article you'll be in the know on a new method that can take as little as two minutes and slot right in to your every day schedule.
A little while ago I wrote about the related topic of happiness on this site, offering a few tips from the ever-growing scientific research. There were things like the research that suggests that meditation can lead to stronger alpha waves in the brain - linked with focus and a kind of awake calmness. Another finding is that we tend to be happiest when we are in natural environments and especially by the sea.
But with all of this interesting research, the question remains: how can we start using this stuff in our lives? Things like "go outside", "try something new" and "do more exercise", are all true but very obvious and sometimes we just can't do this - even if we'd like to. But more than that: how can we develop these habits without seeming as if we're having a quarter/mid-life crisis and running off to "be with the trees"?
So for something to be really useful in helping us relax and it needs to be three things: simple to follow, easy to develop as a habit and also works. I'm going to share something with you that I've been doing myself and working on for a little while. I hope you enjoy it as much as the people who've tried it out so far.
So what is it?
Mediteation. No, not meditation: mediteation. It's a way to take a couple of minutes and end up feeling calmer and more relaxed.
How to do it?
1. Prepare a cup of loose leaf tea
We might not be able to spend hours outside every day but we can do things that bring us away from the distractions of technology and help us reconnect. One way is to think outside the bag and enjoy the process of preparing some great loose leaf tea. Not only is it far healthier and has a fresher taste than the dust that you'll find in tea bags but taking just a couple of minutes to let it brew helps remind us of something real. And, in any case, life's too short to drink bad tea. Good quality tea contains properties like l-theanine, which has been shown to help us feel more calm and focused because of the effect on our brainwaves - similar to meditation. For those looking for options that can help with relaxation or sleep then the best options are South African Rooibos blends and Egyptian Chamomile tea (which are available as part of Claritea: The Relaxation & Sleep Pack).
2. Wait for it to cool whilst focusing on your breath
Whether it's dwelling on the past or thinking about the future, being present can be tricky. Just noticing your breath is a good place to start. Since our sense of smell is the most sensitive of the five senses, bringing your cup of tea under your nose and paying attention to the natural smell as it is drawn in to your nose helps to prevent distraction and stop thoughts rushing around.
3. Taste slowly and take notice
As you drink, pay attention as the tea slowly trickles down to your stomach. Notice the taste and how you can taste in different parts of your body. When you take the time to focus it's a whole body sensation and an effective way to reconnect again before getting back to the to-do list.
Try mediteation out for yourself using the video below to help you avoid any distractions. Even if you don't have a cup of great loose leaf tea with you, spending just two minutes watching the waves can help you to feel calmer. As a challenge, try to get to the end of the two-minute video without getting distracted and moving the mouse or clicking away.
Try out the full experience of Mediteation by clicking HERE and there's also a Mediteation YouTube playlist available HERE. Enjoy and keep on rocking in the tea world.
Tom Cornwall is the founder of Authenticitea who create 100% natural, luxury tea packs to help you look and feel your best. Join the teavolution at authenticitea.co.uk.