With all the doom, gloom, drama and chaos that is sweeping the country following Brexit, there couldn't be a better time to remind ourselves of what makes Britain, and in particular London, so great. One of the best indications of London's spectacular diversity and ability to draw on such a wide range of cultures is the incredible range of restaurants in the city. Here are the top five I would high recommend checking out when in town.
My favourite restaurant in London and one reserved for special occasions. It's not cheap but you could never describe it as overpriced. It's the quintessential British seafood restaurant and just an amazing place in so many ways. From the moment you walk in, you're stunned by the decor and welcomed warmly by the famous doorman and the friendly (but not over the top) staff. It doesn't matter whether you're a Hollywood movie star or an unknown e-commerce entrepreneur like me, they're not snooty (Chiltern Firehouse et al take note). The food is absolutely delicious and the menu expansive, varied and very fun. I've yet to sample it all and it will be decades before I do, but starters like the ceviche, sashimi, oysters, burrata and dressed crab have all been unbelievably tasty and impeccably presented. The fish, such as sea bass and turbot, is among the best I've had anywhere in the world but, if you're more of a carnivore, the steaks have always got rave reviews from friends and are enormous. This is the restaurant to go for if you're going on a date or celebrating with family. The last times I ate here were for a business meeting, for Debs' (our managing director and my beautiful girlfriend of seven years) birthday and as a family to thank my Dad for the advice and mentoring he has given me as I've worked on the Tom Cridland brand.
They just don't make restaurants like this anymore. A dying breed of Kensington and Chelsea unostentatious but just superb dining spots. Le Colombier is the bona fide idyllic french brasserie. The decor is simple and smart, the terrace is both atmospheric and peaceful, it's got history but is not outdated in anyway and the clientele are always very smart. A good sign of an excellent restaurant is a salad that's been dressed well. The gem hearts at Le Colobmier are inimitably outstanding. The menu offers simple but perfect typical brasserie food from french onion soup or seafood platters as starters to coq au vin or dover sole as main courses, or their wonderful steak tartare, which can be either, and is the best I've had anywhere - even France!
Like Le Colombier you won't see this in any guide books but Ziani is an institution, tucked away just off the King's Road. Their Talglioni verdi is extremely indulgent but incredible, and you can tuck into classic Italian fare such as carpaccio, artichokes, calamari, pastas, veal et al. You won't find anywhere in London doing this sort of simple Italian food better than this and it's also relatively good value. The staff are genuinely Italian and their operatic renditions of Happy Birthday are highly entertaining. We always go here whenever we're catching up with my Grandpa.
Ignore the rubbish reviews on Tripadvisor. If you like a good Chinese takeaway but feel like having a far more delicious version of it, surrounded by Warhol art, glamorous fellow diners and washed down with some good wine, head to Mr Chow. Chow first gained popularity in the 60s, when The Beatles were regular clientele, and he soon opened an equally great Beverly Hills outpost. The beef noodles, chicken satay and dim sum would be my starter recommendations and are all unique recipes. As in your typical Chinese, the duck is, of course, the main event and it's absolutely outstanding here. Definitely another restaurant for a special occasion, however, as it is pricey.
My cheap eat of choice in London and, along with Gymkhana, by far the best Indian restaurant in town. The value is excellent and the food is as good as the aforementioned Michelin starred spot. Much to Debs' criticism, I tend to opt for the Ruby Chicken every time as it is just amazing. The garlic naan and rice are my sides, and it's washed down with some ice cold Indian lager, in true British fashion. That said, we once tried their Indian twist on cheese on toast and it was quite remarkable. The daal and the vegetarian dishes are also all well worth trying out. The only thing it's lacking is a blow your brains out spicy vindaloo so, if that's what you're after, head to Gymkhana for their wild boar one.
Tom Cridland, 25, is a sustainable fashion designer from London, best known for The 30 Year T-Shirt. www.tomcridland.com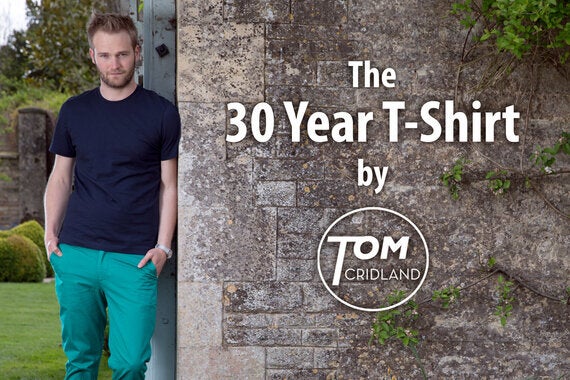 Related