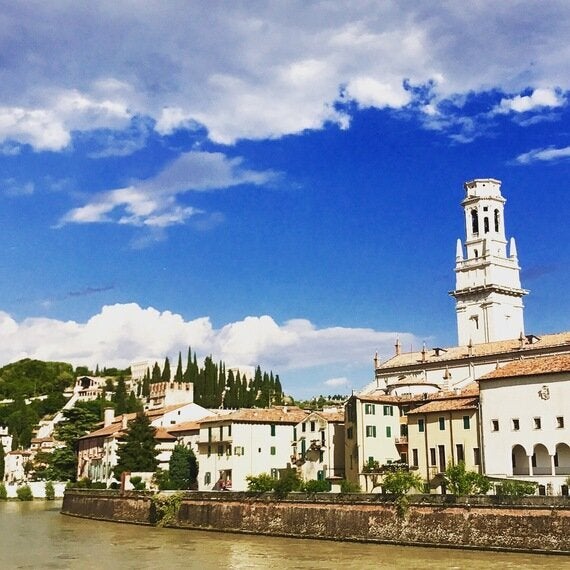 View of Verona. Image author's own
My father-in-law is a devout opera fan so, when we were thinking of 70th birthday presents, a long weekend in Verona floated to the top of the list. The ancient city's association with the arts draws visitors in droves, most of whom come to see the legendary Juliet House, complete with that very balcony from which she famously called to her lover, Romeo. Verona now capitalises on its reputation for drama and romance, as perpetuated by the three plays Shakespeare set here. It is unlikely Mr. S ever made it to Verona so clearly the city had already gained a reputation abroad as a place of passion and excitement.
Having pushed through the crowd to catch a glimpse of the aforementioned balcony, I was thoroughly underwhelmed. It is one of those 'when in Verona' tick boxes that you have to see to realise how little you needed to see it. But with that out of the way you are now free to explore an ancient, intriguing and beautiful city where thousands of years of human history can be discovered at almost every turn.
In that unique way of so many Italian towns and cities, walking around Verona you feel as if every building could once have been a Roman dwelling. There is a timelessness to the fading grandeur of the terracotta, orange and yellow walls, with faded frescos hidden in nooks and archways. And just as you get a grip on yourself and say 'surely all this is at best Medieval', there is the Porta Bosari, a three-and-a-half story 3rd Century double arch spanning a main road. On our second day, having walked in and out of our hotel at least 10 times already, we realised the columns holding up the buildings at the end of the street were actually another part of the Roman city walls. On closer inspection we found this to be Porta Leoni, dating from the 1st Century AD, and you can view below ground level to the Roman streets below.
Leaping forward through the centuries; Verona is home to some incredible Medieval buildings, the most imposing of which is the Castelvecchio. Resting on the banks of the Adige river, the 'old castle' (as it translates) is the best place to start learning about Verona's most important dynasty: the Scaligeri, who ruled the city in the 13th and 14th Centuries. From the incredibly well-stocked museum, which boasts religious sculpture and art from the earliest influences of Christianity in the Roman Empire, to the immaculately crenelated defensive walls and the dominating tower of the keep, there is masses here to spend a good few hours exploring. To continue your education on the Scaligeri, visit the church of Santa Maria Antica, their parish church, outside of which are 5 absurdly ornate gothic Scaliger tombs. Nearby is the Torre dei Lamberti. If your calves are up to it, hike the three-hundred-and-something steps to the top of this bell tower for immense views of the city to the foothills of the Alps beyond. If your calves aren't up to it there is an untrustworthy looking lift to take you up and down.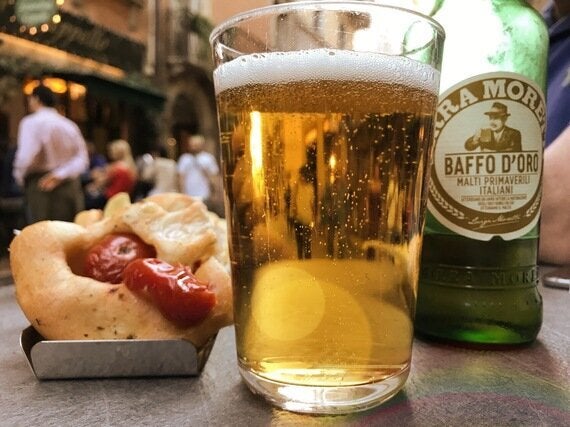 The other great draw with Italy, and southern Europe in general, is of course the cafe and bar culture. I could easily lose an entire weekend sat outside a Veronese cafe slurping delicious wine, nibbling grissini and enjoying the people watching. You really cannot find bad food, bad wine or bad coffee in Verona so your choice comes down to atmosphere. We loved the cosy interior that recalled a wine cellar in Osteria Locandina Cappello on Via Cappello. If you're after a bit of local life with some Italian hustle-and-bustle then try the street-front Ristorante Bottiglieria Corsini that looks toward the old city walls. Or, if you're after a vino with a view, you need any one of the restaurants along Piazza Bra where the sight of the incredible Roman theatre will keep you transfixed for hours.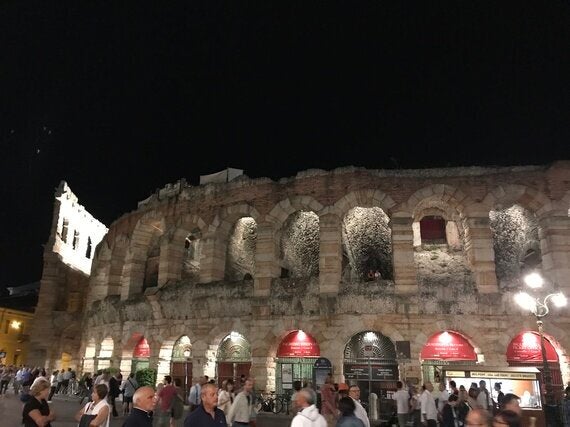 Arena di Verona. Image author's own
The Roman theatre, the Arena di Verona, is one of those wonders that almost defy comprehension. Not only for its age, it was built in 30 AD, but also its continued use. While you gaze onto those stone walls, that so beautifully change colour as the sun sets, you wonder how many millions of people, from empires around the world now long defunct, must have sat in this very spot and gazed upon the same sight. As we passed the ticket gate to find our seats for tonight's performance of Aida; how many people have coursed through this very tunnel? How many spectators have paid their currency to take this very seat and enjoy the entertainment of the day? As day turns to dusk and the orchestra summons everyone to silence a gradual glinting from the audience heralds a Veronese tradition: those in the know have brought candles and a thousand pin pricks of golden glow seem to reflect the stars that are coming out above. Night falls and a drama of doomed love, powerful rulers and savage battles unfolds before us in epic fashion. The story of Aida takes us to ancient Egypt and yet somehow feels innately at home here in a city of passions and power, the city of Verona.