Boxing Day saw another victim of George Osborne's ideologically driven obsession to cut government spending - the homes, businesses and flood defences of Northern England.
After "unprecedented" flooding has forced thousands to leave their homes, possessions and businesses in Leeds, York and Manchester, it has been revealed that the government rejected encouragement from the Committee for Climate Change to introduce a new strategy for flooding. Just weeks before the flooding began in Cumbria, the government claimed investing in flood defences and developing new strategies to deal with extreme weather, would "not be appropriate at this time".
Leeds North East MP Fabian Hamilton warned in 2011 that major flooding in Leeds and surrounding areas could "set back the economic recovery of the North for many years", after the Coalition decided to cut flood defences by 8%. The Prime Minister's sudden vow to 'do whatever is necessary' to help the victims of the floods, is either an extremely late reaction to Fabian Hamilton's warnings four years ago, or the fact that the government is seemingly bound to ideological cuts, no matter what the consequences.
The largest ever inland flood defence scheme, to be built across 12 miles of the River Aire, was put on hold in 2011 by the coalition, on account of it being 'hugely expensive', according to former floods minister, Richard Benyon. Mr Benyon clearly misinterpreted the costs that a major flooding disaster, much like the events of the last few days, would bring to the North. The clean-up process, losses to businesses and personal damages will dwarf the money saved by the government in the cuts to flood defences, as KPMG has predicted the costs will breach £5 billion.
After a report commissioned by Michael Pitt in 2007 called on the government to invest in adapting to an increased flood risk, it became obvious to some that more had to be done. The Labour government responded and increased government spending on flood defences until they left office in 2010.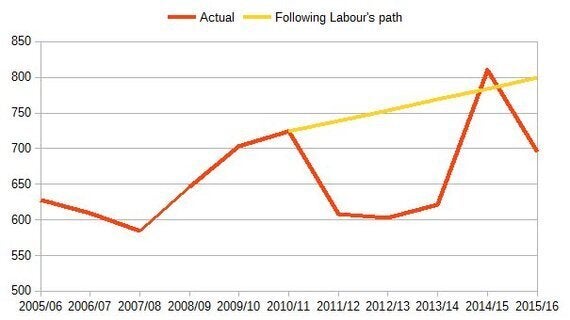 Arguments suggesting Labour overspent during their time in government have gone too far when they are making excuses for an incompetent Conservative government, who refuse to invest in protecting the safety of human life and well-being in the North of England. Over £540m a year was planned to be spent on flood defences in England after Osborne's first spending review in 2011, but projects in Leeds, York, Thirsk and Morpeth were all put on hold - all now the victims of severe flooding and extensive personal and economic damage.
While the emergency services are doing a fantastic job in helping the victims of floods in Yorkshire, Lancashire and Cumbria, the Chancellor has gone a long way in bringing his 'Northern Powerhouse' to its knees. Thousands are now living without power or have been forced to flee their homes completely, while it becomes apparent that the government has systematically disregarded the safety of thousands in some of the most populated Northern cities.