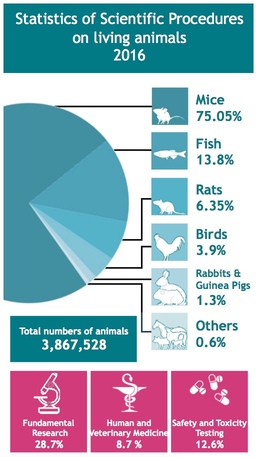 On Thursday the Home Office animal research statistics have been released showing 3.94 million procedures on animals in Great Britain in 2016, a 5% decline from 2015. While the overwhelming majority of research (over 96%) is carried out using mice, fish, rats and birds, research is also conducted on frogs, guinea pigs, sheep, primates and other species. The annual statistics also provide information on the severity of experiments.
While much of the public still believes animal research is done in the UK for cosmetic purposes (it's not), the reality is that most is done in order to understand our biology, the diseases which affect us, and to develop and test treatments for humans and animals. Animal research has been key to the development of both current and historical medical breakthroughs. Here are five recent examples:

Animal research is key to the development of modern medicine. It is no surprise that 94 of the 106 Nobel Prizes given for Physiology or Medicine have directly involved the use of animals. In the UK, animal experiments are carried out under highly regulated conditions, and are only allowed where there are no non-animal methods that can be used instead. Animals are not used for testing tobacco (banned in 1997) or cosmetics (banned in 1998), but research is carried out to continue to make progress on the many diseases which remain a scourge on humanity.