Private jet lifestyle magazine Elite Traveler announced its World's Top 100 Restaurants ranking for 2014 on Monday. Readers of the luxury publication voted Alinea in Chicago the best in the world for the third consecutive year. New York's Daniel came second with Heston Blumenthal's Dinner by Heston just behind. But there were 16 new entries in this year's list with a theme running throughout: accomplished design makes a difference.
Restaurants by internationally renowned designers such as Adam Tihany and Koichiro Ikebuchi appear in the ranking for the first time. Spanish architect Iñaki Aspiazu was behind Spain's Azurmendi restaurant, which was the highest new entry coming 7th.
Design matters, and fine dining is catching on. Customers want more than just food at restaurants. They seek an experience - it's not just what's on the plate. Quality of food remains at the heart of fine dining. But aesthetics and a story behind the restaurant help to provide that all-encompassing experience.
New entries in the Elite 100 Restaurants ranking show how design is key in hospitality.
Azurmendi - Bilbao, Spain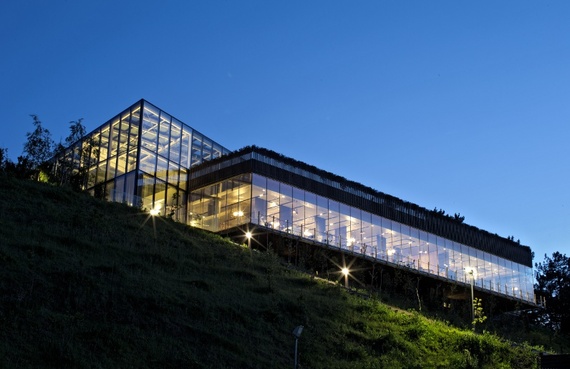 Azurmendi was the highest new entry finishing 7th in the Elite 100 list. Chef and owner Eneko Atxa's restaurant considers its Basque setting in all aspects. All ingredients come from the region while interior partitions are made of local certified wood. Architect Iñaki Aspiazu designed the complex to complement the environment. Recycled materials including glass, plastic, ceramic and aluminium make up most of the building. The roof has a site growing its own vegetation as well as solar and geothermal panels for renewable energy.
Amber - Hong Kong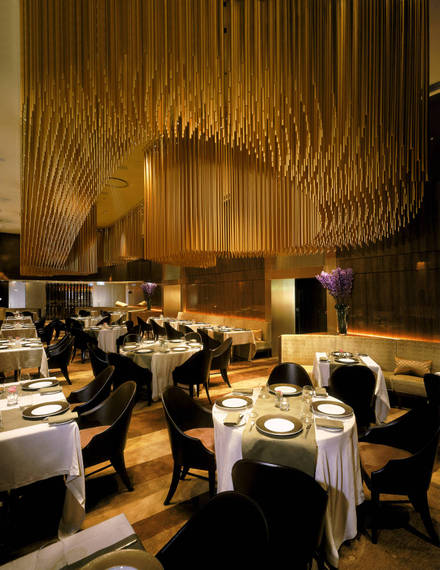 (c) Michael Weber
Amber restaurant in Hong Kong's Landmark Mandarin Oriental hotel came 14th on the list. American interior designer Adam Tihany has carried out work for many of the world's luxury hotels including The Beverley Hills Hotel. Other restaurants he worked on such as New York's Daniel and London's Dinner also made it in the Elite 100. His design of Amber features a centrepiece chandelier made up of 4,320 bronze rods suspended from the double-height ceiling.
Mr and Mrs Bund - Shanghai, China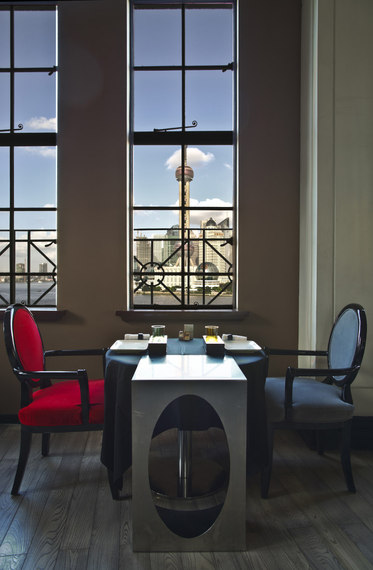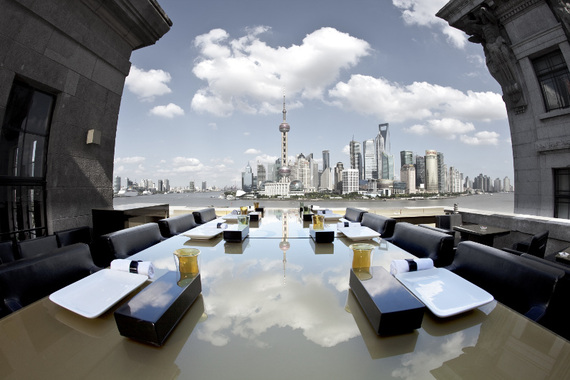 French chef Paul Pairet serves up classic dishes from his homeland at Mr and Mrs Bund but the restaurant has a contemporary oriental aesthetic. Bold interiors match what's outside: Mr and Mrs Bund offers stunning views of the Shanghai skyline. French studio Gwen Design is based in China and created the restaurant's look. Mr and Mrs Bund came 38th in the Elite 100 Restaurants list.
Nihonryori RyuGin - Tokyo, Japan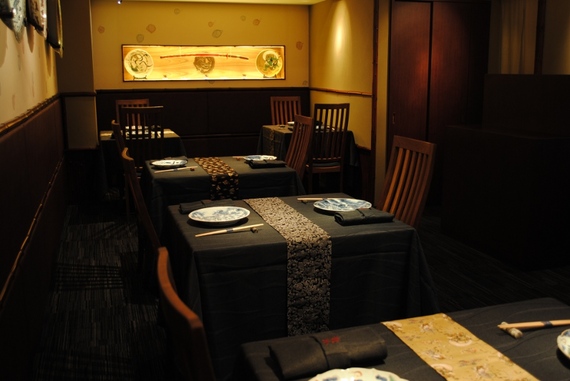 Head chef Seiji Yamamoto has led Nihonryori RyuGin to 40th in the Elite 100 Restaurants list. He was also behind the restaurant's design and identity. 'Ryu' means dragon in Japanese and the creature is believed to bring good luck. Yamamoto's personal ceramics collection featuring different dragon designs now adorns the restaurant's walls. There's an emphasis on traditional Japanese craftsmanship throughout. Wall drawings come on a special paper called Echizen. A Japanese artist named Sasaki, a friend of chef Yamamoto, worked on a dragon piece using the east Asian ink wash painting technique suibokuga.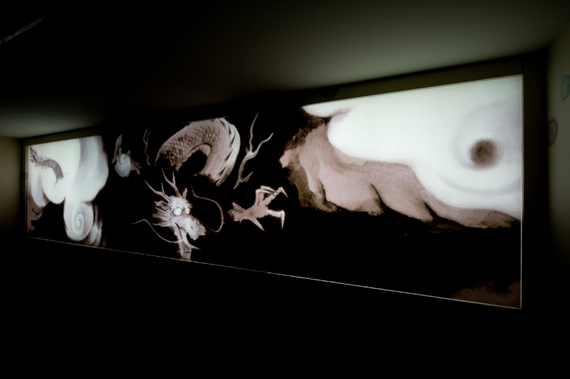 The Test Kitchen - Cape Town, South Africa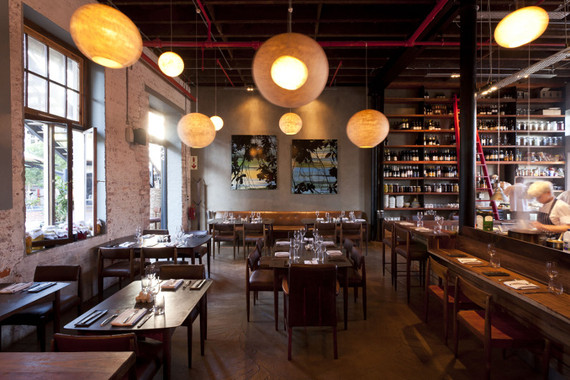 The Test Kitchen from chef Luke Dale-Roberts lies in the trendy Cape Town district of Woodstock. There's an industrial feel with its brick walls, oak beams, exposed ducts and pipes and earthy-toned fabrics. Dale-Roberts made sure to involve local talent when designing The Test Kitchen with artists, designers and craftsmen all coming from Cape Town. The restaurant is 45th the Elite 100 Restaurants ranking.
Nahm - Bangkok, Thailand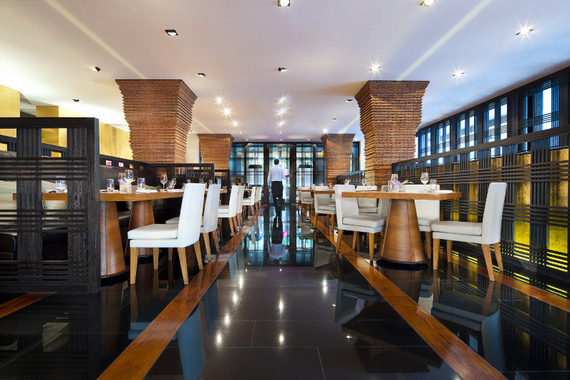 Nahm sits in The Metropolitan Bangkok, part of luxury hotel group COMO. It was voted as the 57th best restaurant in the world by Elite Traveler readers. Japanese designer and architect Koichiro Ikebuchi designed the place and stayed faithful to the restaurant's loyal culture. Thai architectural ornaments and decorative works such as wood carvings and murals fill the space. Materials are sourced locally. The restaurant looks onto a stunning decorative pool.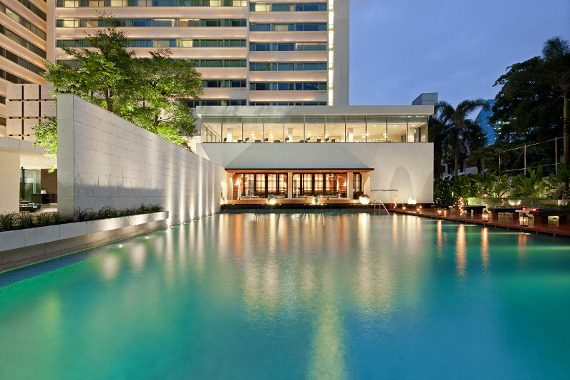 See Elite Traveler for the top 100 list in full.
This article first appeared on ALTO