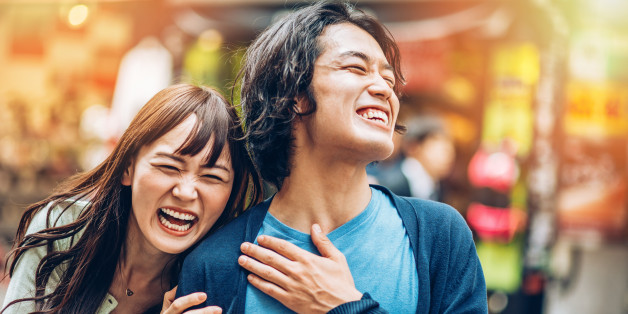 pixelfit via Getty Images
So, two weeks ago, it was Islamic Awareness Week - a campaign organized by The Islamic Society of Britain to raise awareness and combat Islamophobia by dispelling misconceptions surrounding Islam. I've went on Snapchat and seen the "Young, Muslim & British" Discovery Story and many of my fellow Muslim friends wearing hijabs and using the Islamic Awareness Week filter. I truly commend and respect Muslims in Britain for their braveness, passion and commitment to promote social cohesion rather than dwelling on differences.
Whilst swiping and tapping through Snapchat's "Young, Muslim & British" Discovery Story, I've began questioning myself "why aren't there any campaigns related to Asians?". Surely there must be something like "Asian Awareness Week". So I Googled it up and ended up finding campaigns in the United States such as the Asian Pacific American Heritage Month. There was no such thing in the United Kingdom, despite 7% of the population being Asian. How unfair. Muslims have campaigns such as the Islamic Awareness Week and African diasporas have Black History Month and Asians have none. Simply unbelievable.
And I've experienced and received endless acrimonious and provocative racist, stereotypical comments such as being called a "yellow monkey" and I believe there are many Asians in the U.K like me who had similar experiences. I could no longer conceal my apoplectic, exasperated anger and the fact that there is no such campaign for Asians exacerbated my anger.
Let me begin by supplanting these bombastic, phoney Asian stereotypes and word with facts.
Don't call me a 'chink'. You know that the N-word or the P-word are taboos and aren't allowed but many people feel they can use the C-word. Using the C-word against Asian people are the equivalent to using the N-word against a black person and it's not okay. If the N-word and P-word is not allowed, then the C-word is also not allowed.
People assume all Asians are from China. You must be tracking me using a GPS since my birth or seen me at border control holding my passport or you must be son of god to decide my nationality. This is one of the most common stereotypes faced by the majority of east and southern east Asians, all east Asians are presumably Chinese according to the Western world. I know that China has the largest population in the world with 1.3 billion people but that doesn't necessarily mean all Asians living in Britain are Chinese. And please don't interrupt when we try to clarify our nationality - for god's sake, stop guessing.
You must be Master Shifu or Karate Kid. Not all Asians are Jackie Chan or Bruce Lee and most of us aren't born with the natural talent in martial arts. Thanks for having high hopes for me but unfortunately, I'm not Jackie Chan or Bruce Lee or Master Shifu or Karate Kid. I mean if you insist, I can show you a move. Just stand still for me.
Are you related to.... Let me get this clear. I'm Japanese and I am not related to the person who sang "Pen-Pineapple-Apple-Pen" and stop asking me to dance with a pen, pineapple and apple. Thousands and thousands of Asians are asked where they're from and after answering, the chance of the person asking you if you're related to someone random is extremely high. You want to know who I'm related to? I'll show you who I'm related to, just listen to me.
Math genius! Tell me the formula for the Fibonacci Sequence. You must be a fortune teller to tell that I'm a math genius. We're math genius enough to not suffer on non-calculator papers because we can do basic calculations. Not all Asians are doctors and programmers and engineers who are bound to be a match genius, but thanks for the high expectations and next time, pay me to do your math homework.
You Suck at English. Do you need to use Google Translate? Right so you must be multi-lingual and have a PhD in all foreign languages. Let me tell you a surprising fact. Most Asians living in Britain can speak English because they've come to work or study or lived long enough. I've studied at an American school for my life and spoke English for 15 years but I'm still put in English as an Additional Language class when I came to Britain. If we can't speak English, why would we even want to come and live in Britain? And please stop making Chinese sounds.
Racism against us aren't taken seriously enough. And like any other ethnic groups, we are human. I urge people to treat us like any other ethnic groups and combat racism against Asians by simply starting to abandon Asian stereotypes..
And to those working in the media industry, especially those in charge of television programs aimed at children, please please please include more Asian characters where these characters are acted by Asians. This way, the future generation will be familiarized with Asians in their life, and will feel 'normal' for Asians to live in the same community, effectively eliminating racism against us. And to British filmmakers, we Asians have already lost faith in Hollywood regarding racial equality and diversity of actors. And we don't want British films to be like Hollywood films, discriminating and excluding Asian actors. I encourage British medias to turn the spotlight towards us Asians to empowers us and slowly erode away the 'invisible wall of race'.