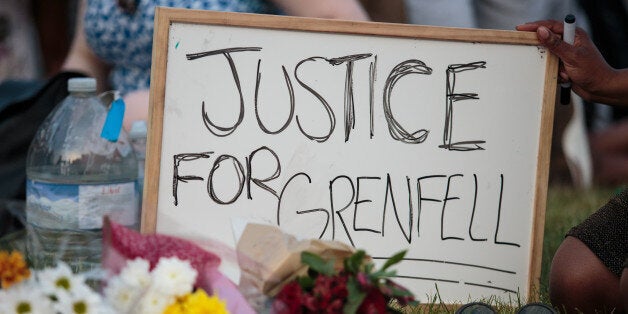 Over the last few months we've had far too many unexpected shocks and tragic loss of life - the terror attacks in Westminster, Manchester, London Bridge, Finsbury Park, and then the Grenfell Tower fire. These events were utterly devastating. But through it all, one thing is obvious - when tested, the power of community prevails.
In every situation, communities across the country have responded with staunch defiance and public acts of togetherness: the One Love Manchester concert, the #greatgettogether celebrations marking the anniversary of the murder of Jo Cox, the hundreds who gathered to lay flowers in Finsbury Park.
This has been no more obvious than following the Grenfell Tower fire in west London, a tragedy which has felt painfully familiar but which has also suggested something new. We have seen the same massive mobilisation of volunteers, the same overwhelming generosity of donations, the same staunch deployment of community resources, and the incredible bravery and determination of the emergency services. But two things feel different.
The first is the sense that the community has been stepping up in a vacuum. Kensington and Chelsea council has faced huge criticism for the paucity of its reaction and has now been relieved of responsibility. Meanwhile the new government, still in flux following the surprise general election result, has been slow to provide clear leadership, with Theresa May admitting initial support for families was "not good enough".
The second is that while we know we live with growing inequality in our society, we have never before seen it so starkly, and nor with such deadly consequences. One of the most painful aspects of the tragedy is that it would have been entirely preventable if one of the richest boroughs in the country had listened to its poorest residents.
While the media attention dies down and we absorb the lessons around fire safety, deregulation and privatisation to ensure that such a monumental tragedy is never allowed to happen again, we should celebrate the amazing spirit and resilience of the north Kensington community.
Within hours, hundreds of people started donating food, clothing and money from as far away as Birmingham. Without a second thought, people came together. A reminder that the resilience of local communities is a vital part of the fabric which binds us together and is our safety net when we need it.
The response was incredible. And we can learn from the conditions that enabled local people to respond in such an inspiring way and give hope and support in the immediate aftermath of a crisis.
Community organisation The Westway Trust has been one of the organisations at the centre of relief, support, and crisis management as a result of the Grenfell Tower tragedy. In normal times, they provide a range of local services and support the regeneration of the local area, they have been providing shelter and support to the hundreds of individuals and families who have been displaced in the most terrifying of circumstances.
Organisations like Westway Trust are not funded to do this, and nobody in charge initially asked them to do this. They stepped in because that is what community organisations do, in countless situations, ranging from fires, floods, riots, killings and more. These local organisations are the backbone of strong resilient communities.
Community organisations are often in the front line of tackling crises, and providing the long lasting support once media attention has moved on. We saw the same thing on Boxing Day 2015, when Hebden Bridge Town Hall became the town's flood support centre, coordinating thousands of volunteers to provide emergency assistance. As the Director of Hebden Bridge Community Association explained:
"We opened the doors to the Town Hall on 27 December so that the local community could come somewhere dry and have a hot drink. And then it began. People came to help. The help was unconditional; they just needed to do something.
"Within four hours of opening we were a hub for cleaning items, a food bank, a place for people to fill out grant applications, a mobile phone charging point, free WiFi provider and giving out free hot food and drinks."
So now more than ever, we need to invest in our communities and the local community organisations that support them. Communities are under pressure everywhere and the power and resilience they have shown over recent weeks is inspirational, even in the most testing of circumstances.
We can't just take the work of communities for granted. Local people, groups and organisations need to be listened to and have more power over what happens in their local area. And they need decent funding to continue to provide valuable services, and run important local facilities and buildings.
We need to do everything in our power to ensure that our community infrastructure is as strong as possible - to strengthen local people's voices to help prevent such tragedies happening in the first place; and ensure that when they do, we have strong community organisations to lead the response.