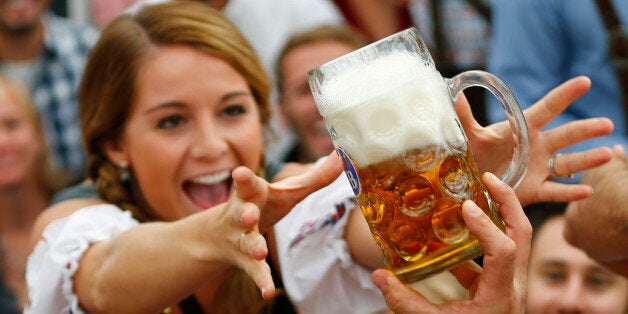 It's never too late to travel, never too late in your life and never too late in the year.
With the end of summer and weather cooling off, many travelers are trying to take advantage of one last trip before it gets too cold. I totally understand.
From my experience, I believe that a great choice for that last trip before it gets too cold is going to a festival.
In my eyes, one of the key benefits of going to a festival is that you are with many like-minded people at an event that has a theme you relate to. So, no matter who you are - you belong.
The important thing about festivals is going with the right people. If you have a friend who doesn't like beer - he's not going to go with you to Oktoberfest (which is just around the corner, by the way).
But this is the 21st century, and there's nothing you can't find online. If you still want to go to Oktoberfest, go online and book a group tour. The festival attracts over six million people each year, and yet, I'm pretty sure that some people who badly want to attend won't, because they can't find the right person to go with and don't want to go it alone.
If you're one of these people, you can use such services to find group tours with people like you. You can even talk to them before going on the trip and get to know your would-be traveling buddies.
However, you still don't want to go to the festival blind, so here are a few helpful tips:
Oktoberfest is a celebration of beer and good times. It's like one giant bar that hosts millions! If you plan on going, don't forget to wear the traditional Dirndl (for women) or Lederhosen (for men), which can be bought at affordable prices at C&A in Munich. However, remember that it is already getting chilly in Bavaria, so make sure you take some good warm clothes with you!
Remember to have smaller bills with you and don't forget to tip the waitress. It is customary to leave at least 10-20 percent tip. Remember, you are one of hundreds of people she is serving, so tip well - or she won't come back!
Remember: the beer glasses are NOT complimentary! If you try to keep one you can get a fine or get kicked out. You can buy an authentic German beer stein at the festival for €10 and up.
If you're a beer lover, you know that it passes right through you, so try to go to the bathroom before you are bursting. There are long lines to the restrooms and some people don't make it all the way there. For the same reason, you shouldn't try to drink unattended "beer."
The festival is huge and spotted with giant tents where you can sample the many varieties of Bavarian beers. Some tents are considered better than others, so try and plan out which ones are worth a visit and get there early to secure your seat. The Hacker Festzelt in particular is one not to miss with its painted roof of blue sky and clouds.
Remember, it is a festival that involves a lot of drinking, so make sure to eat some of the authentic German food. Why do you think that the most familiar foods from Germany are pretzels, sausages and pork knuckles. Dough and grease are the perfect ways to pad your stomach before drinking! Also, don't forget to have some breath mints handy, just in case.
If you decide to stay in a tent during the festival, write down the name of your campsite so it could be read easily. That way, even if you're a little tipsy, you can show it to someone and they can direct you.
Although there is a lot of info regarding the festival in English, such as this website, make sure to brush up on your German. You'd be surprised at how long learning to ask for a beer or introducing yourself in German can go. Your first stop could be this German Beer Vocabulary.
Going alone to a festival with millions of people could be a scary thought. However, in this day and age you can find everything you need online to set your mind at ease.
If you look for group tours, I'm sure you'll be pleasantly surprised by the amount of options you have. From staying in a tent throughout the festival, to living large in a five-star hotel - you can enjoy Oktoberfest on your terms.
If you're planning on going to Oktoberfest, I hope that you find these tips helpful and that you have a great time! And remember, if the one thing holding you back is not having a traveling beer-buddy to go with you, go online and find a group trip!
So, till your next adventure - Prost!