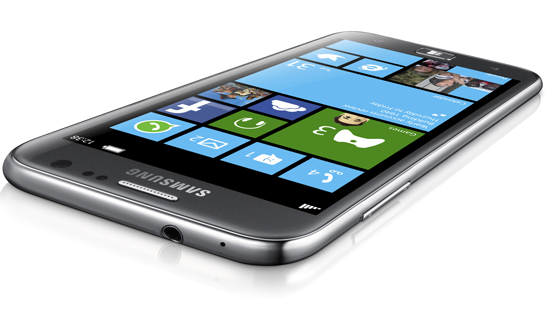 Samsung's Ativ Windows 8 range of devices announced on Wednesday in Berlin could really upset the Apple cart.
Tech heads will be flocking to the Samsung stand at IFA this year with more interest than ever before - to see what the Korean giants are throwing back at Apple after their court battles.
And Apple might live to regret suing Samsung for "copying" them, because they are leaving their arch rival no choice but to put more weight behind a potentially bigger threat to the Cupertino monolith - Windows 8 phones.
Which is why Samsung's news on Wednesday of the Ativ range of devices featuring Windows 8 is so interesting.
Many see Android as a poor man's Apple IOS software. The same little app squares on similar-looking, cheaper devices. But it is open to fair criticism of fragmented upgrades and pirated software. It can be a nightmare for developers getting a uniform version of their app on a big selection of phones and tablets, all using various versions of Android.
In many ways it is very difficult for Android to compete, due to Apple's slicker, walled garden approach. That's ironically despite the fact that Android is the No1 mobile operating software in user terms.
Strategically, it might have been better to leave Samsung to to their own devices and not bother to take them to court. But Apple have in effect encouraged their rival to refocus resources on Windows 8, something that is actually a re-thought alternative to Apple's operating system. Many believe it's easier to develop for. And it takes the possibility of a unified, omnipresent operating software a step closer to reality.
And Samsung seized on that on Wednesday, with a full range of devices from desktop to phone, with laptop, ultrabook, tablet and no doubt a Note, on the way.
The Koreans made a strong statement of intent: "Ativ is a pledge by Samsung to make everyone's life easier. The full range of Windows 8 powered devices will enable this goal.
"The Samsung Ativ Smart PC, Ativ Smart PC Pro, Ativ Tab, and Ativ S, offers a full range of Ativ devices.
"Samsung is one of very few companies that are capable of offering such a diverse product line-up and is committed to offering more choices based on Windows 8 for consumers."
The dynamic metro tiles of Windows 8 are a great fit for them and they overcome the challenge to Apple's divided software system for desktops and laptops and tablets and phones.
Windows 8 is one design language for all devices. It takes the intuitive feel of touchscreen navigation to a new level, because people will be able to size the tiles to reflect their personal priority. And their dynamic nature tells you on the surface whether there is much going on inside them.
The Samsung Ativ S: Smartphone, on show in Berlin, could be a key indicator of Samsung's intentions. It will be fascinating to see the numbers produced and the marketing budget.
Samsung was pretty half-hearted about its entry into the Windows Phone 7 market, perhaps rightly so. But that involvement could really pay off now.
If the Ativ is as good as the Galaxy SIII, but with Wiindows 8, it will be a very tempting proposition. For many, the choice will be which Samsung phone do I get?
And if the price is low enough, the iPhone 5 will be out of the picture for many people on budget alone.
Samsung says: "It's a new smartphone for both work and entertainment, offering a premium Windows 8 experience in a phone. Ativ S brings a stunning hairline design and high performance with a range of content-sharing and productivity options.
"Its impressive 1.5GHz dual-core processor and HSPA+42 connectivity enable great browsing performance and high responsiveness even for the most demanding gaming or work applications.
"Users can enjoy the brand new Windows Phone 8 experience on the Ativ S's stunning 4.8" HD Super AMOLED display."
If people get excited about Windows 8 as another big player, Nokia, hopes, there is only one potential loser - Apple. Especially if Apple is forced to rethink it's software design along the same lines, if it is to unite the design on mobile and desktop.
Assuming Windows 8 takes customers from Android, Apple and Blackberry, Samsung won't be too bothered because they will make up for some of their Android losses with a Windows 8 expansion.
But Apple and Rim can only lose market share from Windows 8 which now looks even more likely to become the third big player in the mobile market, which now pretty much dictates the way we access the Internet these days.
Any added momentum for Windows 8, also has to be good for Nokia too, because their hardware design is unarguably original.