Unlike Steve Jobs, Microsoft aren't shy about letting people use a stylus on their new Surface tablet, or a keyboard for that matter. But Jobs missed out on his own multi-billion pound industry which gets its own trade show in London this summer.
Apple is finally set to cash in on 'appcessories' after recently patenting two styluses for its touchscreen devices - reversing a decision by late CEO Jobs which has already cost the World's No1 tech company millions.
An appcessory is simply a bit of hardware designed to enhance an app, but Apple have steered clear of them until now, allowing third parties to make fortunes.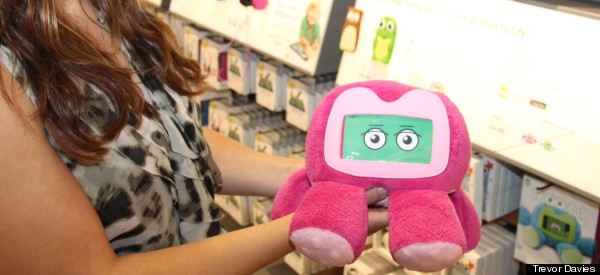 Griffin marketing publications director Jackie Ballinger Anderson shows off a range of childrens appcessories at the company's newly opened store at the Westfield shopping centre, close to the Olympic Park in Stratford
It was Jobs who declared that any device needing a stylus was "dead", elevating the iPhone's multi-touch screen to Holy Grail status.
Okay, the epic failure of his earlier Newton Tablet, which used a stylus, probably led him to that view.
But the success of a finger painting app called Brushes, used on an iPad to create the cover of the New Yorker magazine in 2009, should have alerted Jobs to the potential market for an Apple-branded stylus. Anyone could see that a virtual pen would allow far more precision for art and graphics apps.
Maybe Jobs just couldn't backtrack from his declaration two years earlier when he launched the iPhone that fingers are the best pointing devices.
"We're going to use a pointing device that we're all born with - born with ten of them. We're going to use our fingers. We're going to touch this with our fingers. And we have invented a new technology called multi-touch, which is phenomenal. It works like magic," he said.
Not if you are trying to colour a tiny group of pixels in an art app with sausage fingers.
So appcessory makers stormed into Apple's walled garden to cash in on demand. Today there are at least a dozen styluses worthy of review. Arguably, the best is made by Wacom which sells for around £24.
In March this year Apple announced that 25 billion apps had been downloaded from its online store. Of those it's hard to say how many would work better with a stylus because Apple is so secretive about individual sales.
But in April this year makers of the free-of-charge drawing app Paper announced 1.5 million downloads. And there are plenty of other popular paid-for, sketching and painting apps raking it in at the App Store in huge volumes, including Sketchbook Pro and Penultimate.
So it's safe to say that Apple have missed out on many millions by failing to offer their own brand of stylus for sale with an iPad, which has sold 67 million.
But now that Steve Jobs is no longer in control, executives appear to be ready to release not one stylus, but two.
The virtual pens that Apple has in the pipeline aim to improve on the others by adding sound to one, creating realistic audible brush and pen strokes, and engineering the other so that it needs no contact with the device, enabling the user to draw circles in the sky. The latter might actually double as a remote control for the Television that many believe Apple has waiting in the wings.
But the stylus is just the tip of a huge market in appcessories.
Today you can buy anything from an app-controlled helicopter to a baby monitor which links to your device via WiFi.
In fact kids are so hooked on their parents' tablets that it's beginning to seem toy manufacturers won't launch a new product unless there's some kind of tie-in with an app.
And pretty obviously, in many cases, the link up is part of a blindingly obvious marketing ploy. For example, Disney's Cars 2 AppMates, aimed at children as young as three, comes with two model cars that turn the iPad into a racing circuit.
You only have to look at crayon maker Crayola's virtual products to see that they are not about to be left out of the apps rush, despite manufacturing perhaps the most staple reality toy of everyone's childhood.
This appcessory trend, driven by American companies, is not lost on one British entrepreneur who has launched an 'Appletics' trade show dedicated to them.
Toyology.TV CEO Peter Jenkinson told HashableMedia: "With the app market looking at becoming a $35bn market by 2015 a mere slice of this action makes the appcessory market one worth talking about and jumping into with both feet - and so the Appletics was born.
"We're creating a press/trade event to get all the key influencers in one space for a great day out to absorb the diversity in this new category."
He's hoping the Appletics event, on July 6th at Ravensbourne University near the O2 in Greenwich will inspire British developers to produce more outstanding appcessories.
The huge growth in app toys is even causing some alarm in the States where the American Academy of Pediatrics recommends limiting kids' screen time to no more than one or two hours a day.
"Nobody would recommend excessive use," added Jenkinson. "The same limits apply to kids watching TV. But most of these appcessories have educational benefits, especially if kids play them with their parents.
"The interactive element has to be healthier than letting your kids sit passively in front of the TV for hours on end."
One thing is for sure, as touchscreens continue to sell, so will this physical hardware, which enhances the virtual world that inspired it.
After all, who would play an imaginary air guitar, when a tennis racket or Guitar Hero axe is to hand.
Top ten appcessories