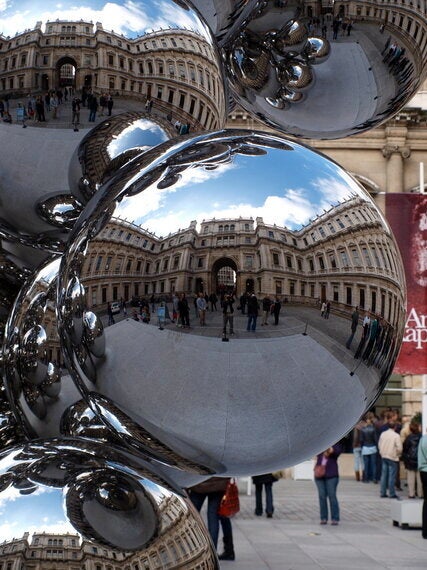 It's easy to be condescending of the vast wealth that envelops central London with a stifling blingy blanket of irritating elitism. A charming middle eastern woman coiffed and held together by the perfection of hair colourists and surgeons, breathed huskily at me over a recent business dinner:
"I just LOOOOVE London!". There was no denying it: I was irked. I smiled back, concluding that with a chauffeur, personal cook, private jet and entire house on Eaton Square, I really think I could emit happiness too.
But when the vastness of this wealth coincides with a love and patronage of culture I lower my musket of resentment and share something extraordinary.
Finding myself in the house of an individual endowed with insurmountably large amounts of dosh, I entered what has to be one of the grandest pads I have seen in central London, complete with requisite infinity pool spilling on to an exterior vertical garden of such peace and tranquility that it was impossible to imagine the chaos of central London traffic beyond this wailing wall of beauty. Once the home of an eminent fellow of the Pre-Raphaelite School, it had now gobbled up nearby properties to become even grander in scale, equipped with the original interior cupola to make most parish churches blush, and swirling with an endless array of reception rooms, all monochromatically modern (and somewhat depressing if one were to split hairs). I chomped down on delightful canapés and quaffed lakes of vintage champagne - Pol Roger 2000 really is a very good batch.
The hosts were lovely, if a little distracted by the surge of humanity they had invited that evening and I floated off in an alcoholic haze after watching a bevy of clucking guests lean into the hostess, tut-tutting at her complaints of how the hundreds of orchids planted in their oasis had bloomed while they had been away on holiday. Last time I checked, my two orchids had bloomed over four months - some holiday...
And then suddenly we were ushered on to comfortable sofas in front of the domestic dome, whereupon Daniel Barenboim, classical maestro extraordinaire, appeared humbly and politely, talked movingly and effusively about his orchestra made up of Arabs and Jews alike, and asked if he could play for us a Chopin piano sonata. There ensued what can only be described as living magic, a sound of such exquisite sweetness and connection to the instrument to bring tears to the coldest of hearts and most stoic of natures. It was almost painful to hear, like biting into a juicy apple after a period of abstinence, thousands of taste buds racing at once to the source of experience. And his playing was generous, lasting long enough to put us into a reverie of conscious appreciation. And there was a realisation that we were listening to genius, in the intimacy of someone's home where the genius himself had asked if he could play for us!
I blundered through my good byes with tear- stained cheeks and simply shook the maestro's hand, words failing me. I stumbled out into the mild midnight air and realised just how happy I could be too, enveloped in that blingy blanket of irritating elitism.