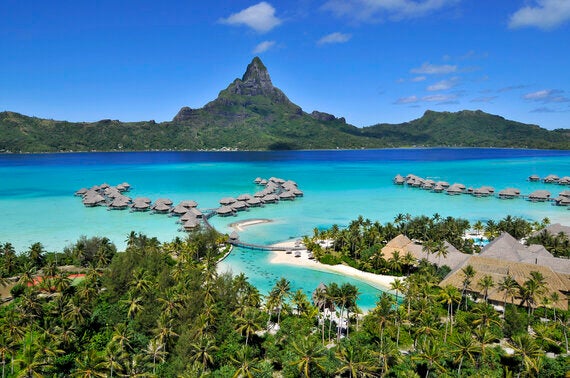 Source: Intercontinental Bora Bora Resort and Thalasso Spa
January and February are notorious for being the most depressing months of the calendar. In order to escape your winter blues, why not lust over a holiday in an exotic location? These luxurious overwater bungalow resorts offer privacy, luxury and unbeatable views - suspended over some of the world's most beautiful oceans. Handpicked by our resident travel experts, these resorts will take you all over the world, from the renowned French Polynesia to lesser known gems in Central America and Fiji.
1) InterContinental Le Moana - Bora Bora, French Polynesia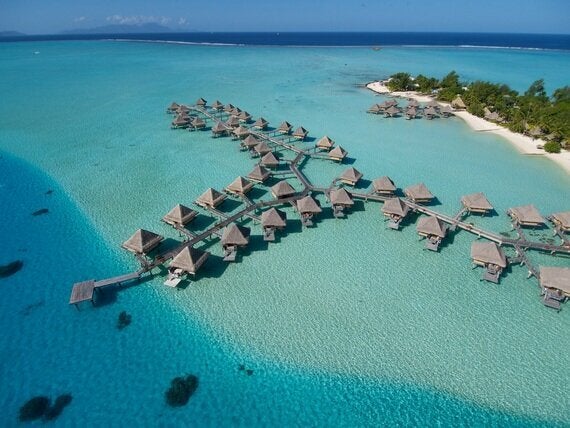 Source: InterContinental Le Moana
French Polynesia's Bora Bora is undoubtedly the most pictured of the overwater bungalow resorts. While Four Seasons is the most luxurious (and most expensive) resort, it was InterContinental that pinoeered the idea of suspending their villas on stilts between the ocean and the lagoon. As a result, InterContiental have secured the best locations in the archipelago. Le Moana is no exception, found between two beaches in the shade of a coconut plantation. The resort has strived to stay true to its Polynesian roots, selling hats, baskets and mats created from coconut palm leaves, Monoi oil renowned for its medical properties and loose pearls and jewellery from the most presitigious producer in French Polynesia.
2) Float House River Kwai - Kanchanaburi, Thailand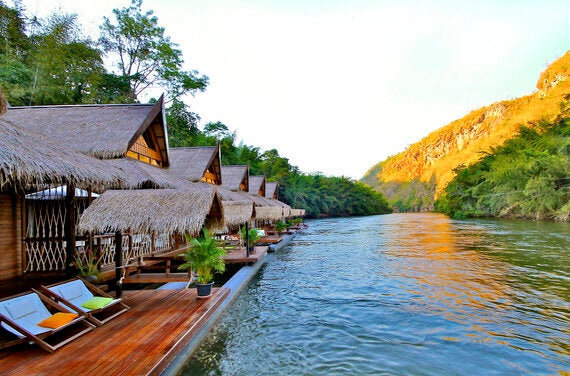 Source: Float House River Kwai
For a different overwater experience, Float House River Kwai offers bungalows which appear to float on the famous Khwae Noi in Thailand's Kanchanaburi province. The 18 villas are constructed from bamboo and teakwood for a traditional Thai experience. A variety of activities are offered, from elephant riding to canoeing down the river, visiting an indigenous Mon village or exploring a nearby Mon temple. After a long day of sightseeing, guests can relax in the comfort of their private room or balcony, or indulge in a traditional Thai massage.
3) Conrad Maldives Rangali Island - Rangali Island, Maldives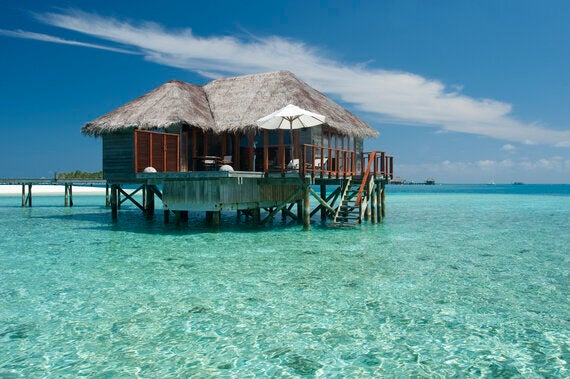 Not the cheapest option, but you can't put a price on luxury - which the Maldives offers in copious amounts. The five-star Conrad Rangali is accessed by boat only and is spread across two private islands, offering a range of 150 different guest rooms, from beach bungalows to overwater villas. The resort's winning feature, however, is the world's first all-glass underwater restaurant. The Ithaa Undersea Restaurant serves fine European cuisine and allows diners to eat five metres below sea level, surrounded by 180 degree panoramic views of unique coral reefs and marine life.
4) Likuliku Lagoon Resort - Mamanuca Archipelago, Fiji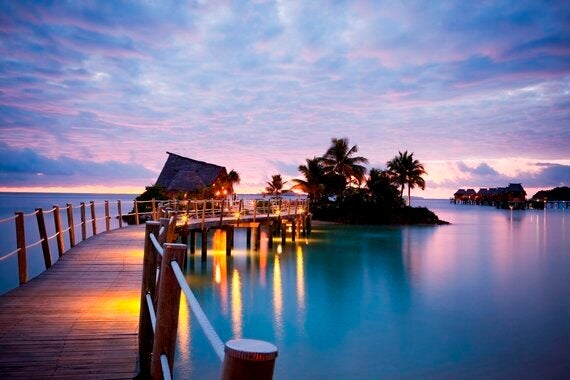 Source: Likiliku Lagoon Resort
Another expensive but unique option, the Likuliku Lagoon Resort is found in the picturesque Mamanuca Archipelago, near Nadi in Fiji. Like the resort itself, the bungalows were designed using traditional Fijan architecture and built using materials unique to the region. The area is best-known for Modriki Island, where Castaway was filmed - guests can even travel there from Likuliku via jetski. If the stunning landscape is not enough, a range of acitivities are available - from Fijan body treatments at the Spa to windsurfing over the Pacific ocean.
5) Punta Caracol Acqua Lodge - Bocas del Toro, Panama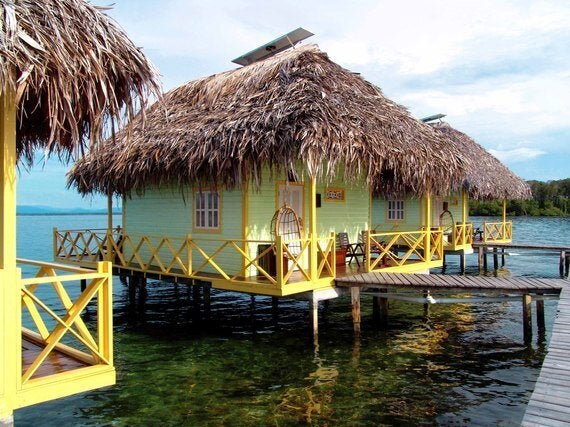 Bocas del Toro is a popular backpacker destination on the Caribbean Sea, renowned for its colourful nightlife, national parks and abundance of beaches. The majority of the province is based on the water, with boats ferrying tourists to and from restaurants, bars and nightclubs all perched on stilts over the sea. Visitors searching for a little luxury should check into Punta Caracol Acqua Lodge, featuring nine overwater huts with thatched palm roofing. Guests can immerse themselves in the local culture, with trips to indigenous villages, hikes through the rainforest and fishing trips with locals available daily.
6) Berjaya Langkawi Resort - Langkawi, Malaysia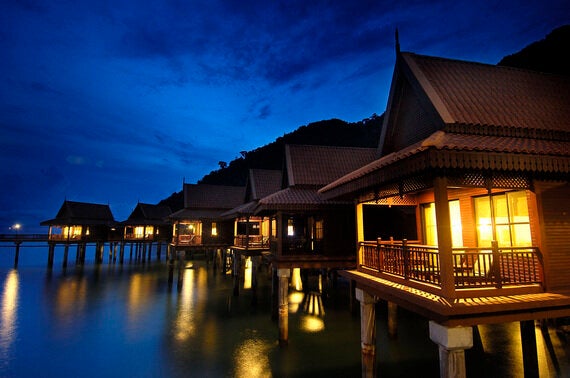 Source: Berjaya Resort Langkawi
Langkawi, an archipelago of 99 islands, has the official title "Langkawi, the Jewel of Kedah" - hardly surprising when the tropical jungle, pristine beaches and clear Andaman Sea are considered. The Barjaya Langkawi Resort encompasses all of these "jewels", spread across 28 hectares of tropical rainforest, with 50 rooms, suites and chalets found suspended above the water or inside the rainforest. Guests can enjoy tennis, fishing, scuba diving and windsurfing during the day, while at night there are nine bars and restaurants to choose from.
7) Song Saa Private Island - Koh Rong Archipelago, Cambodia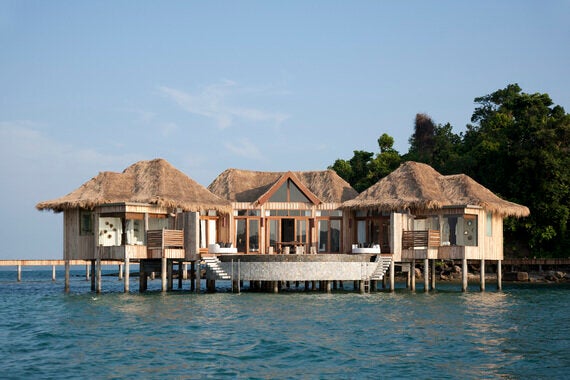 The price tag suggest just how special this resort is - Cambodia's first all-inclusive private island resort, claiming to provide anything the heart might desire. Spread across two pristine islands known collectively as Song Saa ('The Sweethearts'), the resort markets itself as a seductive and luxurious retreat, with a large infinity edge swimming pool, yoga and meditation centre on the shoreline and an exclusive island boutique. Song Saa should also be commended for its dedication to the environment, even building a marine reserve in order to safeguard the reef and allow guests to observe turtles, seahorses and tropical fish.
8) Constance Le Prince Maurice - Poste de Flacq, Mauritius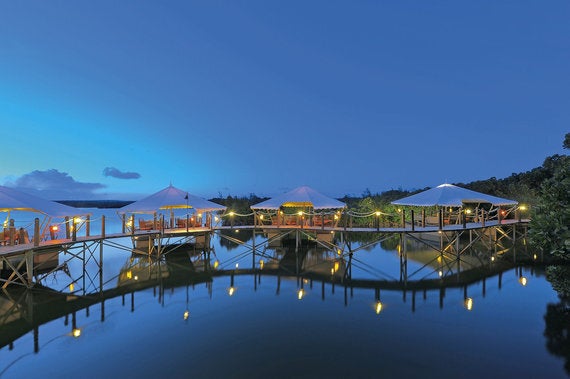 Source: Constance Le Prince Maurice
Tucked away in Poste de Lacq is Constance Le Prince Maurice, a secluded resort consisting of 64 suites, 12 family suites, 12 luxury overwater villas and the exclusive Princely Suite. Constance prides itself for its luxury and intimacy, with private terraces, infinity pools, an outdoor Spa and alfresco dining. Designed by architectural mastermind Jean Marc Eynaud, the resort is in harmony with its surroundings - including the suites and villas on stilts. Intended to impart tranquality and intimacy, guests can sunbathe or stargaze from their furnished balconies.
9) Vinpearl Luxury Nha Trang - Nha Trang, Vietnam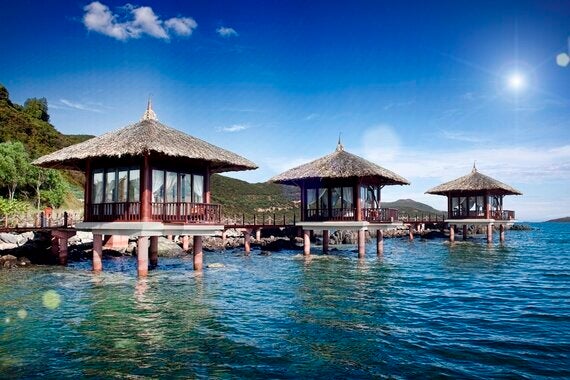 Source: Vinpearl Nha Trang
Another private island resort, Vinpearl Luxury Nha Trang lies on Hon Tre Island and is accessible by a seven minute luxury yacht transfer. Guests are greeted by 84 villas on the shoreline, complete with terraces overlooking the white sand beaches and distant mountains. The resort is famed, however, for housing the only overwater spa in the world. The Vincharm Spa features private massage huts suspended above the ocean, allowing guests to enjoy 360 degree views while experiencing complete relaxation of the body, mind and soul.
Related