I am thrilled to be able to share this news direct from our #BeCrueltyFree Taiwan team in Taipei, where we have just shared a platform with Legislator Wang Yu-ming to launch a new bill to ban cruel cosmetics animal testing. It's the culmination of many months of hard work, involving the crafting of detailed bill language and negotiating a robust legislative proposal. But it means that Taiwan is now the latest country to join our #BeCrueltyFree global movement for compassionate cosmetics, and we're determined to see the bill pass into law.
Cosmetics regulation in Taiwan requires cosmetics companies to conduct a range of safety tests - including animal tests - for medicated cosmetic products such as sunscreens, and for new chemical ingredients in cosmetics. These tests can include skin and eye irritation, where chemicals are rubbed onto the shaved skin or dripped into the eyes of rabbits; and "lethal dose" tests, in which animals are forced to swallow large amounts of a test chemical to determine the dose that causes death.
Animal suffering, scientific uncertainty
As well as causing animal suffering, these tests epitomise much of what is wrong with traditional animal testing - they were developed decades ago and are now outdated; they are crude and scientifically unsophisticated; they often produce results that are irrelevant for human safety or, worse still, misleading. We make no apology for wanting to replace animal testing to stop animals suffering, but the scientific and consumer safety imperative to transform these test regimes is equally compelling.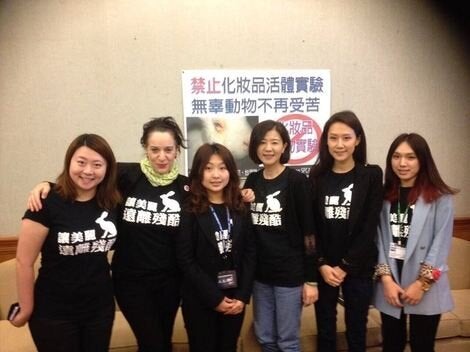 Legislator Wang with #BeCrueltyFree Taiwan at the Parliament bill launch. Credit: TSPCA/HSI
To achieve reform in Taiwan we are collaborating with a range of stakeholders, including cosmetic companies, the Taiwan FDA, progressive politicians such as Legislator Wang Yu-ming and Legislator Ding Shou-zhong. The result is a bill that seeks to achieve a combined cosmetics animal testing and sales ban, but we know that we will have to work even harder now to gather the political support necessary to get our ban voted through. If we are successful, we will see cosmetics cruelty in Taiwan phased out over a relatively short timescale - finished product testing banned one year after the bill passes; ingredients testing banned after two years; the sale of animal-tested cosmetics banned after three years.
#BeCrueltyFree progress across Asia
Launching the bill in Taiwan is the latest milestone achievement for our #BeCrueltyFree campaign across Asia. Our teams on the ground are small but highly skilled and effective, and have so far helped achieve:
a trailblazing ban in India on cosmetics animal testing and the sale of animal tested cosmetics;
increased investment in modern, human-relevant testing in South Korea with the government's allocation of 166 billion Korean Won (US145 million) for the country's first alternatives research centre - vital if the recent mandatory alternatives for cosmetics bill is passed into law, as increasing the availability of alternatives in South Korea is the only way this new legislation will save animals' lives;
removal of mandatory animal testing in China for ordinary, domestically-produced cosmetics sold in-country, as well as advancing state-of-the-art alternative tests by helping to fund scientists with new in vitro skills, and promoting the scientific benefits with key science stakeholders;
engagement by policymakers in Japan - many for the first time ever - in the issue of cosmetics animal testing and consideration of a Japanese ban.
When combined with our recent victory in New Zealand with a national ban on cosmetics animal testing voted through, and the legislative bills we've helped launch in Australia, Brazil and the United States, all building on the foundation stone of the final European Union sales ban that we were instrumental in seeing implemented in March 2013 -- it's clear to see that our #BeCrueltyFree campaign is a powerful force to be reckoned with on behalf of animals in laboratories. I hope that we will soon be able to add a Taiwanese ban on cosmetics cruelty to that list!