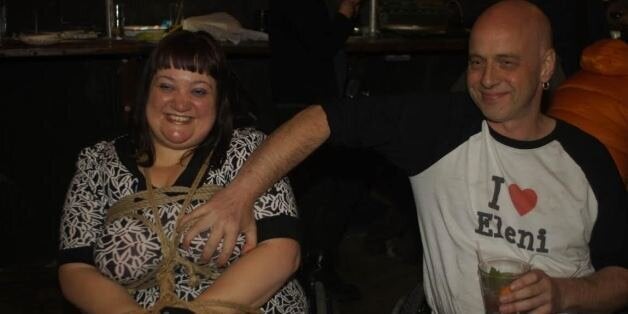 This February The Huffington Post UK is running Making Modern Love, a fortnight-long focus on what love means to Britons in the 21st Century. Built on the three themes of finding love, building love and losing love, HuffPost will feature human stories that explore exactly what it is to be in love in modern times

These are stories from two of the projects I run: a national club, Outsiders, for people with physical and social impairments to make friends, enjoy peer support and find partners; and a website for disabled men and women to find responsible sexual services.
Me and my other Outsiders volunteers (we all work for free as we can't get funding) have enjoyed watching the members of Outsiders find partners and sometimes shared their grief when the partner has passed away. It is quite common for disabled people to die earlier than the rest of us. Members say they get more support from Outsiders than either their families or other friends!
Eleni, who has cerebral palsy, started a long term loving relationship with another member, Phil. They were together for nine, blissful years, her travelling by train to Surrey to stay with him and him coming to stay with her in Seven Sisters, London. Phil knew his impairment would deteriorate, as he had watched this happen to his brother who had the same condition, and he lived life to the full, having fun, and loving Eleni. Eventually, he became confused, and went to live in a home near Eleni's flat. She visited him every day and read to him, played his music, chatted, kissed him. Eventually he died and now, after two years, Eleni still cries most days and misses him madly. She bought a kitten, called him Teddy Bear after the name of one of the bands Phil played double bass in, and she feels that Phil sent the pussy cat to keep her company.
A happier story is Shital's. Shital has a condition where growths appear in her body and on her skin, and have to be surgically removed. She had a friend in Outsiders called Jamie who has cerebral palsy. Jamie was going to the estate agent to find a more accessible flat and Shital offered to go with him. The estate agent assumed they were an item. That night, Jamie arrived on Shital's doorstep at 11pm and that's how their love affair started. They are now married.
Shital's definition of love
'Love is....

Nurturing each others needs and desires in all areas of life.

Supporting each other and standing united.

Knowing you are on my side.

Feeling like I can rule the world with you by my side.

Being honest when asked for my opinion knowing it may be hard to swallow,.

Knowing you may not love my opinion but I know you love me for my honesty.

I know and trust the truth is in my best interest whether I want to hear it or not.

Never expecting gratitude or an apology, because we do what we do out of love and when we fail to get it right it's never out of malice.

Accepting you regardless, even though I may not always understand you and your weird ways.

Knowing you accept me in spite of my unique weirdness.

Being able to laugh together, at each other, with each other.

Honouring and cherishing, in sickness and in health, for richer for poorer until the end.'
Jamie's definition of love
'Love is doing whatever you need, without complaining, as to serve you is never a chore.

I accept you now matter what.

I am there to comfort and console and be on your side, even though I fail sometimes, always know that your best interests are always at the heart of what I do.

You are the one I come home to as you are my home.

Whereever you are, that's where I'll be.

We are one, I feel what you feel.

I miss you when you are not there, even though I know you are always there.

I can do more with you by my side and my highest hope is that I give to you all I can and all you ask for.'
Darren is a kinky young man who volunteers for us. He found his true love online - with a young man with Duchenne muscular dystrophy. Together they enjoyed a completely fulfilling relationship, before Darren's lover passed away.
"My partner and I proved in our relationship that disability is something that does not afflict the individual - this is simply an outdated concept thrust upon individuals with differing abilities by society. Despite our impairments, we did everything any other couple would do, from romantic meals out to bondage! Disabled people just want to be accepted and experience love the same way all human beings do. He wrote me love poems (with three fingers, the only part of his body which could move) with lines like,

'You are the beat inside my heart

Without which I'd fall apart'

I can really relate to what Eleni must be feeling right now, losing Phil, having lost my soul mate too. I now feel as if I have become, in a sense, polyamorous. As I will always love my former partner but have now found through my search for a new love in Outsiders, that it really is possible to love more than one person! I thought I'd never be able love someone else just as much, but with the passing of time since his death, my capacity for love has only grown."
Jules lost his sight and his very happy marriage broke up as a result, so he felt desolate and joined Outsiders and told me the first two years, he just talked to very depressed women on the phone! Then he met a blind girl and they became an item. He told me he missed the visual turn-ons of sex, so they listened to aural erotica. He also talked of starting a sex club for blind couples to discuss sex, but this never happened.
Sarah who has speech impairment with cerebral palsy ran our West Country lunches and Steve, whose limbs are impaired, our Midlands lunches. They each went to each other's lunches. After one in an erotic art gallery, Sarah emailed Steve and asked to meet him in a hotel - they had fancied each other for three years! Now they live together and Steve says, love for him is 'unconditional, relentless and rewarding'.
Eric has been a member for several decades and loves Outsiders. He has Aspergers syndrome and is a successful artist. He fell in love with Julie who is autistic and they used to meet up in the countryside, eat home-made sandwich lunches (calling the sandwiches rude names), with Eric playing his guitar and she singing to his music. This relationship eventually faded. Since then Eric has decided to stay single. He says, when he sees someone he likes there is 'the sex fairy in the room'. He says he learned many years ago that it is best to relinquish all attempts to chase after her, and this, funnily enough has set him free and happy.
Sophie joined Outsiders and sent me this:
'When, I was 21 I was very much the strong, confident type. I was nearing the completion of a fashion degree. So, body image and style was extremely important to me. I was also in love. My accident occurred just four months after my new romance. He ended his part in my life via text message! We have never spoken since.

The break down of the relationship has affected my self-esteem and confidence. I am left feeling inadequate and unable to offer anything to the opposite sex. However, I am hopeful that one day, there will be some sort of miracle!"
A British TLC sex worker told me:
"You cannot be closed emotionally to clients with life limiting impairment, when you spend a whole year watching the decline of a person. My time with the one and only client that I lost to Motor Neurone Disease declined rapid into a world with no speech and you feel their frustration and feeling of hopelessness. The only thing I could do was to show him that I was more than just a working girl and he was more than just a client. In the end, he became a person I could share my personal life with. When the time came and he passed away, and even now as I write this, I shed tears for him. To watch a human life ebb away knowing there was nothing I could do was a painful heart wrenching episode in my life. 18 months on I still miss him. I have a picture of us together I treasure it and will never forget him. He was a kind and gentle soul, my love for him could never be replaced... I attended his funeral he left me a small reminder of the fun we had by ordering drum and bass to be played as his parting music."