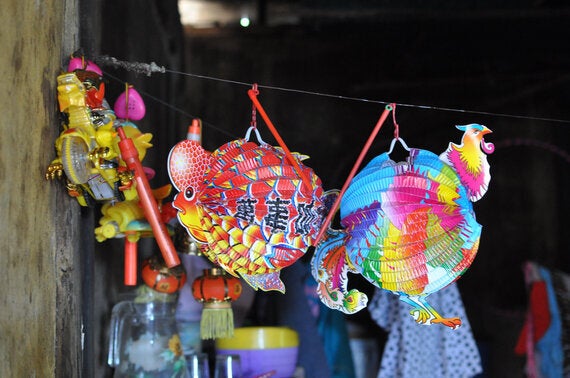 When I was very little, my mother installed many serious superstitions in me about the (Chinese/ Vietnamese) lunar new year - Tết. Rules and tradition must be followed for the reason that whatever happens on the first day of the moon's cycle will reflect the outcome of the whole new year.
Whether you will have a good year or a bad one depends on all your actions at the start of day one! Every year, I find myself following the symbolic traditions. I don't want to risk having a bad year so I celebrate by following as many of the rules as I can and eat and eat and eat as much as my belly can fit with my family and those I love.
No matter how poor we were, living on the brink of poverty, my mother would have saved enough money to buy enormous amounts of fruit, ranging from satsumas, oranges, pineapple, pomelo, apples, pears to grapes. They would be arranged nicely on the alter with Mary & Jesus, along with Buddha, burning incense standing in a bowl of rice grains and pictures of my deceased grandparents.
But most importantly, a range of traditional new year dishes are prepared then placed on the table and offered to her late parents in prayer and worship. This takes as long as it does for the incense to burn out. It is a quiet moment to reflect on the past year and appeal for new wishes for a happier and brighter new year.
Traditional Vietnamese dishes such as a delicious fatty pork belly braised in coconut water with eggs (thịt heo kho trứng) is a must have. - Recipe here The prized cut of slow-cooked fatty pork is sweet, savoury, soothing and melts in the mouth. It is eaten with rice, as rice symbolises strength and prosperity.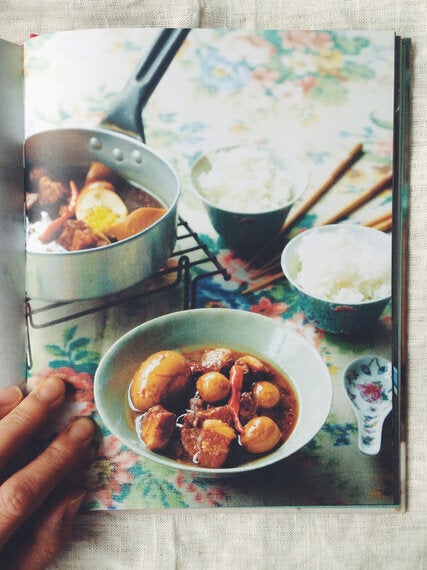 Along with the pork, there'd be fried noodles symbolising longevity, a whole duck representing fidelity and happiness, a whole fish alluding to make your dreams come true, chicken salad embodies coming together as a family, fresh salad rolls and the entire works of feasting food.
2. Offerings To Ancestors
It is very important to always remember your ancestors because it is those who lived before us have paved the way and created us. Every good family would want them to have a wonderful, happy and prosperous after life. Ancestors such as parents or grandparents are remembered daily at dinner time, the food in front is always offered to ancestors so that they are not hungry in the next life.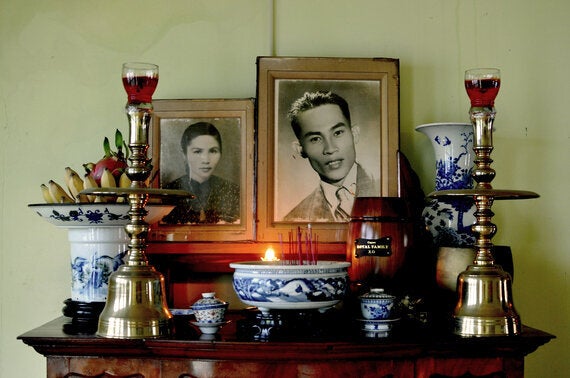 The Vietnamese like to make (or buy) bánh chưng which is a large square cake (representing the earth which was thought to be flat) or cylindrical (representing the heavens). It is made from sticky rice, mung bean paste and pork belly encased in banana leaf. The tradition has been kept since it was introduced to a king around the 17th century. It became his favourite, delicious and modest offering to the gods. It is important to have one of these on the altar.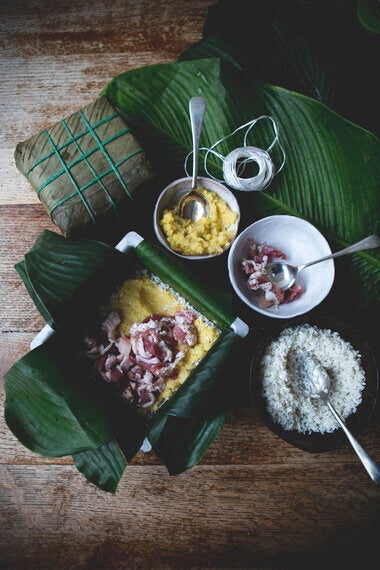 3. Out With The Old, In With The New
The day before the new year, make sure every nook and cranny of the home has a spring clean. This gets rid of any bad luck from the previous year. Tidy up and discard anything thats broken. If its broken, fix it. Wash your hair the day before too. Don't clean on the first day as you'd be wiping away any good luck.
Pay off debts or collect your dues; settle conflicts and quarrels with friends and family. It is important to forgive. Start afresh as you mean to be well and happy in business as well as in personal relationships.
Go to the flower market or your favourite florist and fill your home with blossoms and lucky plants such as orange/ satsuma, pussy willow and bamboo. Flowers in bulbs like daffodils or hyacinths symbolises growth and prosperity.
Buy new clothes and look your best on the first day of the year. Wearing red symbolises good energy, happiness, luck and fortune to you and everyone who lays eyes on you.
Stuff money into red envelops and give them to friends and relatives' children, your parents and siblings to offer luck. Even if its something little, it symbolises your shared blessings with others.
Gift friends and family bánh chưng, fruit like oranges for wealth and sweet dessert for fertility.
Celebrate a new start, a fresh beginning and toast to peace, wisdom and togetherness.
Please follow Uyen Luu on Instagram here @loveleluu