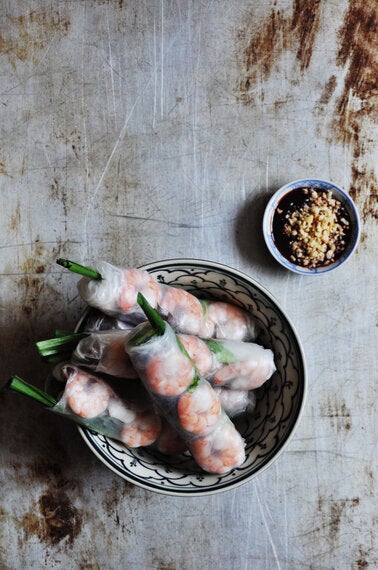 In Vietnam, where gỏi cuốn originates (literal translation: salad roll), every city, every region has their own version of filling wrapped in rice paper. Its a salad, wrapped up neatly into a tight roll and served with a tasty dipping sauce. They are usually eaten as snacks and considered a gift to the mouth on a hot sunny afternoon and are available on the streets, usually made to order.
In Saigon, the speciality is poached pork belly, prawns, vermicelli and a variety of contrasting herbs such as perilla (earthy, like shiso), cockscombe mint (citrusy), coriander, garden mint and garlic chives and is served with a hoisin & peanut sauce. In Hanoi, they would use a nước chấm (sweet & chilli fish sauce dip). Its all about the dipping sauce, that brings all the flavours together, without, would be quite bland.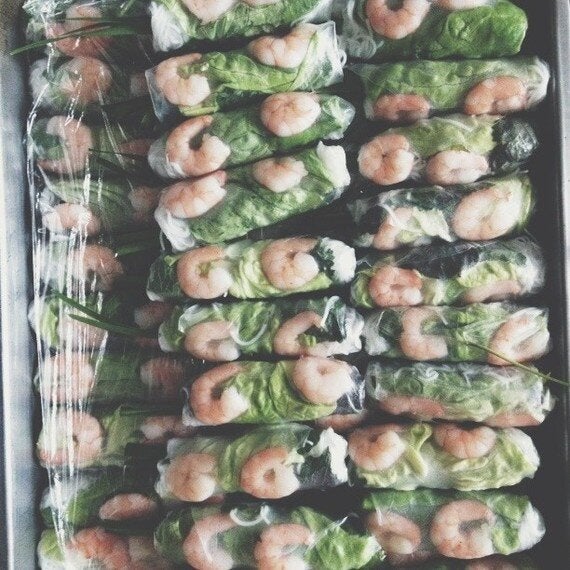 Essentially, you can put anything in a summer roll like you can make a sarnie out of anything that tickles your taste buds. Its bread-less and gluten-free. Use tamari or fish sauce if you want to make a gluten-free dipping sauce. If you balance the flavours of sweet (use sugar, honey, maple syrup), sour (use lime, lemon, vinegar), salty (use hoi sin, soy sauce, good quality fish sauce) and hot (use fresh chillies or chilli sauce, tabasco) you can achieve the most perfect, healthy and delicious snack or meal.
Its great with omelette, left over roast beef, roast chicken, grilled fish fillets, salmon sashimi, fish cakes, tofu... the roll is your oyster!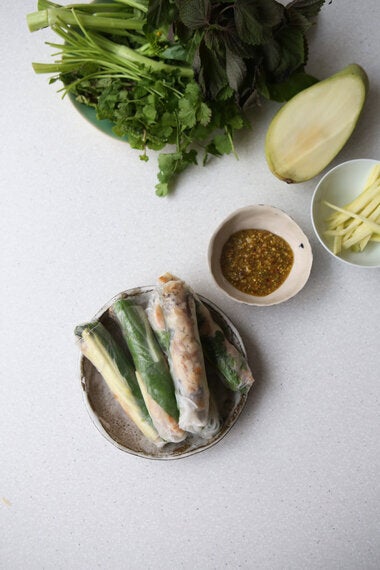 Fill them up with finely sliced vegetables like raw julienned carrots, courgettes, cucumber, green mango, green papaya, pineapple, pomelo, roasted beetroot to kale chips. Be creative and make a rainbow of colours using vegetables. Don't be shy with herbs, use them abundantly.
1. Only dip your paper in water, do not let the paper sit in water.
2. Always wash and dry all the herbs and ingredients thoroughly. If the ingredients are wet, the rice paper will tear
3. Keep rolled ones air tight in tuperware box or wrapped with cling film. I find that if you put a wet cloth on it, the paper will break. The rolls can last up to 6 hours - though its best to eat them as soon as possible, but they can definitely be everyone else's lunch envy.
4. Don't over stuff the rolls. Make smallish, elegant sizes (easier to eat and you look better)
5. Roll as tightly as possible, otherwise the filling will fall into your dipping bowl.
6. Do not put any dipping sauce inside the roll because it will get soggy.
7. If one of the rolls are torn, cut off another small piece of rice paper with a pair of scissors, moisten and plaster it up.
8. Always use good quality rice paper for fresh rolls, there is a variety and often, some would break easily or taste artificial.
9. If you can't get rice paper - use a lettuce leaf to wrap up your salad.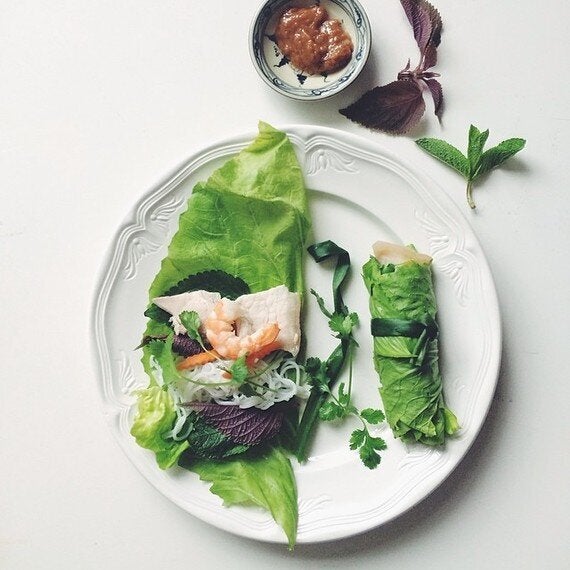 You can even create a summer roll party. Prep all your herbs and ingredients and display them nicely in bowls and plates and you'll make friends for life once you show people how easy it is to do. Bake/ grill a fish and have it on the table along with an array of seafood and herbs. Have fun with kids too especially great at a barbecue.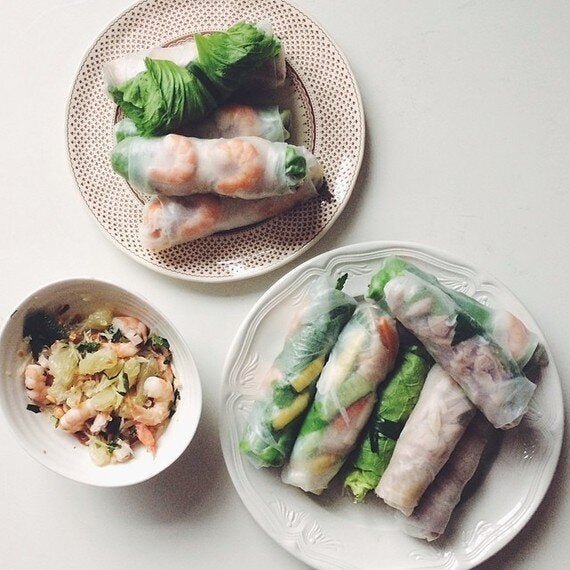 In my mother's home town, Phan Thiết, they are famous for their special summer roll consisting of hard boiled egg, shredded pork skin in roasted rice powder, crispy spring rolls, pickled ham, mint & fish mint. All wrapped with rice paper, served with a sweet peanut sauce.
Here is a short film of a summer roll street vendor, he makes a good few hundred a night, he doesn't stop. He doesn't wet the rice paper because its the type of paper that doesn't need it as the herbs and ingredients gives it its own moistness.
You can follow my blog, book supper club nights and Vietnamese cooking classes at www.uyenluu.com