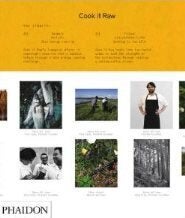 Cook it Raw is decidedly not a recipe book but it is a book about cooking. In the introduction Anthony Bourdain explains that cooking is about innovation, trial-and-error but that chefs now rarely have the chance to make mistakes. Cook it Raw allows for experimentation, free of criticism and worries about the bottom line. It is a chance for chefs to connect with food and each other.
There have been four Cook it Raw events since 2009 that are documented in this beautiful book from Phaidon. They were held in Denmark, Italy, Finland and Japan - each with a theme and a style to the food. Chefs were invited to experiment and find new ingredients, as a closed event this book allows the rest of us to see what they discovered.
Essays within the book are as varied as the food and are the sort of writing that you'll want to read over and over again. The one thing that it would be nice to have is the inclusion of female chefs in the book - the events described by René Redzepi as being similar to a boy scouts at camp it is a shame to only have one woman (Ana Ros) so far taking part in Cook it Raw. It would have been wonderful to know Nadia Santini's, recently voted as the World's Best Female Chef, take on these location-based events.
Cook it Raw is broken down into sections based on the different events and includes information about the region, what the event focused on, and an essay by one of the chefs. The images of the food, chefs and locations are outstandingly beautiful - the photography is artwork and no mere accompaniment. Included throughout are little A5 inserts with menus, invitations, emails, maps, sketches and recipes. Dotted amongst the writing and photography are quotations by some of the greatest chefs in the world about the process and the food itself. There are also interviews and conversations between the chefs involved.
This will make a wonderful gift for anyone who loves food, even if they already have enough recipe books - it is a fantastic insight into cooking, ingredients and the chefs who use them.
Cook it Raw doesn't have a set of recipes to follow through but will show you how to see ingredients differently, look at the food you are eating and the environment where it came from. The book is beautifully written and visually stunning, a lovely read and a great source of inspiration.
Disclaimer: I received a copy of 'Cook it Raw' from Phaidon.