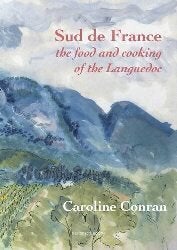 Sud de France is as much a foodie travelog as it is a cookbook, there are lots of notes about the region which is wonderfully written and interesting to read. The familiarity that Conran has with this area of France shines through, the insight is thorough and while reading you feel that you have seen and tasted the area.
The major downside is that there are no photographs in the book, which makes it hard to visualise the recipes that are often quite unfamiliar. Luckily Conran's descriptions are detailed and exquisite. The dishes all have notes about their origin or the background to them; as there is no clear divide between the notes, ingredients and instructions it can be a bit hard to find the recipe when cooking straight from the book. Some of the ingredients used aren't as available over in the UK or would be hard to get fresh but there are always alternatives which makes the recipes easily adaptable.
Traditional food is the main theme as well as lots of seasonal dishes with hearty slow cooking for winter and fresh seafood in the warmer months. The style of most of the dishes is very suited for home cooking with a good mixture of quick and more involved meals. There is a nice balance between the different sections in the cookbook with plenty of different types of recipes to suit all diets, even the fussiest of eaters would be able to delight in this.
Sections are divided by the main ingredient and the index makes it easy to navigate. The soups especially are gorgeous. My favourite dishes are the Chicken with Almonds and Pine Nuts; the Glazed Figs in Muscat; the Spare Ribs with Sausages and Lentils; and the Baked Aubergines with Two Cheeses and Basil.
The all-round approach to food and cooking that Sud de France takes is captivating, showing a region as well as a style of cooking and a lovely set of recipes. This is a great read as well as a treat of a cookbook.
Disclaimer: I received a copy of 'Sud de France' from Prospect Books.