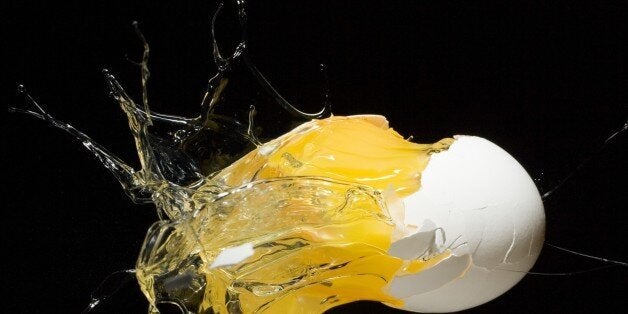 Eggs are great - nutritious, delicious and affordable. Without eggs there'd be no dipping soldiers, no full English...maybe even no Great British Bake Off! Eggs are without doubt, a truly great British institution.
But it wasn't always this way. Eggs endured a turbulent time in the 80's and 90's, thanks to links to health scares. After this, egg consumption in the UK dropped sharply, and we still lag behind our European neighbours in this regard.
Today, however, we are once again a nation of egg lovers, eating 11.8 billion per year which is roughly 184 per person . Over the last decade, consumption of eggs has risen by almost 14% and this trend is only set to continue.
There are many reasons why egg consumption is on the rise. The introduction of the British Lion food safety mark has done wonders for reassuring us that eggs are safe to eat. Changing habits too have had an effect. As a nation, we're more health-conscious than ever, and we've become obsessed with brunch, within which eggs are a critical component. We're also baking more than ever, thanks in great part to Mrs. Berry and Mr. Hollywood.
Eggs are now widely recognised as one of the healthiest foods you can buy. As well as being low in calories, eggs are a healthy source of protein, making your feel fuller for longer, and increasing your energy levels. Eggs also contain a wide range of vitamins and minerals that contribute to brain-function, nervous system and memory, as well as keeping your immune system healthy lowering the risk of heart disease. The vitamins found in eggs also promote healthy eye sight and skin. Some experts actually recommend you should eat at least one egg a day for a healthy lifestyle.
How do you like your eggs...
In recent years Britain's eating habits and lifestyles have transformed. We've become more sophisticated and European, where eggs feature heavily in a large number of dishes. Our taste buds are also growing more adventurous, leading us to explore gourmet egg varieties including quail eggs and duck eggs. Simultaneously, we've come to understand that happy hens lay the best eggs and we've become more discerning in which brands we buy.
There are so many reasons to love eggs, so to mark World Egg Day, I want to raise some toast to the noble egg - a cracking staple of British cuisine.
Related