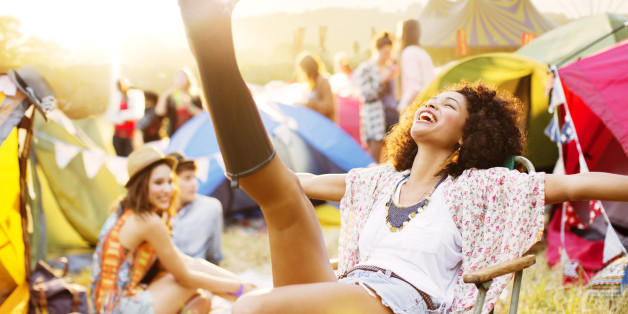 Paul Bradbury via Getty Images
Ahh, Glastonbury. Almost upon us once again! Those lucky enough to have tickets are fervently performing sun dances and those who don't are mentally willing the heavens to pour open with equal intensity.
As the only nation who manage to rock mud-clodden wellies whilst getting sun burned shoulders, we have an uncanny tendency to be Schroedinger's Festival Goer; both omnisciently aware of all possibilities... and yet staggeringly unprepared for them.
My first experience of working at Glastonbury was many moons ago, as junior artist management assistant and my job was to keep the band's (I'll keep them unnamed) all white outfits looking pristine for their Pyramid Stage performance. Over the years my skillset expanded to de-stalking several thousand tomatoes for a Tomatina fight, helping rescue a coach-load of stranded NYC Downlow drag queens, and being 'car-crushing tester' when a giant mechanical robot joined the Arcadia Spectacular.
So, take it from a professional. As someone who has survived WEEKS on site doing some of the weirdest job descriptions you can imagine, here are my top tips to ensure it's all frolicking on the hills, less throwing up on pills;
1) Rock a rucksack. If you're a first-timer, you might not be aware that Glastonbury is basically the size of a small city and can take hours to traverse. Forget 'popping back to the tent', assume every mission will take 72 hours minimum and keep all essential items on your person. Y'know, tissues, lip balm, glitter, rum, back-up glitter... that kind of thing
2) Party like a pro. i.e. Pace yourself. An obvious one that bears repeating because we suck at this. From the hidden delights of Strummerville to acrobatic bicyclists in the Circus field, this gathering is all about daytime adventures. Don't be the dude that ends up being rescued by Hari Krishnas on Wednesday night. Be the dude (or dudette) that is still jamming in the secret underground piano bar on Monday!
3) Make new friends. This is practical advice because, guess what, 'Find me under the flag pole by the main stage!' is like saying 'I'll meet you outside Pret, in London!' Don't waste hours trying to find people you hang out with all the time anyway. If you find yourself flying solo and miserably staring at your phone waiting for signal to magically reappear, embrace your festival destiny and embark upon a voyage of social discovery instead. Use your back-up glitter as a conversation starter if necessary.
4) Bring practical shit! I love my headtorch so much I'd probably wear it year-round if I could without getting weird looks on the bus. Keep a lighter on a string around your neck. Put snacks in all your jacket pockets before you go and then when you're dazed and starving by day three you'll rediscover them and be filled with joyous surprise.
5) Be kind. To your fellow partyers and to the earth. Don't be a dick and leave balloon canisters everyone. And don't piss in the frikkin streams - you're not an incontinent geriatric. Let's face it, Glastonbury is exhausting for basically everyone involved. So if you see someone passed out or looking worse for wear, wake them up instead of just laughing. We're pretty fortunate to be able to spend a long weekend in this Utopian dream (albeit a rainy one) - so let's take a leaf out of the original Glastonbury gospel and spread some love and peace, man. Because goddamn, the world needs it right now.
Venetia Harpin is an expert events producer, veteran organiser of crazy weird stuff in fields, and head-torch enthusiast.